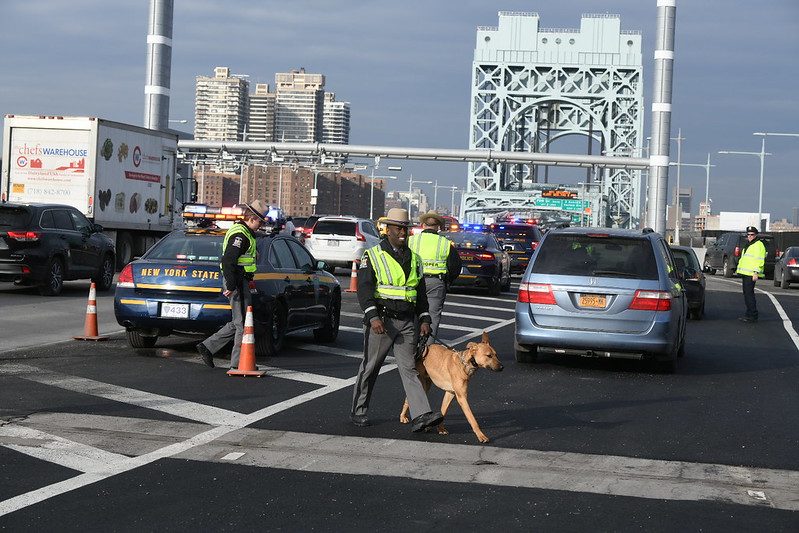 (photo: Governor's Office)
---
Even a terrible product can sometimes do some good. That's the case for automated license plate readers (ALPRs), the disturbingly prolific tracking tool that have propagated across the country. When Grafton Thomas allegedly attacked a Hanukkah gathering in Monsey last December, ALPRs helped police identify him. It was a high-profile win for the increasingly-controversial technology, which has come to track nearly every vehicle in New York City.
Governor Cuomo responded to the news with $680,000 for the town of Ramapo, which contains Monsey, and the nearby Village of New Square to install ALPRs. But his support went even further than that. ALPRs even made an appearance in the governor's State of the State policy book. There, the governor urged the Legislature to both expand the state's ALPR system, which was set up starting in 2016, and to begin the process of updating existing ALPRs with more sensitive cameras.
There are no details on where the new cameras might go or how high the tab might run, but costs could easily go into the hundreds of millions of dollars. The problem is that while the surveillance-minded governor is quick to highlight the nightmarish scenarios where ALPRs could be useful, he doesn't say one word about privacy.
ALPRs are not just invasive, they may soon be unconstitutional. That's the concern raised by the Supreme Court's 2018 ruling in Carpenter v. United States, where the high court ruled that it was unconstitutional to track an individual for a prolonged period without a warrant. In Carpenter, the technology was different, but the privacy implications were exactly the same. There, police used cellphone tower data instead of ALPRs to create the digital tracking device.
It's jaw-dropping to think that the State of New York might invest a small fortune in an arsenal of cameras that it could have to shutter in just a few months. That's because the type of ALPR system the governor is endorsing only works by tracking each and every one of us. It's not a targeted search for one person on the run, it's a constant log of where every car goes. In short – it's a China-style surveillance state.
If the governor required every driver in New York State to wear a GPS ankle monitor before they were let on the road, it would help in the occasional criminal investigation, but we would recognize that the privacy price is too high. ALPRs may not be as physically painful as an ankle monitor, but the civil rights objections are the same.
But while the risks in ALPRs are clear, the benefits are ambiguous. Governor Cuomo promised that ALPRs would be a "deterrent for future attackers," but it's hard to see how. In the horrific attack in Monsey, a man in mental health crisis took aim at the Jewish community. He wasn't a rational person who would weigh the levels of surveillance before striking out, he was an unhinged individual whose mental illness caused him to commit horrific crimes.
We all want to feel safe. We all want to believe that those in positions of power have the tools to prevent "the next one." And so well-intentioned politicians feel tremendous pressure to do something, anything to show that they are taking the threat seriously, to show that they are responding. But the truth is that no police technology or surveillance device will be able to predict and prevent anti-Semitism. And we should all know that by now.
In the '80s and '90s, we were told that we needed draconian prison sentences. We didn't. In the '90s and 2000s, we were told that we needed broken windows policing and stop-and-frisk. We didn't. Now, we are told that we need omnipresent surveillance and that it's the only way to prevent hate crimes. It's not. It's clear that we don't need this wasteful surveillance spending. What's unclear is if anyone can stop it.
***
Albert Fox Cahn is the founder and executive director of The Surveillance Technology Oversight Project (S.T.O.P.) at the Urban Justice Center, a New York-based civil rights and privacy group and a fellow at the Engelberg Center for Innovation Law & Policy at N.Y.U. School of Law. He writes the monthly "Surveillance and the City" column for Gotham Gazette. On Twitter @FoxCahn & @STOPspyingNY.
***
Have an op-ed idea or submission for Gotham Gazette? Email This email address is being protected from spambots. You need JavaScript enabled to view it.