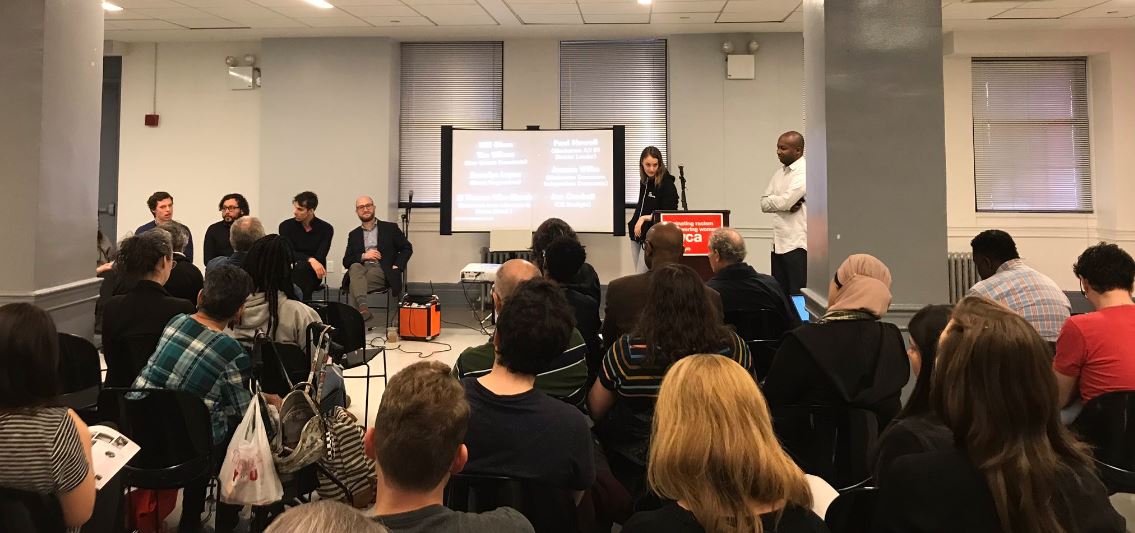 (photo: @newkingsdems)
---
After the 2016 election, I was one of the millions of people who felt helpless and depressed about the state of politics. To feel less helpless and depressed, I decided to get involved; the only problem was that I had no idea where to start. Sure, I marched, donated, and even hosted a few letter-writing parties, but I couldn't shake a nagging feeling that, somehow, it wasn't enough.
Then I got an email from #RepYourBlock, a campaign led by the New Kings Democrats, asking me if I wanted to run for a seat on County Committee – the official governing body of the Democratic Party in Brooklyn. And I know this sounds cliché, but after receiving that email everything changed.
But before everything changed, I was the new person at my first meeting, watching a bunch of confident, passionate, and super impressive strangers use a whole bunch of lingo I didn't understand to talk about a complex issue I knew nothing about. It was scary. It was intimidating. And it was humbling.
But I was determined to make an impact. I was going to do more. And so I stuck with it. I went to another meeting. I learned more about the issues affecting my community. I introduced myself to some of those intimidating strangers from that first #RepYourBlock meeting and quickly learned they were sweet, caring people who were more than happy to help me get up to speed and explain things again when I didn't get it the first time. (That happened often, and still does.)
Running for County Committee starts with petitioning to get on the ballot. In my case I had to collect about 35 signatures of registered Democrats who lived in my Election District — it seems easy but can still be very intimidating when you're doing something like this for the first time. That's why it was so great to have the company and moral support of my County Committee partner, a lovely gentleman named William who has lived in the building around the corner from me for the past 15 years.
I met William briefly at a #RepYourBlock petition training event just a month before petitioning began, he gave me his business card and a couple of weeks later I called him to ask if he wanted to be partners, hoping he remembered me from the meeting a couple of weeks prior. He did, or at least said he did, and together we hit the streets! #RepYourBlock printed our petitions, and provided us with a walk-list of registered Democrats so we knew which doors to knock on.
I now have two years as a County Committee member under my belt. I can't tell you how empowering it feels to be a part of a community of people who roll up their sleeves, get involved, and band together across Brooklyn to fight to make the Brooklyn Democratic Party more transparent, participatory, and representative.
#RepYourBlock was founded to help fill the thousands of vacant County Committee seats - with the idea that by increasing participation, we could improve the Brooklyn Democratic Party's capacity to represent and work for Brooklyn Democrats. It exists to make sure that these seats are open to anyone who wants to get more involved in local politics, not just close allies of elected officials. County Committee members help dictate party business and are even sometimes afforded the power to fill legislative and judicial vacancies, and we think all kinds of everyday Brooklynites should have a say.
And although we've made a lot of strides with #RepYourBlock, we still have a long way to go. Because in truth, County Committee has been historically run by a complacent party machine. I'm hopeful that the party's newly-elected "boss", Assemblymember Rodneyse Bichotte, will bring positive change.
Too often, the party machine (with its hold on County Committee) has been content to make many decisions -- such as about which races to prioritize and candidates to support, how to spend the party's money, and who gets to become a judge -- behind closed doors and keep us out of what should be a truly democratic process. But I know first-hand that if we can inspire our neighbors to run for these seats, we can change the way politics works in Brooklyn. We can make sure our neighborhoods are represented and our voices are heard.
But how much can you really do on County Committee?' Well, someone once said to me, "If it's not working on the local level, it's not going to work on the national level," and that's exactly why getting involved with #RepYourBlock to run for the most local of local party positions -- a seat on County Committee -- is so important. You're actively participating in a process that leads to tangible progress. As a member of County Committee you have the opportunity to connect with neighbors who are passionate about increasing political engagement in your Assembly District and beyond.
In an effort to have the greatest impact in this role, I and other County Committee members from Assembly District 50 formed an Assembly District Committee, or ADC, a creation of the party rules through which we regularly hold voter registration drives, candidate forums and other outreach events.
Join County Committee and you have officially "gotten involved."
If you're feeling similar to how I did after 2016, then I invite you to get involved for our 2020 push.
We're building up the grassroots infrastructure in the party, activating more Brooklyn voters, encouraging electoral competition in Brooklyn, and increasing transparency in the judicial nominating process – and we need people like you to make it happen. So be brave. Challenge yourself to do more. And step just a little bit outside your comfort zone. Because I promise you, it's worth it.
Petitioning to get yourself on the ballot can happen in a weekend, and it takes place this February and March. If you're a Brooklyn Democrat, sign up to learn more now at the #RepYourBlock website.
***
Michele Kaufman is represents the 19th Election District in Assembly District 50, and is Secretary of the Assembly District Committee.
***
Have an op-ed idea or submission for Gotham Gazette? Email This email address is being protected from spambots. You need JavaScript enabled to view it.