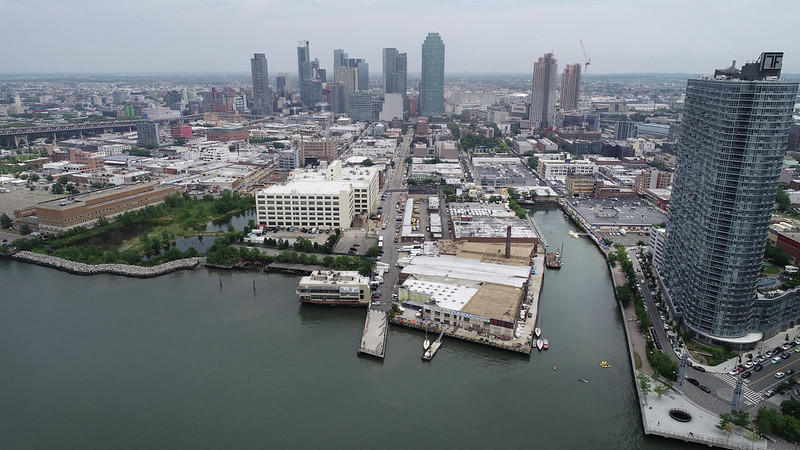 The planned Amazon site (photo: Kevin P. Coughlin/Governor's Office)
---
This week marks the one-year anniversary of Amazon's contentious withdrawal from its Long Island City plans. Meanwhile, the construction of 'HQ2' is making steady progress in Arlington County, Virginia, and residents are preparing to welcome thousands of new Amazon employees to their neighborhoods. With its close proximity to Washington D.C., established infrastructure, and educated workforce, Arlington County was a natural choice for Amazon and has been an attractive market for years, with median sales prices steadily increasing between 5-8% annually. Since the announcement, however, housing prices have spiked by 12.6%, and many residents are blaming 'HQ2' for throwing the housing market into a frenzy.
Given the fact that the State of Virginia pledged $750 million in subsidies to attract Amazon to Arlington County, it is fair to consider the possibility that taxpayers may have financed their own affordable housing crunch. The most obvious solution to this problem would be to build more housing - yet Arlington is subject to restrictive zoning laws that prohibit multi-family zoning in most of the county. Public officials in Arlington and beyond need to recognize that large corporate tax incentives must be paired with zoning and permitting policies that allow cities to respond to their housing supply and affordability gaps.
The 'HQ2' bidding process showed that municipalities looking to revitalize their communities are eager to offer tax incentives in exchange for the promise of new jobs – a competitive bidding practice that has become increasingly popular. Supporters claim that these incentives are a net positive for cities, with tax expenditures offset by the increased revenue generated by economic growth and related "spillover" effects. Yet this analysis ignores an important part of the equation: the increased strain on infrastructure, public services, and affordable housing.
In anticipation of Amazon's arrival, Arlington County has started making infrastructure improvements such as updating its public transit systems and roadways. Yet, its to-do list fails to include the construction of new housing - largely because less than 12% of the city is zoned for multifamily development, like apartment buildings. Those restrictions stand in stark contrast to Long Island City, which by some estimates added almost 20,000 units of high-rise housing between 2010 and 2020, one of the highest absolute growth rates of any neighborhood in the nation.
Ironically, the very construction boom that made Long Island City such a competitive candidate for an Amazon campus may have spurred the opposition that ultimately torpedoed the deal. Still, local governments that offer tax incentives to attract large corporations would do well to mimic the LIC landscape by lifting the ban on housing types that can accommodate a growing, economically-diverse population.
That said, many recipients of economic development incentives are starting to grapple more seriously with the disruptive effects they have on local housing markets, which ultimately hamper their ability to attract talent. Tech giants like Google (which received a 22-year tax break) and Apple (a $10 million tax break) are blamed for making San Francisco one of the most expensive housing markets in the country. In 2019, both companies made headlines for their respective pledges to finance housing initiatives in California, with the hope of mitigating the housing shortages they contributed to creating. But unless cities reduce the regulatory barriers to creating more housing for a wide range of households, these generous donations will fall far short of their ambitious goals.
Given the political motivation for elected officials to create jobs for the cities and states they represent, it is safe to say that we can expect more of these incentives in this upcoming election cycle, notwithstanding the high-profile breakup between Amazon and New York. Research on the actual costs and benefits of these incentives is still inconclusive and highly contested. However, looking at Seattle, San Francisco, and now Arlington County, one thing is quite clear. Economic development incentives must be paired with more housing construction to foster diverse and inclusive cities.
***
Brittany Mazzurco Muscato is a Graduate Researcher at the NYU Furman Center and a Master of Public Administration candidate specializing in Public Policy Analysis at NYU's Robert F. Wagner Graduate School of Public Service. On Twitter @bamazzur.
***
Have an op-ed idea or submission for Gotham Gazette? Email This email address is being protected from spambots. You need JavaScript enabled to view it.