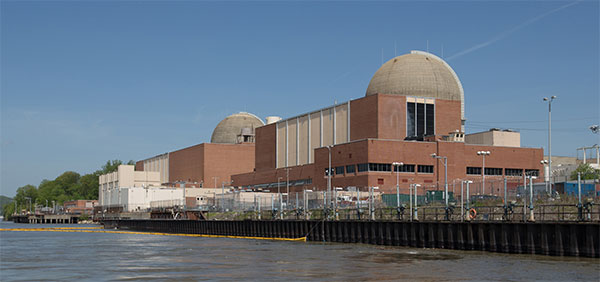 Indian Point (photo: the governor's office)
---
Governor Andrew Cuomo claims that New York is a leader in addressing the dangers of climate change. So far, the facts fail to support this.
Since 2010, New York's gas-fired and dual-use (gas & oil) electric capacity has increased over four times as fast as wind plus other sources of renewable power. Fossil fuels today produce eight times as much electricity as all our renewables, exclusive of hydropower. This movement towards greater fossil fuel use is about to get far worse if the carbon-free Indian Point nuclear plant is shut down and replaced by natural gas.
The Climate Leadership and Community Protection Act (CLCPA), signed by the governor in July, commits New York to eliminate the burning of fossil fuels for electricity by 2040. Tragically, long before 2040, all the hoped-for benefits of the CLCPA will be negated. In just a few weeks, Unit 2 of the Indian Point nuclear power plant in Westchester is scheduled to shut down, to be replaced by gas-fired power that will release 3.5 million metric tons of carbon dioxide into the atmosphere each year.
Next year Unit 3 will shut down, adding a similar amount of greenhouse gases to the atmosphere each year thereafter. At that rate, the "world's largest off-shore wind farm" that the governor hopes to build off of Long Island will not show any net environmental benefit for at least 20 years. We can't wait that long to deal with climate change.
Further, in spite of CLCPA declarations and over the objections of many citizens, the Cuomo administration recently approved an increase in electric rates to enable Con Edison to expand its use of natural gas. Earlier, the state authorized the construction and operation of several new natural gas-burning plants, including a very large gas plant in Dutchess County due to open in May.
Most inexplicably and disastrously, the Cuomo administration has agreed to shut down the Indian Point plant in Westchester County. Its safe and reliable power is the largest clean source of electricity in the downstate region, providing fully 80% of our carbon-free power. Indian Point's closure will set back New York's climate plans for decades. What is going on here?
In many parts of the country, nuclear plants, the nation's major source of carbon-free power, are threatened with closure by competition from lower-cost natural gas. Here in New York, nuclear power provides 32% of our electricity and over half our carbon-free energy (hydropower supplies most of the rest). The governor supports subsidizing upstate nuclear plants that provide clean energy, jobs, and tax revenue, but he has refused to provide similar support for the Indian Point plant, even though it supplies 25% of the Metro region's electricity as well as many jobs and local tax revenue. It appears that he has been misled by fear-mongering false claims like the need for massive evacuations and other myths. The scientific community has debunked all these myths, but state leadership is unmoved.
When the governor announced the closure agreement, he told the people of New York that replacement power would add no new carbon to the atmosphere. This commitment will not be met if Indian Point is replaced by gas. Worse, present gas pipeline and power plant limitations may require that the dirtiest gas plants in New York City are pressed into service. Many of these polluting plants are located in low-income environmental justice areas. Pollutants that worsen asthma and other ailments will assail the residents of these communities.
Achieving a low-carbon future will require vast increases in clean electricity production, and all renewable sources are challenged. Hydropower cannot be expanded very much at all. Land-based wind power accounts for just 3% of the state's electricity output today, and no new wind installations are currently under construction.
Even with the planned expansion of New York's transmission system, only limited amounts of upstate wind power can be brought to the downstate region. The planned off-shore wind farm will just begin to bring some electricity to New York City by 2028, if it proceeds on schedule. However, this enormous project will have to be accompanied by giant banks of storage batteries if it is to supply reliable electricity to the Metro area when the wind isn't blowing.
Solar energy provides just 1.6% of the state's electric output today. The state government's climate plan requires that solar energy produce more than 30% of our electric output by 2030, but at the current rate at which solar panels are being installed, this goal won't be reached for 100 years. A recent comprehensive report from the Citizens Budget Commission, an influential think tank, found that the projected expansion of solar and wind was "likely infeasible." It seems clear that the state lacks a workable plan to provide the growing amount of carbon-free electricity we will need to address the climate crisis.
Nuclear energy has shown, over the last 60 years, that it can provide large quantities of safe and reliable electric power. Its costs are high, but advanced designs and more efficient manufacturing methods can bring these down. These advanced designs are capable of producing electricity where and when it is needed.
As a start, there is no need to shut down Indian Point. This facility has been running safely and reliably for nearly 50 years, and it could keep going for many more. The governor's closure agreement wisely allows Unit 2 to continue operating until 2024 and Unit 3 a year longer. Further, major issues have recently arisen with the decommissioning of these plants that will need more time to be sorted out. We should use this closure agreement to its fullest and extend operations four more years.
While the state develops a new, realistic energy plan using all its carbon-free resources, it should not shutter the Indian Point nuclear plant.
***
Leonard Rodberg is a physicist who taught climate change and public policy at Queens College/CUNY until his retirement in 2017. Herschel Specter is an engineer who focused on nuclear safety issues in many positions, including at the Nuclear Regulatory Commission and the International Atomic Energy Agency.
***
Have an op-ed idea or submission for Gotham Gazette? Email This email address is being protected from spambots. You need JavaScript enabled to view it.