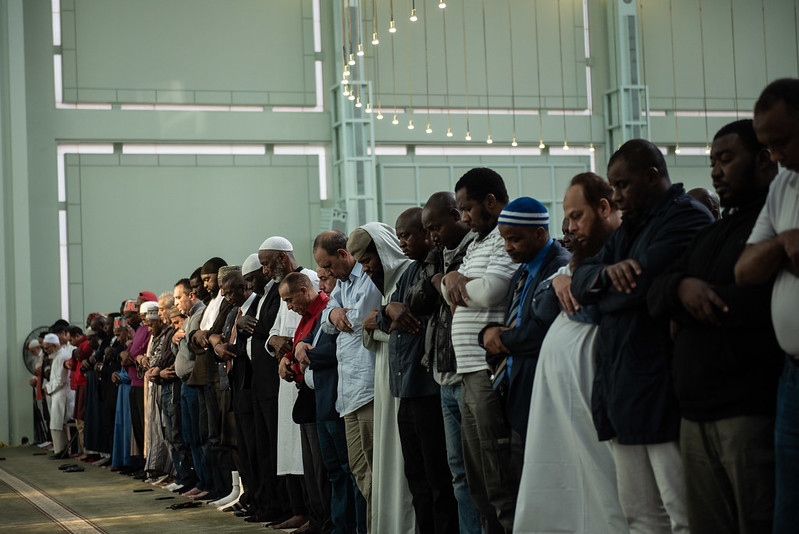 Muslim New Yorkers in prayer (photo: Michael Appleton/Mayoral Photography Office)
---
As we again learned in 2016 and 2018 that voting matters and elections have consequences, we must also recognize -- ahead of time, right now -- that the 2020 Census matters and not being counted has consequences.
After 2016, many New Yorkers have been mobilizing to bring progressive voices to elections: from supporting change in Albany and flipping local House seats to turning entire state legislatures blue across the nation and backing chosen presidential candidates. We have been organizing and fundraising for campaigns, with intense focus and passion — cheering every win, large and small, across the country.
We are maligned as "snowflakes" for caring about people and inclusive values, but it is our passion that carried our wins in recent elections and what is required for the big win this fall.
However, there is one critical campaign that isn't getting the same attention: the 2020 Census.
New York City is at risk of a huge undercount in the 2020 Census, which would result in undermining our democracy and communities by leading to decreased political representation and decreased federal funding for the next ten years.
Anti-immigrant and Islamophobic federal messaging and policies combined with concerns about data privacy have created legitimate anxiety in many communities around anything involving the U.S. government. This is especially true of the Census, which to some feels like a registry akin to the special registry of some Muslim immigrant men after 9/11 or the list of undocumented immigrants the Trump administration was clearly hoping to develop with its failed citizenship question.
Additionally, the 2020 Census will initially call for online submissions for the first time. While that will simplify the process for some digitally-savvy individuals, it will not be as easy for all Americans. Filling out a form online is more complicated than sharing a funny cat meme and many communities lack sufficient access to the internet as well as limited digital literacy. Combine this with fears of the government, especially but not limited to the Trump administration, and you have a perfect storm that can lead to nonparticipation.
Historically, New York City has faced census participation challenges. In the 2010 Census, the city had a 61.9% average initial household self-response rate, well under the national rate of 75.8%, with some communities as low as 44%, like those in Brooklyn's Brighton Beach or the 50% rate in Bronx's Eastchester Heights.
Census data is crucial to providing social services, Medicaid, education, and funding for infrastructure, such as our subways and bridges. It is key to states' ability to advocate for their fair share of $670 billion in annual federal funding, in part because the Census also determines political representation, most directly in terms of seats in the House of Representatives. New York is at risk of losing up to two Congressional seats this time around.
Undercounted communities will have less representation at the federal level but also state and city levels once the Census leads to legislative redistricting.
The anxieties of traditionally marginalized communities around government data collection are not at all misplaced. For example, Muslims are intimately familiar with the risks: the NYPD utilized publicly-available aggregate census data to spy on Muslim communities after the September 11, 2001 terror attacks.
But that very same data also helps advocates and government better support the very same communities. For example, racial demographic data is utilized by civil rights lawyers to highlight racial inequity in policing and incarceration as well as political representation. Muslim communities have advocated successfully and used data to push for Muslim school holidays and halal lunches at senior centers and schools.
An Imam asked me, "Why would anyone fill this out? In this current time with this current government?"
But the answer is that we must fill out the Census form, especially at this time, especially with this government. If we don't, they will win so much more than just an election. If we do not participate in the Census, then we will lose the ability to fully participate in our democracy, binding our communities for decades.
If you believe that the future of our democracy is at stake in the upcoming election, that the safety and security of our most vulnerable communities is on the line, then you should be just as passionate about ensuring that you and every individual in your community near and far gets counted in the 2020 Census.
Get involved in your local 2020 Census organizing committee; in New York City join your Neighborhood Organizing Census Committee. Help get the word out to all your friends and family and volunteer in April and beyond to help ensure everyone completes the 2020 Census.
***
Ahsia Badi is the New York Census Director for Emgage, the largest non-profit focused on Muslim civic engagement, and is a member of Manhattan Community Board Six. On Twitter @kashmirimama & @EmgageAction.
***
Have an op-ed idea or submission for Gotham Gazette? Email This email address is being protected from spambots. You need JavaScript enabled to view it.