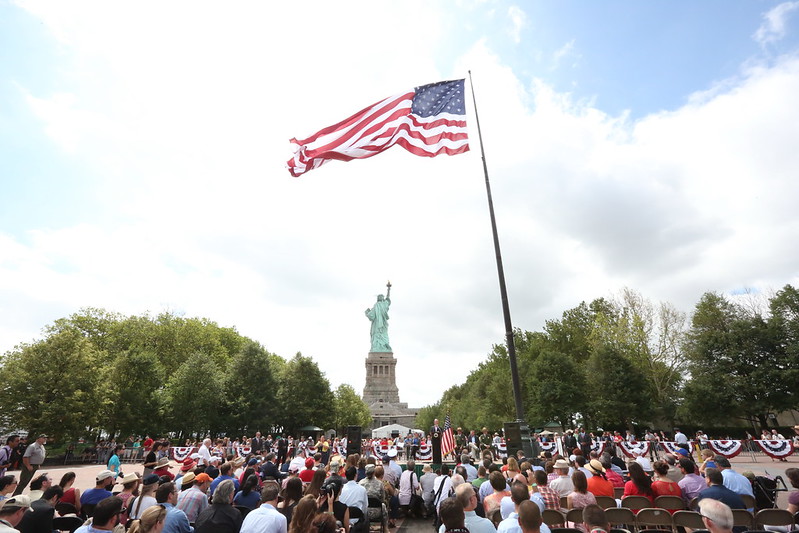 New York must take learn key leassons as it moves ahead (Photo: Spencer T Tucker/Mayor's Office)
---
Though it feels like an eternity, it was only about a year ago that Amazon walked away from plans to build a second headquarters in Long Island City. The online juggernaut was scared out of town by a short-sighted public debate that centered on legitimate concerns about gentrification and displacement but underplayed future-looking arguments about economic growth. At the time I argued, as a former city official during the dark days after September 11, 2001, that when a similarly tough tragedy darkened our doorsteps we would rue the day we turned Amazon and its tens of thousands of jobs away. Sooner than anyone could have anticipated, that day is here.
In the wake of this global coronavirus pandemic that has taken a particular toll on vibrant, dense cities like New York, I am skeptical that we will experience much gentrification or displacement in the months and years ahead due to a drop in demand. Our economy is retracting, unemployment is skyrocketing, and we have no clue when a recovery might even begin. As a veteran of 1987's "Black Monday," 9/11, and the economic collapse of 2008, I know that a downturn like the one we are entering has a disproportionate impact on low-income communities, particularly because of the contraction the city's budget will face as our economy shrinks.
After 9/11 the city's budget was approximately $43 billion; our current municipal budget is well over double that, primarily because of the extraordinary and diverse economic growth encouraged by the administration of Mayor Michael Bloomberg. Yes, that growth came with serious costs like those from gentrification and stop-and-frisk, but it also created the ability to massively invest in affordable housing, parks, school improvements like universal pre-kindergarten, and other public benefits that most American cities envy.
We are now about to witness the reverse of that process as our employment and tax base shrinks in the face of COVID-19. Every job we can hang onto will count. Working New Yorkers will sorely miss the employment—particularly the blue-collar jobs—that we lost when Amazon chose to build instead in only Virginia.
It's true that Amazon subsequently leased some office space in Hudson Yards, but that represents a small fraction of the jobs that would have come, and more importantly, that space is for white collar professional jobs, unlike the originally proposed job mix for Western Queens. It's also true that Amazon is a flawed company, with issues about labor standards, support of ICE, and lack of federal tax payments. But we can't really apply pressure to address those issues in Virginia, and as we stare this current crisis in the face, arguments about tax discounts seem hopelessly naïve with the unemployment rolls skyrocketing by the day.
All that said, it is not fruitful to re-litigate the Amazon deal, particularly at this tragic time. But this period should serve as a reminder to those who fight all economic development that the problems our city faces are not static. New York City is now the national epicenter of this pandemic, and all New Yorkers must fight to restore global faith in our city and all that it represents.
As this virus eventually fades, we must remind people of what makes New York vital, of all that we missed confined in our homes – the buildings, subways, schools, streets, parks, museums, and theaters. We must revive our commerce and our culture, and we must do it together.
This will not be the physical reconstruction that 9/11 demanded. It will be a psychological reconstruction, a doubling down on density that will not be easy given what people are going through. We can begin by reminding ourselves of who we are, the city that was resilient in the face of pandemics past, the city that recreated itself in the aftermath of attacks and downturns, a city that has remade itself again and again.
As we reconstruct the idea of our city, we should turn down the heat and look to the light. Some—some—of our fellow citizens raised legitimate concerns with the Amazon deal, and they will continue to raise real concerns for our city's neediest. As we move ahead, even as we disagree, let's listen to each other with less polarization, let's listen to science and experts, and let's not just rebuild our old economy and old city, but a new city resilient to the shocks we know are coming, like an employment crisis, a housing shortage, and the biggest shock of them all, climate change.
Let's look forward to a new New York, a better and fairer New York, a New York where we can listen and learn.
***
Vishaan Chakrabarti is an architect and author. On Twitter @VishaanNYCA.
***
Have an op-ed idea or submission for Gotham Gazette? Email This email address is being protected from spambots. You need JavaScript enabled to view it.