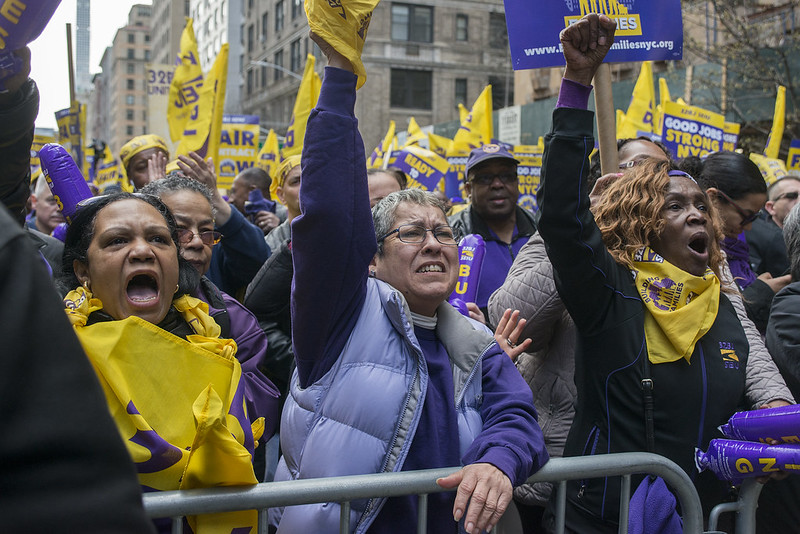 32BJ SEIU workers rally for job protections (photo: Jeff Reed/City Council)
---
The coronavirus pandemic has made it clear that there are a host of vital service jobs that are essential to keeping people safe under extreme conditions. Among them are the workers at our nation's airports, who have been on the frontlines of the COVID-19 outbreak from the start.
Reports of possible infections at John F. Kennedy International Airport and other hubs are increasing. Many of the 40,000 airport workers in the New York area are members of my union, 32BJ SEIU. More and more have told me they're proud to help keep our airports and planes clean and safe during this unprecedented crisis, but they are increasingly worried about their own health.

Even before the spread of COVID-19, airport workers were at extreme risk for injuries on the job and for infectious diseases because of the nature of their work with travelers and the often taxing physical demands of their jobs. Despite these difficult conditions, many of our airport members who work at JFK, Newark International, and LaGuardia Airport, do not have health insurance.

Often, these workers, who have been waging a successful campaign to raise their wages and get respect on the job, are offered employer-provided insurance that is too expensive for them, with high premiums, co-pays, and deductibles. Because of their rising wages, they make too much money to qualify for Medicaid.

For tens of thousands of airport workers, they fall into a gap in health insurance coverage, putting them in the unenviable position of not being able to see a doctor without worrying the bill will mean they can't pay their rent for a month.

One of those workers is Luerica Fiffee, a passenger service representative at JFK and mother of seven. Luerica has close contact with passengers -- scanning their passports or directing them after they get off their flights -- and she is worried about getting sick and spreading it to her family. Before the COVID-19 pandemic, when she felt sick, she would make the tough choice about whether to go to the emergency room and hope that she'll be able to pay the bill. Now, as she worries about her health and the future of her job in a struggling industry, "I can't even afford to think about getting the virus," she said.

The risk of airport workers without health care is not just borne by Luerica and her coworkers but shared by everyone in the airport. Travelers cannot make their journey unless airport workers check their tickets, clean the terminals and aircrafts, and handle their baggage. Airport security officers make sure travelers are safe, wheelchair attendants help our most vulnerable passengers, and line queue agents make sure everything is orderly. Airport workers are essential to air travel. And if they are infected with the coronavirus, passengers will be too.

To help close the insurance gap airport workers face, legislators in Albany and Trenton have introduced the Healthy Terminals Act, which would require employers in the airports to provide a benefits supplement that airport workers could use to acquire quality, affordable health insurance.

As COVID-19 has upended the legislative calendar, lawmakers in Albany and Trenton must take action right away. Airport workers are calling on legislators to use every mechanism at their disposal to urgently pass these bills.

Adding to this critical calculus are the waves of layoffs going on at airports as air traffic slows considerably. The Trump administration and Congress appear poised to offer billions of dollars in bailout money to airlines but it is unconscionable to ask workers making less than $20 an hour to take on the worst health and economic risks of this outbreak while only offering relief to the highly profitable corporations. Any bailout of the airlines must include generous sick leave, health insurance, and back pay for lost wages for airport workers.

Finding a sustainable solution for the industry's problems that centers workers and not CEOs and shareholders will be an arduous fight. But we can start with a comparatively easy solution for health care coverage that lawmakers in New York and New Jersey can enact quickly to close the insurance gap.
***
Kyle Bragg is president of 32BJ SEIU. On Twitter @kyle32bj & @32BJSEIU.
***
Have an op-ed idea or submission for Gotham Gazette? Email This email address is being protected from spambots. You need JavaScript enabled to view it.