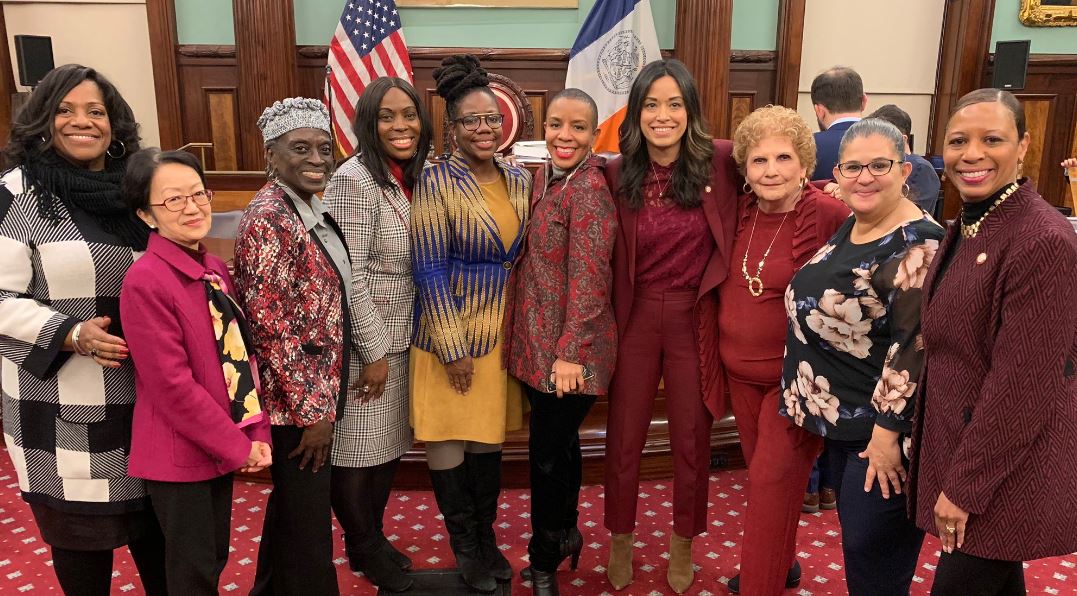 Most members of the New York City Council Women's Caucus (photo: @vanessalgibson)
---
The coronavirus pandemic amplifies many of society's systemic gender inequalities, magnified by race, class, and immigration status. Women, who have continued to carry the burdens of "women's work" into the 21st century, are disproportionately impacted by this crisis, and women of color in New York City will fare the worst.
As nearly 50 women candidates running in the 2021 city election cycle and other women leaders, we have joined together to call attention to these issues and call for immediate and long-term solutions. And it is only by electing women to office will we enact the policies needed to address these inequalities.
In New York City, women make up 52% of the population, 60% of the voters, but only 24% of the City Council. Data shows that women, more than men, tend to look at the bigger picture, the entire family, and the community, and this is what we need right now. Representation matters.
The reality is stark for women during this crisis. Women, and overwhelmingly women of color, are far more likely to work as daycare and early childhood educators, house cleaners, home health aides, and nannies. All of these positions are at high risk and many women will be unemployed throughout the duration of this crisis.
With schools closed, women who are actually able to work from home are balancing working full-time while also homeschooling, tending to elders, managing family health care, and doing the invisible work of maintaining the household. It may be 2020, but the reality is that in many families women are still the primary caregivers. Additionally, 80% of single-parent households are headed by women, for whom the pressure is even higher.
Women who are small business owners, work in service or retail, or drive taxis are also seeing their livelihoods suffer. And women's careers will not bounce back as soon as the crisis ends. We know from previous infectious-disease outbreaks that men's incomes recover faster after the outbreak, while the impact on women's careers can last for years.
This crisis disproportionately impacts women, particularly women of color, in other ways as well. New moms who rely on Women, Infant & Children (WIC) can't get the food they need because only certain items 'qualify' for WIC and many of these products sell out quickly in the rush to hoard.
The number of women and children at risk of domestic and sexual violence increases as families are shut-in together under stress. Women and children also make up the largest portion of people experiencing homelessness, and shelters are not equipped to contain the spread of the virus.
Women's health is also on the line. Texas and Ohio halted abortions, classifying them as a non-essential medical procedure. Women about to give birth are receiving mixed messages about whether they will be able to have partners with them in the delivery room (New York has clarified that they can have a non-sick partner or other support person). Most nurses are women risking their health on the frontlines to care for those who are sick and then going home to care for their families.
These issues aren't new, but COVID-19 will make the scale of the disparities stark. We need immediate action, including financial support paid directly to families, including undocumented families, to help weather this crisis. In the short-term, hotel rooms empty due to the crisis are a safer solution for those experiencing homelessness, and temporary shelter for women and children who experience abuse.
We should get rid of the red tape on WIC-approved necessities so parents can purchase what they need based on what's available in the stores. We must ensure adequate protective gear is available for our health care workers, including home health aides and women working in nursing homes.
Longer-term, our policies need to work for the people who are doing the work with solutions like paid family leave, universal family care, and universal, affordable healthcare accessible to all, regardless of immigration status.
In 2021, we have the opportunity to elect new leaders to the two-thirds of City Council seats that will be open due to term limits. There are dynamic, competent, exciting women running for all of these seats. We have a chance to reshape our city leadership and the way the city works for women, families, and all New Yorkers. Coronavirus has magnified just how important that is.
***
This op-ed has been co-signed by the following 50 members of 21 in '21:
City Council Member Helen Rosenthal, Chair of the Committee on Women and Gender Equity and New York City Comptroller Candidate
Sara Lind, City Council Candidate District 6, 21 in '21 Interim Executive Director
Lynn Schulman, City Council Candidate District 29
Crystal Hudson, Kings County Committee Representative 57th AD
Jessica Haller, City Council Candidate District 11
Rebecca Lamorte, City Council Candidate District 5
Kim Moscaritolo, City Council Candidate District 5
Tricia Shimamura, City Council Candidate District 5
Kristin Richardson Jordan, City Council Candidate District 9
Sheba Simpson, City Council Candidate District 9
Johanna Garcia, City Council Candidate District 10
Yudelka Tapia, City Council Candidate District 14
Ischia Bravo, City Council Candidate District 15
Elisa Crespo, City Council Candidate District 15
Althea Stevens, City Council Candidate District 16
Amanda Farias, State Committeewoman 87th AD, City Council Candidate District 18
Darlene Jackson, City Council Candidate District 18
Jaime-Faye Bean, City Council Candidate District 22
Julia Forman, City Council Candidate District 26
Heajin (Hailie) Kim, City Council Candidate District 26
Kerryanne Burke, Esq., City Council Candidate District 27
Nantasha Williams, City Council Candidate District 27
Monique Charlton, City Council Candidate District 31
Felicia Singh, City Council Candidate District 32
Elizabeth Adams, City Council Candidate District 33
April Somboun, City Council Candidate District 33
Sandy Nurse, City Council Candidate District 37
Alexa Aviles, City Council Candidate District 38
Whitney Hu, City Council Candidate District 38
Shahana Hanif, City Council Candidate District 39
Nicole Hunt, City Council Candidate District 39
Cecilia Cortez, City Council Candidate District 40
Mercedes Narcisse, City Council Candidate District 46
A. Dimple Willabus, City Council Candidate District 46
Amoy Barnes, City Council Candidate District 49
Marjorie Velazquez, District Leader 82nd AD Part B
Olanike Alabi, State Committeewoman, District Leader 57th AD
Sandra Ung, State Committeewoman 40th AD
Amber Adler, Chair of Neighborhood Advisory Board 15
Indiana Porta, Esq., Community Advocate and Legislative Attorney
Kim Watkins, Manhattan Borough President Candidate
Dianne Morales, Mayoral Candidate
Jordan Jayson, Democratic Strategist
Amelia Adams, 21 in '21 Board Chair
Yvette Buckner, 21 in '21 Board Vice Chair
Melissa Lirtsman, 21 in '21 Board Member
Camille Rivera, 21 in '21 Board Member
Dr. Debbie Almontaser, 21 in '21 Board Member
Elyse Byxbaum, 21 in '21 Board Member
Heidi Sieck, 21 in '21 Board Member
***
Have an op-ed idea or submission for Gotham Gazette? Email This email address is being protected from spambots. You need JavaScript enabled to view it.