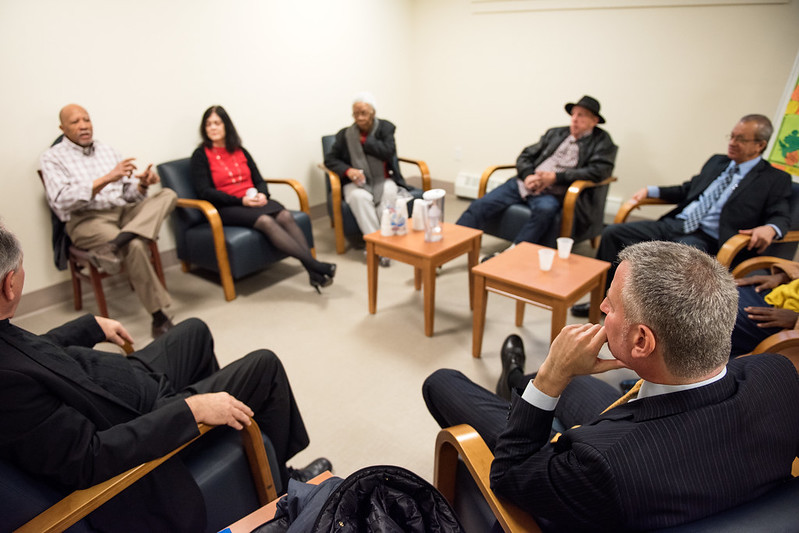 Mayor de Blasio at a supportive housing site (photo: Demetrius Freeman/Mayor's Office)
---
As our great city faces its most challenging crisis in the past 100 years, it has revealed to all of us how the city has radically changed in the past few decades.
The virus has now put a spotlight on the critical shortage of hospital beds and medical equipment like ventilators. In fact New York City ICU bed capacity ranks in the bottom quarter nationally. If you have lived in the city for over 40 years, as I have, you likely recall how many hospitals have closed and not been replaced.
But the current crisis also shows other deficiencies of the new New York of the past decade or so, even with all its wealth and abundance. These limits to the social fabric must be addressed as we look toward a rejuvenated post-coronavirus New York City.
I vividly remember visiting my assistant's son as he and many other young men were suffering from the scourge of AIDS at St. Vincent's Hospital in Greenwich Village. This once-great medical center is now home to luxury condominiums, a conversion emblematic of troubling trends we've seen in our city. I can't help but think of St. Vincent's today as our hospitals overflow with coronavirus patients and we build pop-up facilities in parks and convention centers, while welcoming a Navy hospital ship to the Hudson.
We must place a total moratorium on the closure of hospitals in New York City, even if it means massive government support for these institutions whose importance has become even more evident during this crisis.
As our city has seen its population surge to 8.5 million and the yearly total of tourists climb to over 60 million a year, we've seen a city more crowded than ever. The subways were moving 4 million people a day in overcrowded trains, which was probably a factor in the spread of this virus. Experts say keep six feet away from another person to ensure some degree of safety, but many times the person next to us on our train is just 6 inches away, if that!
The surge in population over the past two decades based on foreign and domestic migration to the city, following in the grand tradition of New York as a place of opportunity and refuge, has contributed to a severe shortage of housing and record homelessness. There are now 58,000 men, women, and children living in our main city shelter system at a cost of $2 billion a year, with thousands of others in various other shelter accommodations. There are also roughly 3,500 homeless people sleeping on our streets and subways. The city is reporting a growing number of positive COVID-19 diagnoses in the shelter system and on the street, and some homeless people have already died after contracting the virus.
This scourge should once again put the spotlight on the need for low-income housing and, more importantly, supportive housing for those that are deeply afflicted by mental illness and drug addiction. And it should lead to a massive effort toward bringing many thousands of both types of housing online as quickly as possible.
In addition, the city's public housing system, home to more than 400,000 tenants, is on the verge of collapse, and is also being rattled by the toll of the coronavirus. The city must take measures to safeguard NYCHA tenants, and must not now allow this very valuable resource to disappear as it has the hospitals. A NYCHA rescue plan must move ahead at full speed.
We also have a severe shortage of psychiatric beds to serve the most seriously mentally ill, including some of those individuals residing in shelters and sleeping on the streets and subways. There's been a 15% decline in these beds in the past few years, continuing a longer-term trend. We must declare an immediate freeze on the closure of such facilities. The noble experiment, started 40 years ago, to release mentally ill patients from institutions and into the community has not been a total success and we need to admit that and increase, not decrease, the number of inpatient beds and outpatient treatment centers.
Our city is not only the epicenter of the virus in this country it is also the epicenter of income inequality, with 40% of the population living at or near the poverty level. We cannot continue to allow the destruction of moderately-priced apartments, such as I often see on the Upper East Side, where several floors of modest apartments, existing above a retail store, are torn down to make way for luxury housing. The city must declare a moratorium on this type of development. In addition, taxes must be increased on luxury apartments and their residents so that the city can meet the needs of those in need.
I am a proud New Yorker who has lived here all my life, and I am not giving up on our city, and I am confident we will rebound, but this horrible virus should open our eyes to the need to make changes to ensure our city is a great one for all in the future. Next year we will be electing a new mayor, and we must insist on that person being a visionary with important new ideas and not a custodian of the status quo
***
Robert Mascali is a former Deputy Commissioner at the New York City Department of Homeless Services and a former Vice President for Supportive Housing at Women in Need.
***
Have an op-ed idea or submission for Gotham Gazette? Email This email address is being protected from spambots. You need JavaScript enabled to view it.