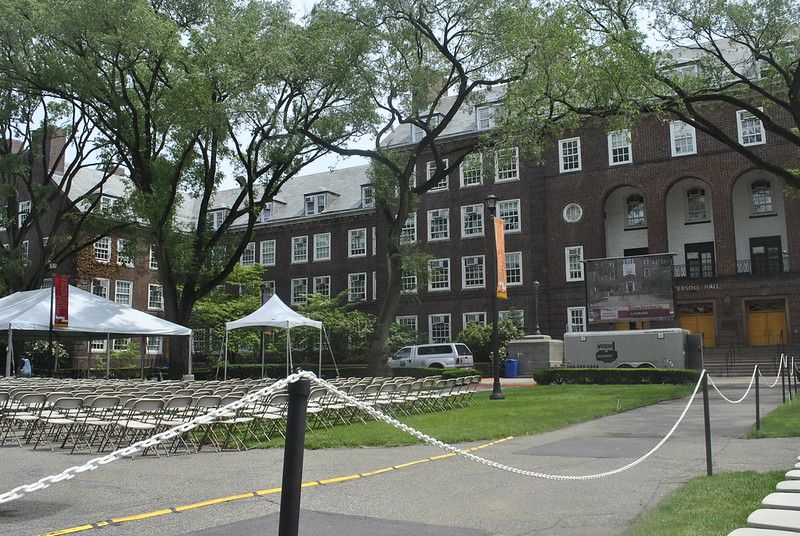 CUNY is closed (photo: Brooklyn College)
---
What does an educational crisis look like in a plague year? How can I convey, from inside a health emergency, that the City University of New York has been in a slow-burn, decades-long state of crisis? COVID-19 is a matter of life and death, while higher education is not. Yet the COVID-19 pandemic reveals with new urgency, rather than diminishes by comparison, CUNY's longstanding, systemic failures.
We need to grasp the relationship between this novel coronavirus and CUNY if we want to make a better future for New Yorkers and their city. New York City's public higher education system and the public health system are connected, each overwhelmed, under-resourced, and fighting for the same tax dollars. They are mirrors of each other, two reflections of a government reneging on its responsibility to the public good, even in the strongest economic times. In the mirror of the virus, which has preyed upon long-standing disparities in our society, we see…
…the State rushing to buy poor CUNY students the technology they need for distance learning now that professors and students cannot meet in person for fear of contagion. But our students needed that technology before COVID-19, and where was the State of New York?
Take a pre-COVID look at CUNY's campuses and you'll see that we don't have printer paper, that our college libraries can't buy books, and that tenure track faculty can be found in less than half of our classrooms.
We see the unprepared State urgently seeking personal protective equipment and ventilators. At the same time, my college has not had hot water in its restrooms for years, nor decent and affordable food on campus. Black mold, open elevator shafts, and vermin in the halls of CUNY are well documented on social media (see #brokelyncollege, for instance). Just as New York needs short-term healthcare heroics to fight the virus, we need long-term healthcare heroics to make our educational environments safe.
We see with fresh eyes that the State has for decades refused to fund the MTA, the primary source of transit for CUNY's city-wide commuters. As COVID-19 now makes a ghost ship of the MTA in more affluent neighborhoods and a human petri dish in poorer neighborhoods, are we to forget that for years the State's slow, dilapidated trains and buses have translated directly into late students, missed classes, lower grades, and unconscionably high dropout rates at CUNY?
In an echo of New York City's most deadly modern plague, AIDS, COVID-19 is again punishing our most despised, our poorest, most harshly. These are our low-income CUNY students, our precarious Dreamers, our full-time working students with no margin for educational error. Whatever COVID-19 costs, the underclass, black, brown, and ethnic white CUNY community is sure to pay in a special way. We know this from long years of experience.
What the coronavirus brings into startling clarity is that we need to stop using the same threadbare language we've long used, perversely, to cast CUNY's failures as its strengths: "aspiration" (in the face of massive defunding and managed inequity), "social mobility" (for the minority of students who graduate), and our "democratizing mission" (despite constant tuition increases and the ever-widening material disparities between CUNY and rich schools). Metaphors, whether of crisis or hope, will not help us now.
What will happen to CUNY after COVID-19? Beyond dire prediction and revolutionary hope lies a confrontation with the mundane, deeply structural crisis that defines CUNY and public education. The very least we can do is admit that in the years of shortsighted austerity budgeting since the 2008 recession CUNY has managed to become—has been managed to become—less rather than more prepared to meet the current moment.
Governor Cuomo must use the timing of COVID-19 to set a new timeline for CUNY. Before the urgency of the health crisis ends, let tuition at CUNY end. Before COVID-19 kills more of our faculty, let CUNY commit to doubling its full-time, tenure-track faculty and to providing our well-qualified adjuncts clear routes to those new jobs. Before COVID-19 becomes a normalized health disaster, let us disrupt New York's educational disaster by calling it by that very name. For as CUNY's 275,000 students and 45,000 instructional faculty and staff know, our crisis is anything but novel.
***
Matt Brim is an associate professor of queer studies at the College of Staten Island, CUNY, and part of the Women's and Gender Studies Faculty, CUNY Graduate Center. His most recent book, Poor Queer Studies: Confronting Elitism in the University, was published in March 2020 by Duke University Press. On Twitter @mattbrimnyc.
***
Have an op-ed idea or submission for Gotham Gazette? Email This email address is being protected from spambots. You need JavaScript enabled to view it.