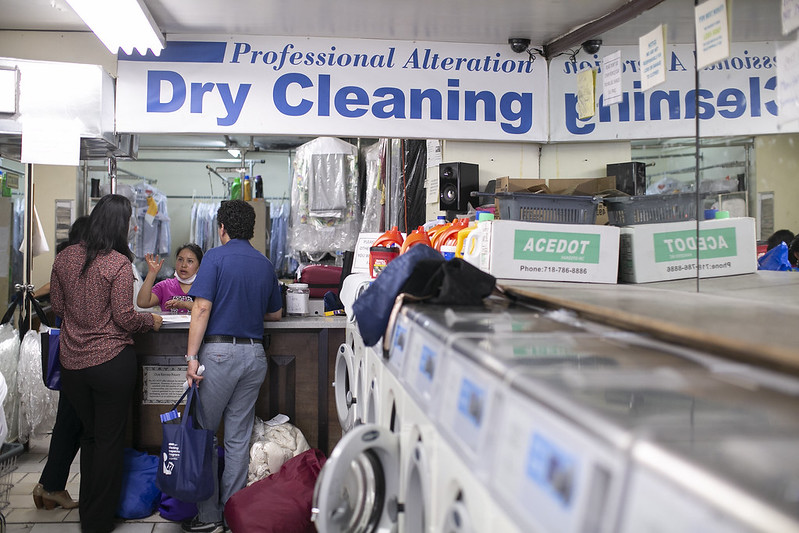 Small businesses are closed or on the brink across the city (photo: William Alatriste/City Council)
---
The day after the 90-day moratorium on eviction ends, residential and commercial eviction proceedings will potentially flood our courts, leaving families and small businesses gasping for air.
Amid this pandemic, it is imperative that New York City expands the Right to Counsel law by increasing legal capacity to meet the inevitable COVID-19 eviction demand, and, building on this model, establish a new initiative to provide free legal representation to vulnerable small businesses.
The Right to Counsel law, sponsored in 2017 by City Council Members Mark Levine and Vanessa Gibson, guarantees that low-income families falling below 200% of the federal poverty line have access to free attorneys in housing court. In a show of remarkable success, this law allowed 84 percent of families facing eviction to stay in their homes.
Now more than ever, these protections are critical to preventing homelessness and financial ruin for our residents. Council Members Levine and Gibson are now championing Right to Counsel 2.0, which would increase the income eligibility guidelines to 400% above the federal poverty line, delivering a huge win for tenants.
Adding to these efforts, we need federal and state support for rent relief, and the City Council should increase attorney staffing capacity in each zip code that is currently covered by the law to meet the heightened eviction demand that will follow after the eviction moratorium is lifted. The Council should also expedite the application of the current Right to Counsel law to zip codes where the law is currently not in effect (but slated to be implemented by 2022) to help those families that have had to bear the brunt of the coronavirus.
For instance, zip codes like 10032 and 10040 in Washington Heights, which are not currently receiving representation under the law, have reported high incidences of COVID-19 cases as compared to other neighborhoods of New York City.
Building on the Right to Counsel model, the City Council should employ its budgetary discretion to establish a similar initiative for small business owners. This initiative would fund nonprofit providers to offer comprehensive legal support for qualifying small businesses, particularly in neighborhoods like Washington Heights, Harlem, Elmhurst, Mott Haven, and Kingsbridge.
Nonprofits should be provided funding to assist vulnerable small businesses with free attorneys to negotiate, among other things, new language to their original commercial leases, giving them the greatest protection possible. Here, an attorney's lease interpretation skills could result in positive outcomes for commercial tenants, such as a rent arrears repayment plan or a shortened contractual obligation period for which they have to pay rent. And if negotiations fail, this initiative would also provide free legal representation for qualifying small businesses in commercial eviction proceedings in court.
Indeed, these proposals have costs — but this is a perfect time for New York City to prioritize long-standing needs of our hard-working families. New Yorkers are counting on policy-makers to be courageous and make bold decisions to steer us in the right direction. We need to get it done.
***
Shaun Abreu is a tenants' rights attorney and represents low-income tenants covered under the Right to Counsel law in Housing Court. He is a candidate for City Council in Manhattan's District 7. On Twitter @ShaunAbreu.
***
Have an op-ed idea or submission for Gotham Gazette? Email This email address is being protected from spambots. You need JavaScript enabled to view it.