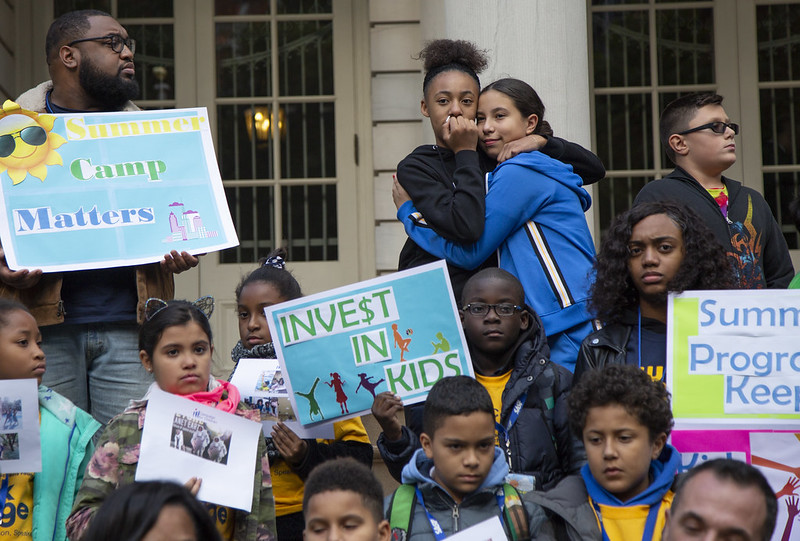 Tens of thousands of young New Yorkers rely on SYEP (photo: John McCarten/City Council)
---
When I first heard of the New York City Summer Youth Employment Program (SYEP) two years ago, I had just turned 14. I was so excited because that Fall I would enter high school and my family needed money to help pay for my uniform, school supplies, and books. Like a lot of New York families, money was already tight, so the prospect of getting a job where I could help my parents even just a little was an incredible opportunity.
Over the last two summers, SYEP has been a great experience that not only helped me make some money, but also helped prepare me for a better future. Before Mayor de Blasio announced he would be cutting SYEP funding this year as a result of coronavirus, I was already accepted for the summer of 2020, an opportunity I no longer have unless the city undoes that budget cut.
Before SYEP, I wasn't sure what I wanted to pursue in college and possibly beyond. Then, last summer, I worked at State Farm, which helped me realize how much passion I had for business, finally giving me an idea of what I wanted to study. Through SYEP, I also entered the Work Learn Grow program, which gave me my start working in a social work environment -- a shelter, which completely changed my perspective on life, work, and society.
Through Work Learn Grow, I started working at Praxis Enterprise. Having small parties and celebrations for families living in the shelter brought me joy. Coming into work every day and hearing "Hi Leny! I missed you! Is there after school today?" made me happy. I could have had a bad day but knowing how much I can brighten someone's day - -even through their hardships -- was motivating in a whole new way.
It's no secret that life for us all under quarantine has been difficult. Not being able to go outside, see my friends, or even go to school has taken a toll on me. I feel for those who have depression like me. I feel for those who are struggling to make ends meet. Sadly, I know I'm not alone. All of which is why I can't help but think of the tens of thousands of teens just like me who would benefit from having the SYEP now more than ever, especially those whose family members have lost work because of the virus.
For the thousands of parents who don't have a job, their children could help to fill the void of onerous expenses. Countless families could be saved using SYEP as a way to bring food to the table, transportation money, and to contribute to rent or other household needs.
But SYEP is about so much more than just a summer paycheck. It's about getting the opportunity for real-world work experience so many thousands of us teens wouldn't otherwise get. Being in SYEP helped me build my resume, which will help me for years to come as I apply to college and pursue other opportunities. SYEP, even if conducted remotely, still has the enormous potential to help teens like me far into our futures, beyond this summer. Without it, we risk falling much further behind our peers throughout the city.
If our school system of more than 1 million students could convert to remote learning in just a week, then surely there is a way to convert SYEP to provide remote jobs as well. Most students in New York City have electronic devices they can work on, many more so now that the city has been distributing devices for school purposes. This opportunity would be a huge help to the families who lost their main sources of income because of this pandemic.
I hope the mayor and City Council reverse course to help the youth of this city who were counting on summer employment opportunities even before this hard time set in, and need SYEP even more now. We depend on these jobs not just for this summer, but for our futures. Now is not the time to cut SYEP, now is when we need it most.
***
Karleny Ramos is a junior at the High School for Teaching and Professions in the Bronx and a member of Teens Take Charge. On Twitter @TeensTakeCharge.
***
Have an op-ed idea or submission for Gotham Gazette? Email This email address is being protected from spambots. You need JavaScript enabled to view it.