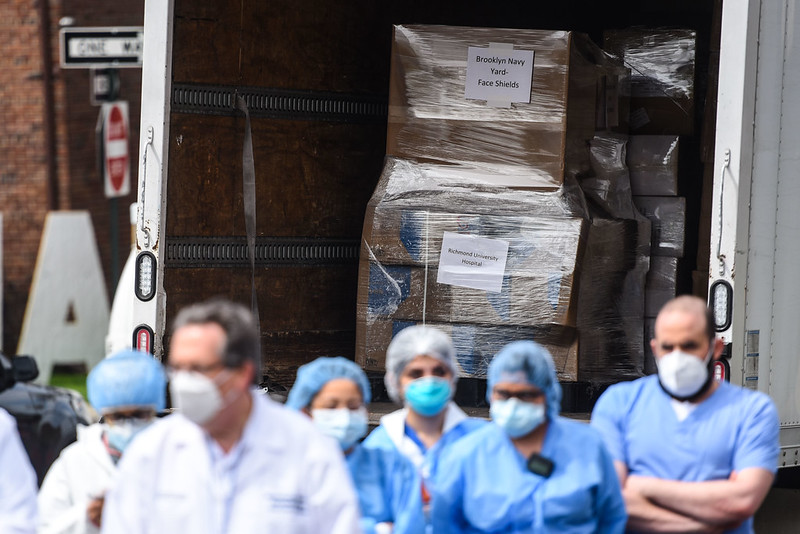 A frontline health-care worker on what's needed next from DC (photo: Michael Appleton/Mayor's Office)
---
It has been a challenging, frightening time for everyone, but especially for those of us working in health care. Amid all the suffering and anxiety brought about by COVID-19, health-care workers on the frontlines have continued to show up and display strength, faith, and courage in taking care of the most vulnerable.
During these difficult times, I have never seen such dedication displayed by my co-workers in health-care facilities across New York City and throughout the state. At times overwhelmed, emotional, and exhausted as the surge of the virus engulfed us, I've never regretted the career path I have chosen.
In 1997, I migrated from Trinidad to New York City and pursued a career in health care as a Respiratory Therapist. During my 18 years as a therapist, I have intubated and managed countless patients on a ventilator at my hospital in Brooklyn. But all of my education and experience has been tested by the challenge of this pandemic.
On a daily basis my co-workers and I experience a massive influx of critically ill patients, each exhibiting new and unexplained symptoms. Brooklyn has had more than 50,000 cases of COVID-19 alone. Additionally, we are all managing the daunting task of caring for our own families and co-workers who are threatened by COVID-19.
The people at my hospital and medical professionals around the state – many of whom, like me, are proud members of 1199SEIU – are committed to delivering the same high standard of quality health care, regardless of this outbreak. But to do that, we need every piece of our health-care delivery system doing its part: health-care workers, health-care facilities, health insurers, our community, and state and federal government.
The heartfelt thanks and gratitude we have received from our communities – including the nightly rounds of applause – have been overwhelming and are greatly appreciated. But these words cannot save lives. To provide the needed care at this critical and challenging moment, my frontline colleagues and I need help. In particular, we need the federal government to provide the financial assistance that my co-workers, our patients, and our state need to deliver quality health care.
As they continue to discuss the next stimulus package, Congress and President Trump need to do the following:
Personal Protective Equipment (PPE): Whether they're working in a hospital, clinic, nursing home or delivering home care, all frontline workers must have enough personal protective equipment (PPE) to keep themselves – and their patients – safe. It's frustrating for me and my colleagues that Congress could ever think this is up for debate. We can't deliver great care if we can't protect ourselves from the diseases we're fighting each day.
Crisis Pay: Frontline healthcare workers who are risking their lives every day they go to work should receive some sort of premium pay that recognizes their courage and the sacrifices they make day in and day out.
And as offices and schools alike are closed, many parents are juggling working from home while caring for their children. This is no doubt a challenging task. But for parents like me and many of those I work with, working from home is not an option, and the unexpected costs of finding daycare for our children have added a financial burden to the physical and emotional burdens we're undergoing.
Medicaid Funding: Medicaid covers a third of New Yorkers, including millions of children and seniors. As the pandemic continues and unemployment skyrockets, more and more New Yorkers need that coverage. Our Medicaid program is already stretched to the limit and is about to break unless the federal government does its part and provides more funding for this critical program. If our hospitals don't survive, our patients don't. Medicaid funding is essential for us to continue doing the work we're doing to battle this crisis.
In recent days, we have begun to see the light at the end of this tunnel. But our work is far from done.
The next COVID-19 relief package is being negotiated on Capitol Hill right now and must address the lack of resources across New York. If we get the support we need and deserve from Congress and the Trump administration, together we will win this health-care battle. We, as frontline health-care workers, are committed to do our job. Congress and the President have to do theirs.
***
Allison Trubett has worked as a respiratory therapist in Brooklyn for 18 years. She is a member of 1199SEIU United Healthcare Workers East.
***
Have an op-ed idea or submission for Gotham Gazette? Email This email address is being protected from spambots. You need JavaScript enabled to view it.