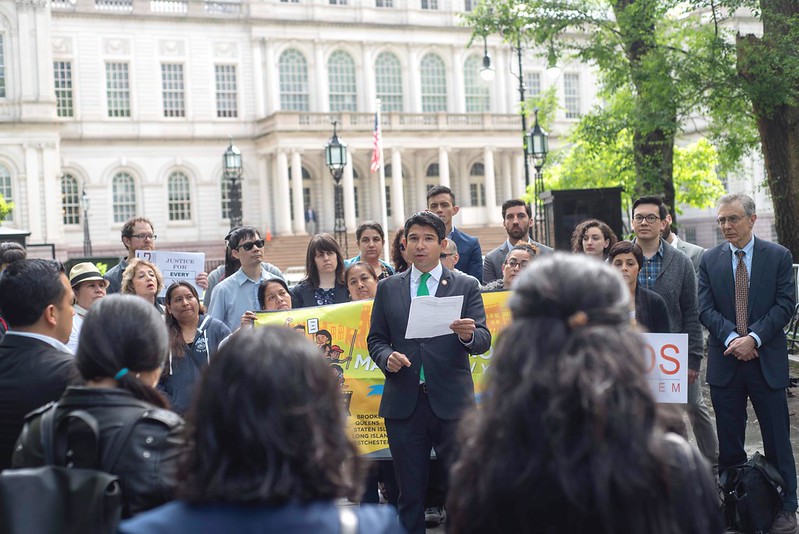 Council Member Carlos Menchaca, the author (photo: John McCarten/City Council)
---
As in past crises, immigrant New Yorkers are suffering acutely under COVID-19: this time with a cruel twist. While thousands of immigrants work on the frontlines, caring for the sick, cleaning the subways, and keeping us all fed in quarantine, so many are unable to pay rent, keep their businesses afloat, or stay home because of their exclusion from federal relief programs.
That hypocrisy alone should warrant intervention by New York state government, yet it hasn't. Governor Cuomo has either blamed the federal government for not giving enough aid, or incorrectly claimed, as he did this week, that "the federal government has a number of programs to address" the plight of immigrants already.
The state's lack of urgency reflects values and priorities as much as fiscal reality. But our city cannot afford to wait for the state to help more than 3 million of our own New Yorkers. We must have the courage to pass a budget that addresses their desperation, primarily because the city's full recovery depends on it.
In New York City, more than half of immigrants are essential workers, immigrants own half the city's businesses and contributed $232 billion last year to our GDP. That includes 360,000 undocumented immigrant workers and 48,000 undocumented business owners. A city budget -- due by July 1 -- that excludes immigrants from relief would be astonishingly hypocritical on this basis alone.
It would also be cruel. According to a survey recently conducted by Make the Road New York, nine out of ten immigrant households have at least one earner who has lost a job or income since the pandemic began. Of unemployed respondents, 88% are out of work because of COVID-19. With nine in ten immigrants also renters, more than half were unable to pay rent in April, and nearly every respondent worries they cannot pay in May.
Compounding this economic insecurity is lack of access to government assistance, as undocumented immigrants were largely excluded from federal relief – such as paid sick leave and unemployment benefits – even though they pay billions, annually, in taxes. Of those surveyed, only 15 percent reported receiving any support from the government at all.
Above all, the Trump Administration's anti-immigrant agenda has proved to be a death sentence for our communities: pre-pandemic expansion of the public charge rule and escalation of immigration enforcement have caused many immigrants to shirk medical care, which puts everyone at risk. All the while, ICE continues to arrest and detain immigrants in COVID-19 infested facilities and the U.S. Department of Justice forces immigration courts to remain open for detained dockets, putting both immigration agents and public defenders at risk.
There is much New York City can do through the budget to help immigrant New Yorkers. Our current situation has exposed the critical gaps our budget fills: funding public defenders for the deportation defense of unaccompanied minors and detained adults; English proficiency classes for New Yorkers to navigate city life and government at all levels; and healthcare programs that are immigrant-led through trusted community partners, to name a few. We must fully renew funding for all immigration legal services and adult literacy programs; allocate funding for culturally sensitive health and mental health-care, and interpretation services like a worker cooperative language bank.
We can also pass existing legislation that would reform our commercial rent market; legalize e-bikes for delivery workers now that state authorization exists; and reform and expand our street vendor licensing system. These bills already enjoy overwhelming City Council support and their passage would send a clear message to immigrant New Yorkers that the city has their backs.
None of these things would come easy, and I appreciate, as a member of the Council's Budget Negotiating Team, the competing priorities with which we are faced. But immigrants are not a special interest. If we do not secure the well-being of over 3 million New Yorkers, there is no recovery.
It is time for all levels of government to step up and recognize what over 120 grassroots-led mutual aid groups already know: that full recovery depends on the well-being of our immigrant communities. That praise for essential workers is hollow if we exclude most of their ranks from relief. And worse of all, we make a mockery of our collective effort if we leave so many behind.
***
City Council Member Carlos Menchaca represents parts of Brooklyn and chairs the Council's immigration committee. On Twitter @CMenchaca.
***
Have an op-ed idea or submission for Gotham Gazette? Email This email address is being protected from spambots. You need JavaScript enabled to view it.