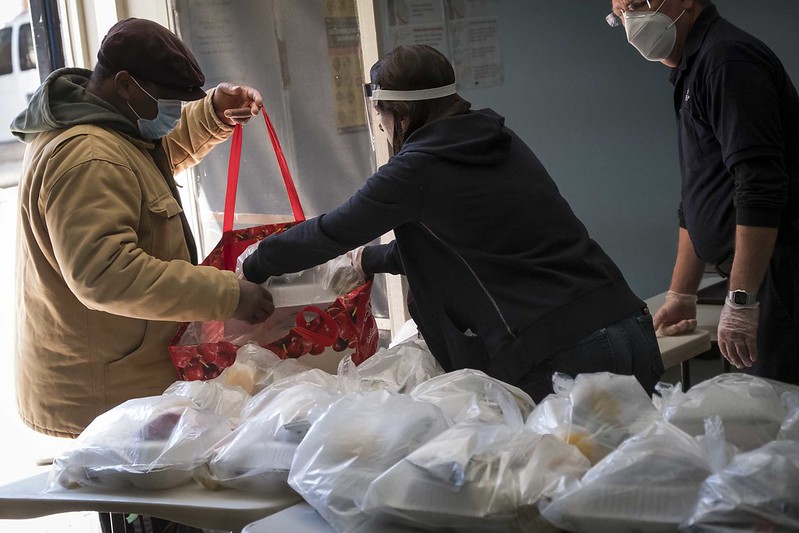 Workers at Project Hospitality move meals (photo: Ed Reed/Mayor's Office)
---
Like health care workers, first responders, grocery workers, delivery workers, and more, human services workers are essential workers during COVID-19 and beyond. We are always essential.
We serve the most vulnerable where they are and according to what they need. We help seniors get meals and medications delivered and staff residential facilities, homeless shelters, and food banks.
We provide home care to at-risk communities, keeping them from overwhelming hospitals. We help people navigate the unemployment system, sign up for public benefits, and fight back against predatory landlords. We provide services to address the rise in domestic violence and child abuse, and assist those impacted by the justice system.
We help families navigate remote learning and staff Regional Enrichment Centers for the children of frontline workers and homeless children. We are mainly women, people of color, and immigrants serving our neighbors in communities disproportionately impacted by COVID-19, and for whom recovery will be a long and arduous road.
More than anywhere else in the nation, New York State and City contract out their human services work to us because they recognize that government cannot provide services to the vast diversity of New York's population on its own. The work continues even as conditions have deteriorated.
We have not received hazard pay although we are required to keep our programs open, are underpaid and have gone years without cost of living adjustments. We lack adequate Personal Protective Equipment (PPE). Many of our staff have gotten COVID-19, some have died.
We are working without adequate support from government. The City has threatened to reduce funding to many of our programs, which are more critical now than ever. This has already triggered layoffs, contributed to widespread job insecurity, and hurt the communities already marginalized and isolated before the pandemic began.
Throughout the crisis, the City has not successfully communicated its emergency response strategies to the human services sector nor has it sought to bring the sector to the table as real partners and active problem-solvers to jointly determine its plans, thereby compromising and in some cases, delaying the provision of needed resources to hard-hit neighborhoods. The City is also proposing policies that while well-intentioned, will be unfunded mandates for human services organizations.
We demand that the City of New York ensure now and through recovery:
-All human services workers receive pay reflective of our commitment and essential services to New York City. This includes hazard pay (incentive pay) and annual cost of living adjustments that have to be funded by the City.
-Human services organizations be recognized as essential to the city's rehabilitation and receive assurance that all of our City contracts and City Council discretionary funding will renew in Fiscal Year 2021 (which begins this July 1) so that we can continue our work.
-Human services organizations receive maximum contractual flexibility in FY21 to meet the evolving and emerging needs of the communities we serve.
-A FY21 City budget that prioritizes human services that support the neighborhoods and populations most significantly impacted by COVID-19.
We are risking our own health and our families' health to serve others through COVID-19. When New York begins to recover, we will be the ones helping the hardest hit New Yorkers put their lives back together. Without adequate support from the City, human services workers will not be able to carry out this work, and tragedies resulting from COVID-19 will continue to worsen.
Signed,
Chinese-American Planning Council (CPC)
Greenwich House
Northern Manhattan Improvement Corporation (NMIC)
Stanley Isaacs Neighborhood Center
Womankind
Additional Signatories
82nd Street Academics
Abbott House
Academy of Medical & Public Health Services
ACMH, Inc.
Ali Forney Center
Apex for Youth
Apicha Community Health Center
Arab-American Family Support Center
Asian American Federation
Asian Americans for Equality
Bangladeshi American Community Development and Youth Services
Bedford Stuyvesant Restoration Corporation
Bergen Beach Youth Organization
Big Brothers Big Sisters of NYC
Birch Family Services
Boys' Club of New York
BRC
Broadway Housing Communities
Bronx House
BronxWorks
Brooklyn Community Services
CASES
Casita Maria
Catholic Charities
Center for Court Innovation
Center for Employment Opportunites
Center for Family Life
Center for the Integration and Advancement of New Americans, Inc. (CIANA)
Child Care Center Of New York City
Child Center of New York
Chinatown Manpower Project
Chinese Methodist Center Corporation
Chinese Progressive Association
Citymeals on Wheels
Coalition for Asian American Children and Families (CACF)
Coalition for Hispanic Family Serviced
Coalition for Homeless Youth
Commonpoint Queens
Community Consultation Center/Henry Street Settlement
Community League of the Heights Inc
Community Options
Comunilife, Inc.
Concern for Independent Living, Inc.
Cypress Hills Local Development Corporation
Day One
Desis Rising Up & Moving (DRUM)
Dominican Women's Development Center
Educational Alliance
Elmcor Youth & Adult Activities
Emerald Isle Immigration Center
Encore Community Services
Fern Zagor Consulting LLC
Fifth Avenue Committee
Florence E. Smith Senior Services
Fox House
Girl Vow
Girls for Gender Equity
Goddard Riverside
Goodwill Industries of Greater NY and Northern NJ, Inc.
Graham Windham
Grand St. Settlement
Green City Force
Hamilton-Madison House
HANAC Inc.
Harlem Dowling-West Side Center
Hartley House, INC
Head Start Sponsoring Board of NYC
Heights and Hills
Henry Street Settlement
Her Justice
Homecrest Community Services Inc.
Hot Bread Kitchen
Housing and Services, Inc.
Hudson Guild
I Have A Dream - NY Foundation
ICL
India Home, Inc.
Indochina Sino-American Community Center
Jacob A Riis Neighborhood Settlement
Japanese American Social Services, Inc
JASA
JCC Staten Island
JCCA
JCHHOMES
Jewel Human Services Inc.
Jewish Community Center of Staten Island
Kingsbridge Heights Community Center, Inc.
Korean Community Services of Metropolitan New York, Inc.
La Colmena
Laal NYC
Lantern Community Services
Lenox Hill Neighborhood House
Life Dome adult Services
Literacy Assistance Center
Little Flower Children and Family Services of NY
Lower East Side Family Union
Lutheran Social Service of NY
Manhattan Youth
Maranatha Human Services. Org
Mekong NYC
Mercy Home for Children, Inc.
MercyFirst
Millennium Development
MinKwon Center for Community Action
Mixteca Organization, Inc.
MMCC
Morningside Retirement and Health Services
Mosholu Montefiore Community Center
Muslim Community Network
NAACP New York State Conference
National Association of Social Workers-NYC Chapter
Neighborhood Coalition for Shelter
New Settlement Apartments
New York Center for Interpersonal Development, Inc.
New York City Alliance Against Sexual Assault
New York City Anti-Violence Project
New York Memory Center
Nonprofit Finance Fund
Nonprofit New York
Nontraditional Employment for Women (NEW)
NYC Employment and Training Coalition
NYU Nursing
Ocean Bay Community Development Corporation
Odyssey House, Inc.
Opportunities for a Better Tomorrow
Option Center/ Goddard Riverside Community Center
Osborne Association
Outreach Development Corporation
PA'LANTE Harlem
Partnership for After School Education
Partnership with Children
People's Theatre Project
Per Scholas
Phipps Neighborhoods
Polonians Organized to Minister to Our Community, Inc.
Presbyterian Senior Services (PSS)
Project Hospitality
Providence House, Inc
Queens Community House
R.A.I.N. Inc.
Recreation Rooms and Settlement
Red Hook Initiative
Restore NYC
RiseBoro Community Partnership
RSS Riverdale Senior Services
RYAN Health
Safe Horizon
SAGE
SAIL, Inc.
Sakhi for South Asian Women
Sampreshan Inc
Sapna NYC, Inc.
SCAN-Harbor, Inc.
SCO Family of Services
Selfhelp Community Services, Inc.
Services Now for Adult Persons, Inc. (SNAP)
Sheltering Arms
Sisters of Charity Housing Development Corporation
SNAP-Ed
Social Builder USA
South Asian Council for Social Services
South Asian Youth Action
Southeast Bronx Neighborhood Centers, Inc.
Spanish Speaking Elderly Council-Raices, Inc.
St Nicks Alliance
St. Francis Friends of the Poor
St. John's Residence for Boys
StreetWise Partners
Sunnyside Community Services
Supportive Housing Network of New York
The Advocacy Institute
The Brotherhood Sister Sol
The Center for Anti-Violence Education
The Child Center of NY
The Children's Village
The Committee for Hispanic Children and Families
The Door
The Fortune Society, Inc.
The HOPE Program
The Jewish Board of Family & Children's Services
The Korean American Family Service Center
The League Education and Treatment Center
The New York Foundling
The NYC LGBT Center
The Young Women's Christians Association of Queens
Tolentine Zeiser Community Life Center
Union Settlement
Unique People Services
United Chinese Association of Brooklyn
University Consultation & Treatment Center for Mental Hygiene Inc
University Settlement Society Of New York
UnLocal, Inc.
Urban Pathways
Veterans & Community Housing Coalition
Violence Intervention Program
Volunteers of America-Greater New York, Inc.
Washington Heights Community Services, Inc.
West Side Federation for Senior and Supportive Housing (WSFSSH)
Women For Afghan Women
Women In Need (WIN)
Workforce Professionals Training Institute
YM & YWHA of Washington Heights and Inwood
Youth Action Programs and Homes, Inc.
***
Have an op-ed idea or submission for Gotham Gazette? Email This email address is being protected from spambots. You need JavaScript enabled to view it.