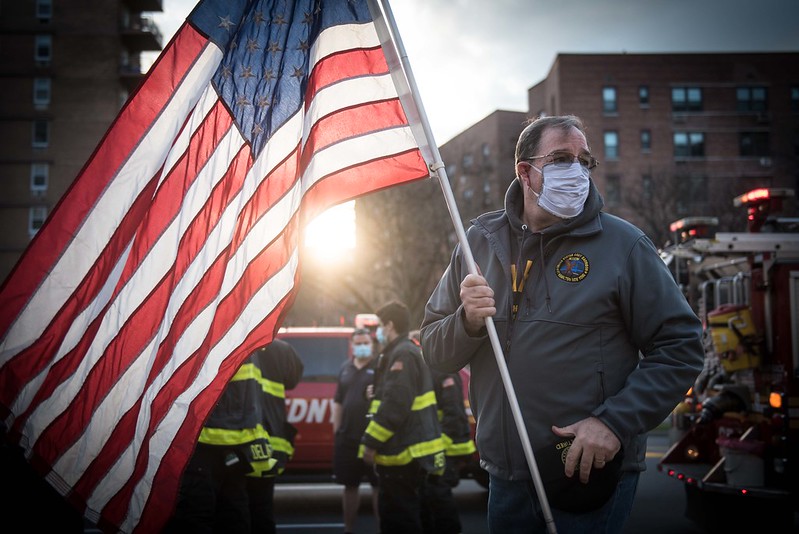 (photo: Michael Appleton/Mayoral Photography Office)
---
The COVID-19 pandemic has taken so much from us all – over 100,000 lives taken too soon; months spent alone; businesses shuttered forever; and birthdays, proms, goodbyes, graduations, ball games, firsts and lasts missed. It must mean something, but only we can give it meaning through our actions, preparation, kind gestures, and deep love of all that we took for granted, including our shared connection. We have an opportunity to ensure all that we lost was not in vain. As a nation, as a people, we have a solemn obligation to not simply recreate what we had, but to build something better, stronger, more resilient, and more enduring.
We have this immense and meaningful opportunity because of those who took swift action, sacrificed their well-being to serve others, and risked ridicule and failure to save lives and curtail the spread of COVID-19. Their actions to beat back this twisted bunch of RNA undoubtedly mitigated the potential for an even more complete disaster. We owe them a debt of gratitude, but also a new and better normal.
A return to the way things used to be is impossible. We are, as a people, forever changed. Yes, state and federal guidelines for an economic reopening are being implemented in some regions, and we should proceed with these plans based on data, rationale, and the advice of experts, lest we risk going through this experience again. However, reopening is only one piece of the puzzle.
The future is uncertain, but we must be better prepared for the next crisis. For many who confronted COVID-19, it was not an absence of will that kept them from acting as quickly and effectively as possible, but a lack of the necessary tools. Insufficient testing (especially early on), inadequate supply of personal protective and emergency medical equipment, and low levels of health-care capacity are just the most obvious gaps. There were and are more. Data systems and sharing had to be developed and evolved on the fly and many localities had to creatively re-assign staff and rely on volunteers to perform basic levels of contact tracing.
This will not be the last time an infectious disease upturns our lives. To prepare for future challenges, we must increase emergency stockpiles; create supply lines that are more accessible and reliable during periods of global crisis; and streamline regulatory regimes that slowed the approval of needed screening tools and limited innovative solutions. Further, we should generally seek to improve disease surveillance, modernize disease tracking by creating a National Infectious Disease Forecasting Center (as recommended by many, including former F.D.A. Commissioner Dr. Scott Gottlieb), and increase contact tracing capacity by expanding the workforce dedicated to this task and by utilizing app-based technologies.
As a society, we must do more to elevate medical and public health professions and encourage more people to enter these important fields. State governments should look to increase the authority and autonomy of nurse practitioners and physicians' assistants and permanently reduce restrictions on out-of-state practitioners. Public health professionals should help develop high school curriculums that incorporate specific units on infectious diseases and develop basic public health skills and competencies that could potentially be used on a volunteer basis during a pandemic. All levels of government should work to bolster the ranks of public health service corps and medical reserve corps through tax benefits, recruitment efforts, and increasing paid service roles. As recommended by the "Roadmap to Pandemic Resilience" from Harvard's Edmond J. Safra Center for Ethics, National Guard units in each state should add Health Reserves Corps.
Much has been lost and foregone over these months. It would have been easy during this time to lose our connection to one another, but in so many ways that connection deepened. Health-care professionals and first responders, including those who came out of retirement, consistently put the well-being of their patients before their own. People from all walks of life went to work making masks, gathering supplies, delivering meals, and caring for others. Tens of millions of dollars were donated to support COVID-19 response and relief efforts. Neighbors sang in the streets; teachers adapted on the fly to a new paradigm; friends and families celebrated milestones with impromptu parades and honking horns; and millions of individuals stayed at home and stopped the spread.
Sadly, there was no permanent cessation of political jabbing, name-calling, and anger. However, there were plenty of positive lessons to be learned. Experts and expertise seemed to regain the public's and some political leaders' reverence. The critical role of federalism in our republic was highlighted by the swift and well-thought-out actions of many governors, while the benefits of localism were clear, given the creativity and proactiveness of counties throughout New York and the nation. My experience during this emergency has been one of practical and congenial bipartisanship, not the mudslinging you see on the national news.
And yet the most important lesson is not about politics but people. It is about how important our shared connection is to our overall well-being. It is also about this opportunity to glimpse, if only briefly, the lives of those less fortunate – those who face food insecurity every day, those who live paycheck to paycheck, and those who face crippling anxiety and fear of the world outside their doors.
When we create our new normal, let us not forget those lessons. Let our recovery herald in a return to a better humanity in which we cherish those connections we have and work to form stronger bonds with our wider community. Let us return to a better humanity that takes care of those less fortunate by providing a strong safety net to catch those who have fallen through the cracks and that offers a sturdy ladder to aid in the climb to prosperity.
The world has changed, and we must change with it, if for no other reason than that we owe all those lost and all who lost, sacrificed, and worked so hard a better world, a new normal. We owe them a return to a stronger, healthier, and more connected humanity.
***
Marc Molinaro is the Dutchess County Executive. On Twitter @MarcMolinaro.
***
Have an op-ed idea or submission for Gotham Gazette? Email This email address is being protected from spambots. You need JavaScript enabled to view it.