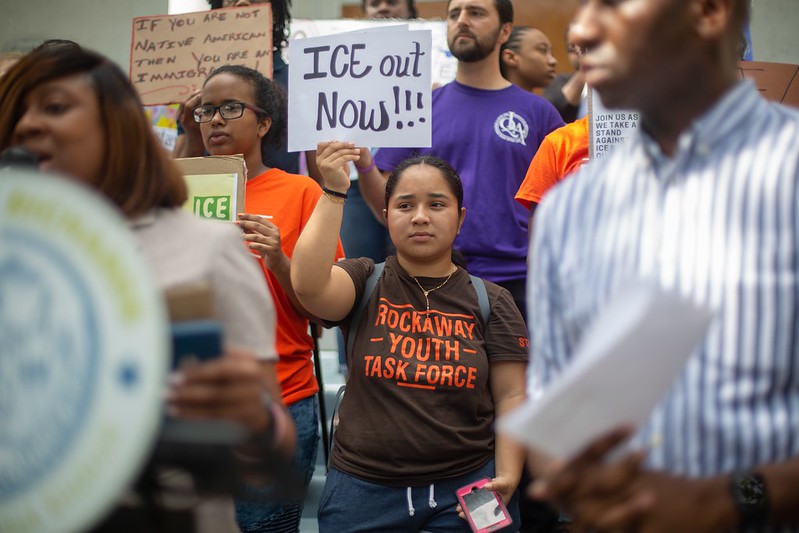 As courts in NY reopen, the role of ICE will be top of mind for many (photo: John McCarten/City Council)
---
Courthouses in 30 upstate New York counties have begun the gradual process of restarting the state's legal system. The pandemic has highlighted the urgent need for due process and just how critical access to justice is for New York's most vulnerable communities. There remain, however, significant barriers for many who desperately need their day in court.
For years, ICE has preyed on non-citizens in and around our courthouses, using fear and intimidation to limit access to justice for our communities. The Protect Our Courts Act would help ensure that all New Yorkers feel safe to access the courts by preventing ICE agents from detaining people in or around courthouses unless they have a signed judicial warrant.
Lawmakers in Albany must make the Protect Our Courts Act a priority if we are going to make the promise of equal justice under the law a reality in this time of crisis. Without this vital protection, we are likely to see a surge in ICE arrests that will effectively shut many of the most vulnerable New Yorkers out of the courts and heighten the risk of contagion for those detained. The Immigrant Defense Project (IDP) tracks ICE raids throughout the state, and in the first 11 weeks of 2020, raids in New York City increased 400% compared with the same period last year. When these arrests ramp up again, and they will, the same communities hardest hit by COVID-19 will have to endure another wave of attacks, mourning, and lives disappeared.
ICE has already used the courthouse to trap immigrants during the current crisis. On March 13, as President Trump declared a National Emergency, Mr. RC, a client of The Bronx Defenders, appeared in state court in Poughkeepsie. Despite the mounting pandemic and the deployment of state and federal resources to try to contain the virus and protect public health, six ICE officers entered the courthouse, defying Office of Court Administration rules promulgated last year, waited for Mr. RC outside the courtroom doors, and arrested him as he left his court appearance. None of the officers wore gloves, masks, or any other protective gear. ICE then detained Mr. RC at the Orange County Jail, increasing the likelihood of exposure and separating him from his fiancee and one-year-old as the worst period of the pandemic was just beginning.
Mr. RC's experience is not an aberration. The Bronx Defenders has represented hundreds of individuals arrested under circumstances that demonstrate ICE's disregard for the health, safety, and, indeed, the humanity of immigrants in New York. The tremendous health risks posed by detention centers have been well-documented. Detained immigrants have been holding hunger strikes, protesting, and filing lawsuits calling on ICE to end unnecessary and harmful detention. The last place anyone should be in the midst of this pandemic is a cage. At this critical moment, New York should embrace legislation that would limit ICE's ability to pull more New Yorkers into its dragnet.
It is hard to imagine a worse time to punish and endanger immigrant New Yorkers. Every ICE arrest, detention, and deportation takes someone away from communities that have been pushed past the breaking point. The death rate for black and Latino people in New York City has been twice the rate for white people, and essential workers most at risk are disproportionately likely to be women, immigrants, black, and Latino. As people vanish from the neighborhood, loved ones are left turning over survival and grief in their hands as refrigerated trucks full of the deceased sit in parking lots nearby.
The Protect our Courts Act already has majority support in both chambers of the New York State Legislature. Now more than ever we cannot let ICE stand in the way of full access to public services, rights, and remedies, including those available at the courts, such as orders of protection, fighting evictions, seeking child support, and defending oneself against criminal charges. When ICE's intentions to use our courts as a lure to detain immigrants at the outset of a pandemic are so clear, we must not wait to see how ICE will strike next before we act.
***
Mizue Aizeki is the deputy director of the Immigrant Defense Project. Rosa Cohen-Cruz is the Policy Counsel to the Immigration Practice of the Bronx Defenders. On Twitter @ImmDefense & @BronxDefenders.
***
Have an op-ed idea or submission for Gotham Gazette? Email This email address is being protected from spambots. You need JavaScript enabled to view it.