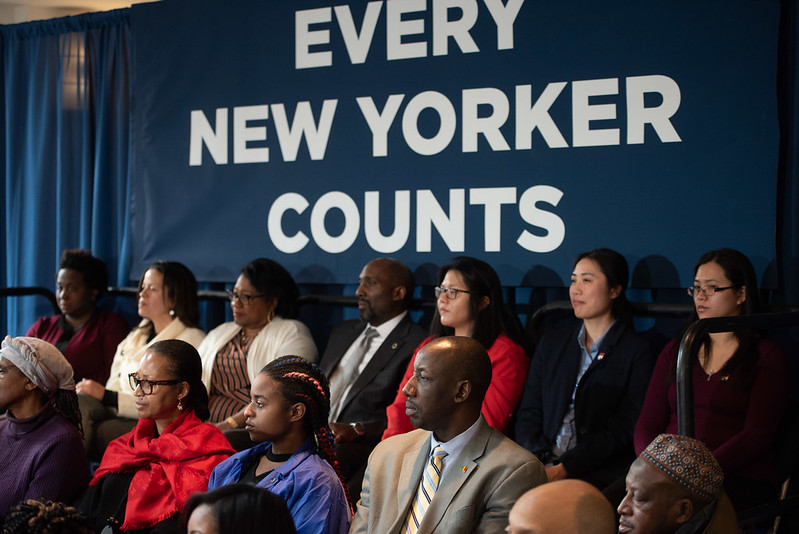 New York City Census efforts (photo: Michael Appleton/Mayoral Photography Office)
---
As the cost to confront COVID-19 grows each day, a severe fiscal fallout for New York's state and city budgets becomes more of a certainty. And with steep cuts to government programs all but assured, we New Yorkers cannot overlook the significance of participating in this year's Census. Consider this: New York's recovery will depend on federal funding, and each person not counted can cost New York $3,054 critical to providing education, housing, transportation, and medical services in areas hit hard by COVID-19.
If New York City has the same low response rate that it did in 2010, it is likely that nearly 2.5 million people in New York City will not be counted in the self-response phase. This would equate to nearly $8 billion in lost federal funding, which happens to be about the projected shortfall in the city budget for this and next fiscal years. Representation in Congress is on the line, too. Because of a low count last Census, New York lost two seats in the House of Representatives.
With federal funding and equitable political representation critical to our recovery, the stakes of the Census couldn't be higher. It is imperative that New Yorkers, especially those from historically undercounted immigrant and underserved communities, respond to the decennial count in droves. At the same time, the pandemic will make it even harder for some in these communities to participate.
As CEO of RiseBoro Community Partnership, a nonprofit that offers holistic services to meet community needs in Brooklyn, I know how structural racism and poverty often lead to marginalization. Brooklyn is notoriously the hardest-to-count county in all of New York. In the 2010 Census, Brooklyn had the lowest mail return rate in the country among counties with populations over 500,000. Approximately 80% of Brooklynites live in hard-to-count neighborhoods. 2020 is the year to buck that trend and ensure that low-income communities and people of color get fully counted.
States with the greatest number of people and highest concentrations of poverty receive proportionally greater amounts of federal aid than other states. Over 14% of the 19.5 million people living in New York State are below the poverty line. If underserved groups are not accurately represented in the Census, organizations like RiseBoro have a difficult time meeting the needs that exist in the communities they serve because of a lack of funding.
My organization is working in partnership with the City University of New York (CUNY), the mayor's Census office, and the New York City Council to mobilize New Yorkers to self-respond to the 2020 Census. We received $250,000 to support a fair and complete count of Bushwick, Brownsville, and Crown Heights—three communities with poverty levels up to 40%.
The barriers to responding to the Census that these underserved communities faced in 2010 still exist today. There is limited English literacy; there are motives for concealment, such as undocumented status; and children under five and seniors are often undercounted. Brooklyn has the largest population of seniors and children under five in New York City.
Like most of the five boroughs, Brooklyn is a melting pot of cultures, and that is particularly true in Bushwick, Brownsville, and Crown Heights. In these communities the most common languages other than English are Spanish, Mandarin, and Cantonese. Residents typically rely on places like libraries and community centers to fill out the Census. With COVID-19 making that impossible, it's up to community organizations to take the lead.
At RiseBoro, staff fluent in these languages are making calls to help people fill out their forms. With many in these communities concerned about their immigration status, being able to speak with someone in their own language is a way to put them at ease.
About 400,000 Brooklynites—15% of our borough's total population—are not U.S. citizens. To every immigrant and person from an underserved community reading this, know that you are in no way in jeopardy of being deported because of your Census answers. Despite previous efforts by the Trump Administration, the 2020 Census contains no question about citizenship status.
Your response is vital to providing resources to you, your family, and your community. The Census results will inform how federal funding is allocated to programs you and other New Yorkers depend on, including Medicaid, community mental health services, and the Supplemental Nutrition Assistance Program (SNAP).
As a city, we need to put extra effort into responding to the Census. We are fighting for our share of over $650 billion a year that the federal government allocates, and with the coronavirus decimating New York's budget, every person counts.
***
Scott Short is the CEO of RiseBoro Community Partnership, a nonprofit dedicated to holistic community revitalization in New York City. On Twitter @RiseboroNYC.
***
Have an op-ed idea or submission for Gotham Gazette? Email This email address is being protected from spambots. You need JavaScript enabled to view it.