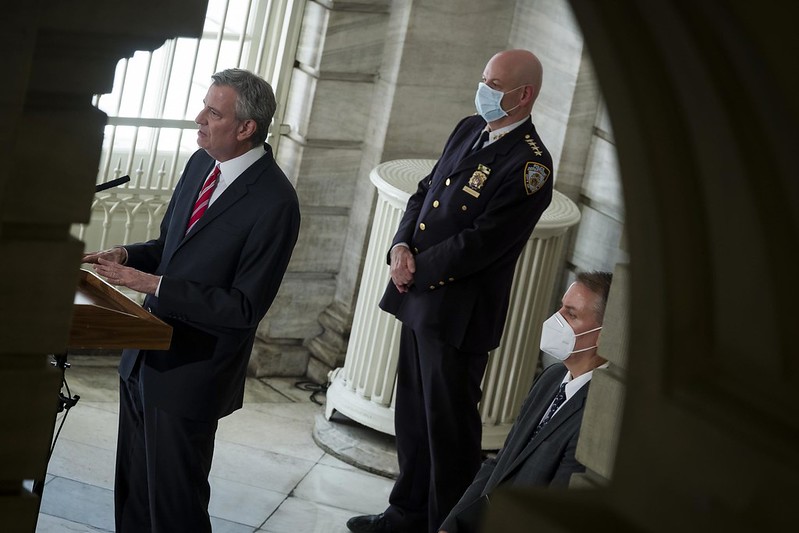 Mayor and NYPD officials (photo: Ed Reed/Mayoral Photography Office)
---
In recent days, city and state officials have rushed to stand up an army of contact tracers, public health officials who will reach out to every COVID-19 patient in the state, asking intimate details about every person they've come into contact with for the past two weeks. In the hands of public health officials, this data will save lives. But if we let this same information fall into the hands of the police, it won't just undermine our most important rights, it will set back the efforts to combat COVID-19.
In New York City, if contact tracing databases are added to the NYPD's growing armory of tracking tools the consequences will be disastrous. Our over-policed communities of color—those same communities that bear the brunt of this nightmarish pandemic—will face an impossible choice: provide information or help public health, or hide information to protect loved ones from police. And for undocumented New Yorkers, or those from mixed status households or families, even social networks, the threat is even more extreme, fearing that this same information might fall into the hands of ICE.
Today, officials can get contact tracing data with a simple subpoena, a standard lower than for looking at the contents of your phone or the documents in your house. But contact tracing is some of the most sensitive medical information in existence, and it should have more protections, not fewer.
Contact tracing only works when a patient can help contact tracers notify every person that they've been near. Sometimes those answers can be embarrassing, such as revealing an affair or illicit drug use, but a full accounting is the only way to quickly test and quarantine every New Yorker exposed to the virus. But as the law stands today, there is simply nothing to prevent the NYPD from weaponizing people's intimate information.
New York's laws simply don't protect against this nightmare scenario, and lawmakers need to act. Legislation can make clear that contact tracing data should never be provided to police. This isn't a question of getting a warrant or probable cause, this means a flat out ban that says our sensitive health information should never be used to put New Yorkers behind bars.
Of course, we already have a model for this, a type of sensitive information that New Yorkers provide the government because we are told it is protected: the U.S. Census. Every 10 years, when the Census asks New Yorkers to say how many people live in each home, it is stated that revealing census data is a federal crime.
If you work for the Census and you provide information to the NYPD or ICE, you won't be demoted, you won't just be fired, you'll be sent to prison. And we need an equally strong protection for the information we're being asked to provide public health officials through contact tracing.
It's no accident that the Census created these strong protections. It was a response to one of our nation's darkest chapters, when we imprisoned more than 120,000 Americans of Japanese descent for no reason other than their ancestry. During the World War II era Japanese Internment, law enforcement and military officials relied on Census records to find where Japanese families lived, forcing them off their land and into brutal, at times fatal, internment camps.
After the war, Census officials knew that they could never get an accurate count of where Americans lived if the public feared that Census information might be used against them. And so we gained the privacy protections that are in place to this day.
We can't wait to see the NYPD abuse its access to contact tracing data to act, we need protections now. Luckily, there are a slate of ready solutions. Bronx State Senator Gustavo Rivera and Manhattan Assembly Member Richard Gottfried, the chairs of their respective chambers' health committees, have legislation that will keep contact tracing data out of the hands of police. Meanwhile, Long Island State Senator Kevin Thomas and Manhattan Assembly Member Linda Rosenthal have legislation addressing the unique privacy threats of emerging contact tracing technologies, like the array of new smartphone-based systems now entering the market.
Because of the pandemic, Albany only has a brief window to act, but if they let it pass by, they will not just undermine public health, they will give the NYPD terrifying new power at a moment when millions of New Yorkers say the department already has too much.
***
Albert Fox Cahn is the executive director of The Surveillance Technology Oversight Project at the Urban Justice Center, a New York-based civil rights and privacy organization. He writes the monthly "Surveillance and the City" column for Gotham Gazette. On Twitter @FoxCahn.
***
Have an op-ed idea or submission for Gotham Gazette? Email This email address is being protected from spambots. You need JavaScript enabled to view it.