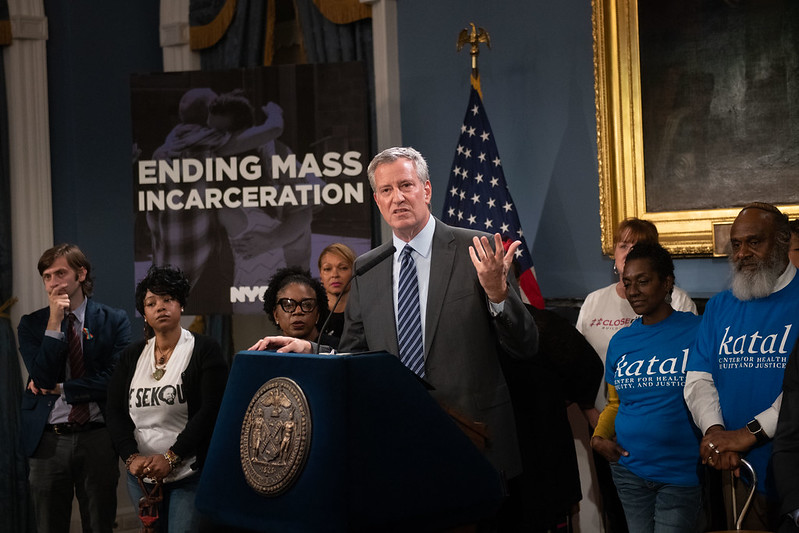 Mayor de Blasio discussing jails (photo: Michael Appleton/Mayor's Office)
---
Michael Tyson, Raymond Rivera, Layleen Polanco, Wayne Henderson, Kalief Browder, Jerome Murdough, Bradley Ballard, Carlos Mercado, Ronald Spear. Just some of the Black and brown people who have died in recent years from neglect or abuse at Rikers Island. As our city and country demand justice for racial inequities in policing and beyond, the budget for New York City's brutally violent, racially unjust, fiscally unjustifiable Department of Correction must be cut. The savings should be redirected to programs proven to keep people out of jail and advance safety, through a combination of housing and wrap-around services.
Imagine that you are locked up, punished without having been convicted, in a sweltering cage in one of the nine jails on Rikers Island. Imagine that your economic security has been destroyed and your family relationships ripped apart based on an accusation. This disproportionately happens to Black and Latino people, who are not afforded the same opportunities of innocence until proven guilty.
We make up 88 percent of the people incarcerated in New York City jails. We experience the extreme violence of Rikers, which is at an all-time high. We are isolated at Rikers from families, attorneys, and service providers. We fail to receive mental health care and other needed services.
Even if you believe in incarceration as punishment and incapacitation, Rikers is much more than that: it is unequitable, unconstitutional, and unfathomably expensive.
This year, New York City is spending $2.5 billion to jail people, amounting to more than $400,000 per person per year.
With the city's jail population at a low unseen since World War II, we can save hundreds of millions from the DOC budget by continuing a hiring freeze, cutting jail riot squads that a federal court's monitor found exacerbate violence, greatly reducing overtime, and continuing to close sparsely-populated jails. Then we can multiply those savings by broadening the scope of and resolutely funding far cheaper alternatives to Rikers that we know work better.
A key element: provide housing when needed. Since 2017, the Women's Community Justice Project has provided housing and services to homeless women jailed at Rikers pending trial for a wide range of alleged crimes. Of over 200 women served—the majority of whom are mothers and caregivers, often battling mental illness and substance use—98 percent made all court appearances and only two were charged with new crimes. The average cost: $30,000 per person per year, 1/13 the cost of Rikers.
In March 2020, to alleviate the close confinement that was causing coronavirus to spread in New York City jails at nine times the rate of the rest of the city, the DOC released 312 people who had been sentenced to less than a year in jail. Many had long histories of homelessness, serious mental illness, and substance use. Some were effectively doing life sentences one misdemeanor conviction at a time, demonstrating that repeatedly jailing them had failed them – and us.
For a fraction of the cost of Rikers, the city traded the brutality and degradation of Rikers for emergency housing and wrap-around services offered by Exodus Transitional Community and other non-profits. People have been connected to social services, treatment, jobs, and long-term housing at rates previously unseen. Only one program participant has been re-arrested for a serious violent offense. These results speak for themselves.
The remaining savings should be a down-payment on community-led investments in Black and brown neighborhoods ravaged by COVID-19 and long harmed by Rikers.
We also urge City Hall to press forward with the much smaller borough jails needed to end Rikers. Every month of delay condemns thousands of Black and brown people to continued abuse and mistreatment at Rikers. Construction will also generate thousands of critically-needed, good-paying jobs. To keep on schedule, we need to spend only enough this year to allow the planning process to proceed and begin to demolish the decrepit jail in downtown Brooklyn.
We can work together to end the glaring racial inequities and inequalities in our city's criminal justice system, embodied in the Department of Correction and Rikers Island. These institutions have inexcusably harmed Black and brown people for decades. By cutting DOC's budget and investing in housing and services, we can advance racial justice, economic sense, and safer streets. This is a no-brainer.
***
Dr. Alethea Taylor is the former Executive Director of Greenhope Services for Women, Inc. Julio Medina is founder, executive director, and CEO of Exodus Transitional Community.
***
Have an op-ed idea or submission for Gotham Gazette? Email This email address is being protected from spambots. You need JavaScript enabled to view it.