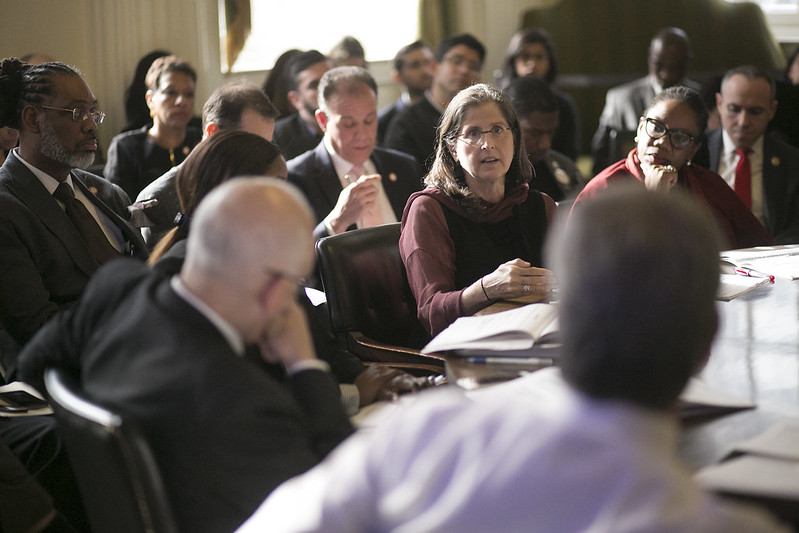 City Council Member Helen Rosenthal, the author (photo: William Alatriste/City Council)
---
By the end of the month, just a few days from now, New York City will have to pass a balanced budget. With additional drops in revenue, looming state cuts to education and health-care funding, and the growing unlikelihood of federal support for states and localities, piecing together a budget that does not cut critical programs and services will be almost impossible.
What does this mean for our future? How can we keep residents from giving up on New York City? How can we bring our local economy back?
As I've noted many times, there is no one silver bullet. To address its $10+ billion revenue shortfall, the city must assemble a package of solutions including productivity savings, cuts to services, new revenue opportunities, use of reserves, and borrowing. We need to be strategic and smart about how we close the gaps, while not further impacting our neighbors who have been most affected by the crisis.
The City Council has already identified roughly $3 billion in cuts and savings. This includes eliminating NYPD training academy classes and other cuts to the police department's now $6 billion budget, trimming the Department of Education's bloated central office, along with program and contract cost re-estimates across all city agencies. The city also has roughly $4 billion in reserves that can be used in the current crisis.
One thing is painfully clear -- additional cuts beyond those identified above will do more harm than good. Large-scale cuts would force thousands of city employees and other essential workers paid through city contracts to lose their jobs and health-care benefits. Many of these are union jobs. The people we need to keep our city functioning would be forced onto unemployment, impacting every aspect of society, from local businesses to our tax base.
An all-out austerity budget is also untenable because we are in the midst of a massive public health crisis. To date, the city has spent over $3 billion to keep New Yorkers safe -- from ventilators and masks to feeding over 1 million people every day to remote learning services for our children. And as we look toward opening schools in September, we must spend more money to keep our schools free of the coronavirus. One positive has been that some of these outlays have been subsidized through federal relief money targeted to covid-related expenses.
But given the budget hole and the damage more agency cuts would do, we must talk about bringing in more revenue. I continue to fight for creative solutions, such as the reinstatement of the Securities Transfer Tax, which could generate billions for New York City and State.
Borrowing - likely $2 billion this year - also has to be part of the conversation. The concept is a third rail for some legislators because it harkens back to a time when the city borrowed money under very different circumstances. It's important to note that the fiscal crisis of the 1970s was caused by several factors unique to that period -- decades of population loss; hemorrhaging of local employers (especially industrial businesses) that helped impoverish the population and intensify the need for social spending; and poor management of the city's finances.
But here is where times have changed. Prior to this pandemic, the rating agencies were confident in New York City's ability to maintain a balanced budget. In February 2020, the city was awarded an Aa1 rating by Moody's -- the highest in recent history. By mid-March, however, the coronavirus pandemic was crushing local economies everywhere. Without jobs, people can't pay rent or taxes. Without revenue, the city can't supply basic services, and meet the growing demand for food, health care, and social services.
Borrowing comes with real costs of course. The circumstances and depth of the crisis in the 1970s forced the city to relinquish a certain amount of control over its budget in exchange for financial relief. Today's crisis requires different guardrails and strong oversight, but there is no need for the Financial Control Board to be re-activated wholesale with a state takeover of the city's budget.
And there are other risks. Every $1 billion borrowed will cost New York City $25 million annually, assuming we use the full loan term to pay back what is owed. The city budget will take on this debt. We have to weigh these costs against what is needed to get us back on our feet.
Finally, as counter-intuitive as it sounds, additional, targeted city spending makes sense at this moment. A recent analysis by the City Comptroller found that over 900,000 fewer New Yorkers were working in May than in February. Communities of color and young people under age 24 have been particularly hard hit.
Such job losses weaken our economy further. We should continue to invest in our residents and our recovery through robust job training programs (including the Summer Youth Employment Program), and limiting cuts to social service programs. Beyond this, an additional $2-3 billion of borrowing could be split between the purchase of homes heading to foreclosure (before predatory equity buyers swoop in), plus some targeted infrastructure and housing construction. These investments will save taxpayer dollars in the long-term.
Even in a devastating crisis we have choices. Let's not be afraid to plan for a more vibrant, caring, sustainable city while we adjust to a new fiscal landscape.
***
City Council Member Helen Rosenthal represents parts of Manhattan. On Twitter @HelenRosenthal.
***
Have an op-ed idea or submission for Gotham Gazette? Email This email address is being protected from spambots. You need JavaScript enabled to view it.