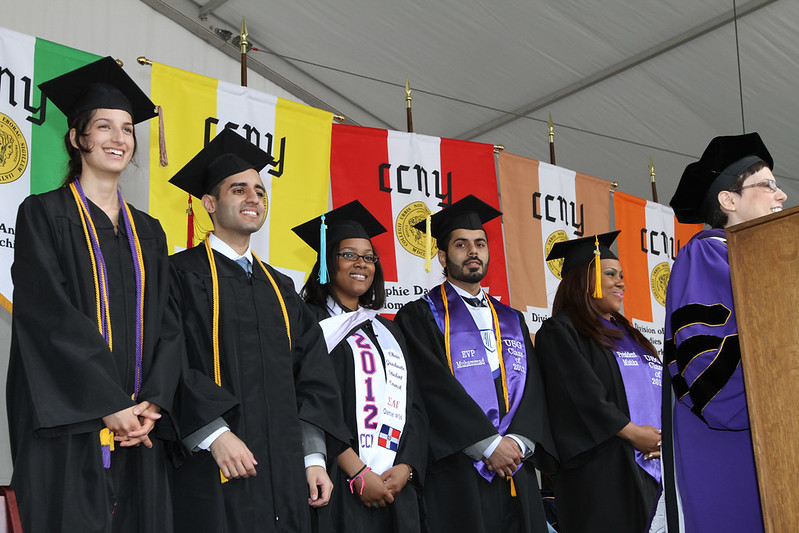 City College graduation of the past (photo: CUNY)
---
We cannot have a meaningful conversation about educational equity in New York City without calling attention to the deep funding cuts that the City University of New York (CUNY) is facing. For countless New Yorkers like myself, CUNY means access to an excellent public education and a path to career. Cutting CUNY resources flies in the face of the discussions we are having right now around racism, classism, and social justice.
Governor Andrew Cuomo and the State Legislature are weighing steep cuts to CUNY's budget, and we need to be clear about exactly what those cuts would mean: reducing the quality of a public higher education system in New York that mainly serves historically-marginalized communities of color; 25% of CUNY undergraduate students identify as Black, 30% identify as Latino, and 60% receive Pell grant funding. Any discussion must meet the moment and be about what lawmakers can do to lift up institutions that serve all New Yorkers, particularly those that have educated thousands of young people of color for generations.
I know why CUNY means equity because I've lived it; I'm one of over 200,000 students of color who attend CUNY schools every year.
CUNY is led by Félix Matos Rodríguez, a champion for New York City college students and equity in education. He is well-known in the higher education community for his commitment to breaking down financial barriers for students from low-income backgrounds, as well as his appointments of senior leaders of color at CUNY. Under his leadership, many Black, Latino, and first-generation students have received life-changing educational opportunities and launching pads to careers of their choosing.
I personally wouldn't have been able to graduate debt-free this spring if not for CUNY. My sister – who was the first in my family to go to college – went to City College and had an amazing experience, so I applied and received a scholarship. I was in good company at KIPP NYC College Prep High School in the Bronx, which sent 76 students to CUNY schools the year I graduated. In fact, since our high school started graduating students seven years ago, 40% of its student body has gone to CUNY.
At City College, I was a part of the media and communications program. Within my program, I learned the ins and outs of the advertising and public relations industry while also connecting and building relationships with my professors, who are professionals in the field. Through my program, I was able to find internships and stay on track with my career goals.
By cutting funds, CUNY students will not be afforded the opportunities I was given. During my time at City College, I was granted access to resources like the writing center, the career center, and amazing adjunct professors, who helped me navigate course and career decisions. Many CUNY students are first-generation college attendees; taking away these vital resources would stunt the trajectory from college to career, and beyond.
Cutting CUNY's budget would hinder schools and the diverse student population they serve, plain and simple. I'm asking the governor and the Legislature to do the right thing and preserve funding for CUNY. Let's move one step closer to creating the equitable New York we all deserve.
***
Miranda Genao graduated from The City College of New York in May 2020 with a degree in Media and Communications. She is a first-generation college student from the Bronx.
***
Have an op-ed idea or submission for Gotham Gazette? Email This email address is being protected from spambots. You need JavaScript enabled to view it.