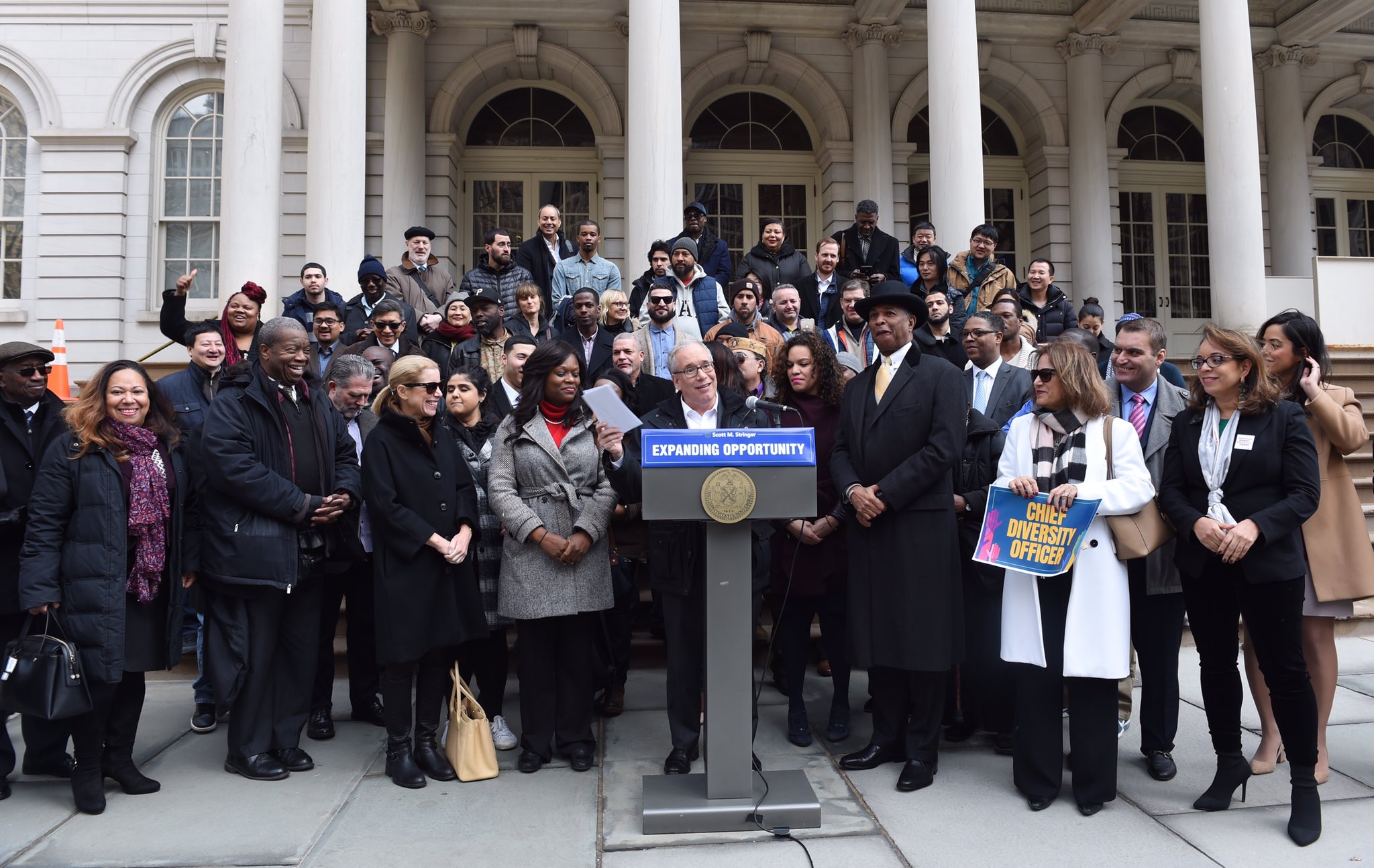 Comptroller Scott Stringer, the author, calling for a CDO (photo: Comptroller's Office)
---
The murders of George Floyd, Breonna Taylor, and Ahmaud Arbery catalyzed one of the largest social justice movements in United States history, rightfully forcing both the public and private sectors to finally listen to Black lives who have sounded the alarm for decades. Under heightened scrutiny, many corporations have taken preliminary steps to acknowledge and confront the systemic racism ingrained within their organizations – cognizant that to ignore the deafening cries for justice is a tacit admission of complicity that can have major consequences for bottom lines.

Whatever their motives, major players like Wells Fargo, Morgan Stanley, Korn Ferry, and Zoom have made the decision to hire Chief Diversity Officers (CDOs) who can serve as bridges between stated good intentions and reality. When utilized effectively, CDOs identify both overt and covert racism across the spectrum of workplace policy – hiring, retention, culture, management, and more – and implement strategies to course-correct.

It's time for the public sector to do the same. I created a CDO position within the office of the New York City Comptroller when I took office in 2014, and the role has become an essential function of our office. Our CDO serves as an invaluable resource to New York City's minority- and women-owned business enterprises (M/WBEs) navigating the labyrinth of city contracting and, most recently, the ongoing economic fallout of the COVID-19 pandemic.

With a CDO in place, we've increased diversity among the firms managing more than $205 billion in city pension assets, and we've launched successful initiatives to increase transparency and accountability in corporate America's hiring practices. In recent weeks, our CDO has guided important officewide conversations as we work toward inclusivity, equity, and representation in all areas of our work. As a white, cis-gender male elected official, it's my responsibility to create space, listen, and make sure that we're walking the walk – and to commit to doing better when we fall short. We could not do this without our CDO keeping us on track.

Seeing firsthand the impact this position can create in a public office, I've urged New York City to embrace the role of a CDO to address the systemic racism that we know exists in all government institutions at every level. Last year, I joined a broad coalition of civic and faith leaders and owners of M/WBEs calling on the City Charter Revision Commission to install a CDO in City Hall, reporting directly to the Mayor, and one within every city agency.

A CDO for New York City would function as city government's executive level diversity and inclusion strategist, driving the representation of people of color and women across government, tracking and overseeing the city's M/WBE programs, and determining whether agencies' daily practices are equitable. A citywide CDO could begin to tackle long-standing disparities that are now coming into stark relief -- from analyzing how taxpayer dollars are spent through an intersectional lens to removing barriers to doing business with the city to making sure public service is a viable option for people from diverse backgrounds and experiences.

That charter revision proposal did not make it onto the ballot – but the need for CDOs in government is now more apparent than ever and it's not too late to act.

New York City agencies spend almost $20 billion a year on everything from pens and paper to consulting services and construction, yet less than 5 percent of those contracts are awarded to M/WBEs. In my most recent Making the Grade report, which grades city agencies on their spending with M/WBEs, the city earned a "C" grade with Hispanic-American-owned businesses, a "D" grade with women-owned businesses, and a dismal "F" grade with African-American-owned businesses.

Eighty percent of New Yorkers are either women or people of color and more than 600 languages are spoken on our streets; we cannot settle for an exclusionary status quo. A CDO could help break down the biases baked into our contracting processes, and make sure our spending represents the diversity of our city, its economy and its people.

We don't need to wait for another Charter Revision Commission – the mayor can take administrative action right now to create Chief Diversity Officer roles within City Hall and across agencies. While the private sector has recognized the value empowered CDOs bring to institutions, local government continues to be years late and many billions of dollars short. We should not fall further behind. As we work toward a more just New York City, we need Chief Diversity Officers to help lead the way.

***
Scott Stringer is New York City Comptroller. On Twitter @NYCComptroller.
***
Have an op-ed idea or submission for Gotham Gazette? Email This email address is being protected from spambots. You need JavaScript enabled to view it.