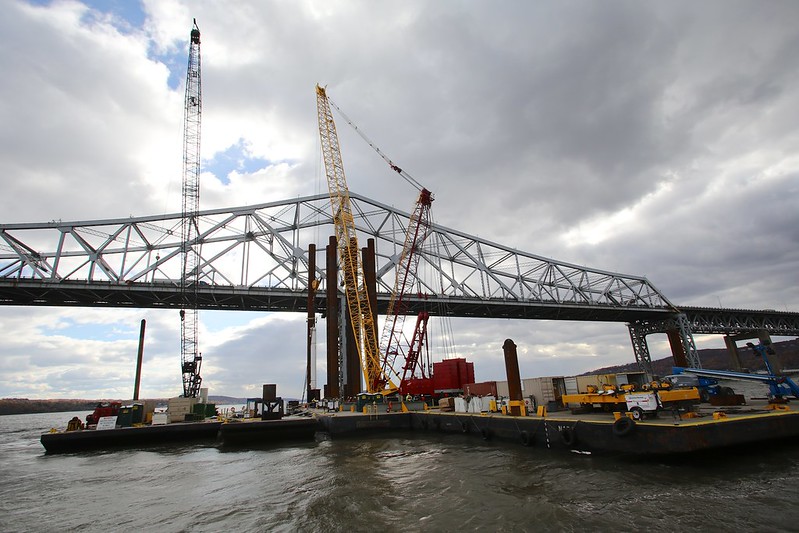 Construction needs to boom again (photo: governor's office)
---
New York, and the nation, are recovering from an economic hit unlike any other in our history. It has been tough and now is the time to get back to work.
Let's build our way out of the pain of the last several months with innovative, ambitious, and transformative projects that will put wages for working New Yorkers back into the economy and let our hard-hit state speed the healing by rebuilding our aging infrastructure.
Hard work is the backbone of our nation. Hard work is what gives us purpose. And, hard work is what the International Brotherhood of Electrical Workers has always been, and always will be, about. We're ready - and I know we're not the only ones.
Fortunately, from both an infrastructure and economic development perspective, there are some large projects waiting in the wings that will make a real difference in the lives of all New Yorkers. Investment is needed in transmission lines, onshore wind, solar, hydro, offshore wind, and improvements at our ports – renewable energy projects will put the men and women of this state back to work.
The Champlain Hudson Power Express is one such project. The buried and resilient electric transmission line will create more than 2,000 construction-related jobs for New Yorkers, add millions in tax revenue annually to local governments that desperately need the funding and bring firm, green energy to New York City, satisfying the power needs of over 1 million residents for more than 50 years. The project will do this while reducing harmful emissions and helping the Governor and Mayor move towards a more renewable, sustainable future.
With construction set to begin in 2021, the Champlain Hudson Power Express will be the first of many significant green building projects to break ground. These green innovative projects are poised to create thousands of new jobs for our union labor force. There is a reason this project and other clean energy job generators are supported by business leaders across the state.
Reviving and rebuilding New York's economy is imperative, and it starts with organized labor. We're ready to build, whether it's offshore or upstate wind and solar, electrification of New York City, or installing solar panels on the roofs of apartment buildings and schools. We're ready to install car chargers and we're ready to train the next generation workforce to build this new and exciting green economy.
The IBEW and all of organized labor are ready to turn these initiatives into opportunity. That's what New Yorkers do. We are grateful for the leadership our Governor and the Mayor showed us during these last months. We can thank them by turning their green visions into action and jobs. And in doing so, turn their clean energy goals into clean energy realities.
We are ready to rebuild our great state. We are ready to build the Champlain Hudson Power Express and much more.
Let's work together to move New York State forward.
***
Christopher Erikson is the Business Manager for IBEW-Local 3.
***
Have an op-ed idea or submission for Gotham Gazette? Email This email address is being protected from spambots. You need JavaScript enabled to view it.