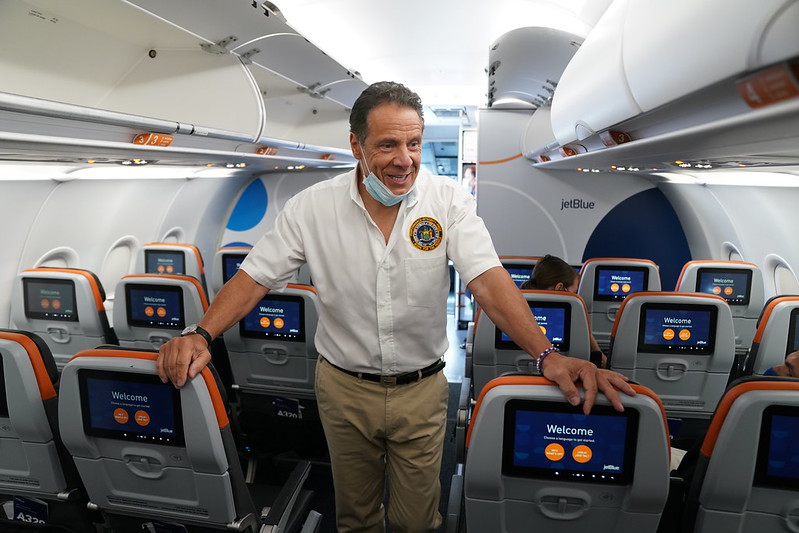 Governor Cuomo headed to Georgia (photo: governor's office)
---
For years, travelers have complained about security theater at our airports. Even as we're forced to do everything short of strip naked for TSA agents, people are still able to sneak guns, grenades, and even the occasional venomous snake onto planes. It feels as if the point of the multi-million-dollar investment in mass screening is to give the illusion of safety, not safety itself. And so is the case with New York's newest form of airport surveillance: COVID-19 registration.
In the earliest days of the pandemic, New Yorkers were eyed warily by other states as nothing short of 21st century plague carriers. Some states went so far as to call in the National Guard to monitor for New York license plates and even threaten to close down the border itself. But now that New York is on the far side of the first wave, the tables have turned, and now New York is looking at out-of-state travelers with suspicion.
The threat of interstate COVID-19 transmission is real, but New York's screening offers only a false sense of security. Governor Cuomo's new order requires those flying in from dozens of states to register with New York state government or face a $2,000 fine. Those arriving in cars, trains, and busses also must register, though with no one greeting them at arrival to ask and no clear penalty for failing to do so. And if either set of travelers violate the 14-day mandatory quarantine, they face a $10,000 fine.
While the state has doubled down on airport travelers, there is no plan to track other visitors. Many of those driving into the state don't even know about the requirement. Even Governor Cuomo himself acknowledged that there is no enforcement mechanism and that no fines had been handed out as of July 14.
A law with no clear enforcement mechanism creates the risk of selective enforcement, often at the expense of New Yorkers of color and other over-policed communities. Recent efforts to add airport "enforcement teams" is more about optics than public health, as there is still no plan for reaching other travelers. Even worse, once this data is collected, it just sits in government databases, with no actual follow-up by public health officials.
But just because public health authorities seem to have no interest in using this data, that doesn't mean collecting it is harmless. Whether its abuse by law enforcement, other government agencies, or hackers, travelers can't know how their data might be abused. Cuomo's rushed executive order answers none of the questions that lawmakers would address through the legislative process. The end result is this: sloppy executive orders with poor enforcement mechanisms and expansive ambiguity.
Targeting out-of-staters may be a good soundbite, but it's not smart policy. New York still has COVID-19 community transmission, spreading the virus at July 4th parties and day cares. Blaming travelers ignores that New Yorkers aren't doing enough to protect our state: wearing masks, maintaining social distance, and washing our hands. We don't need fines, we need clearer guidance and better role models from Albany.
None of that is coming from Governor Cuomo, who recently flew to Georgia's COVID hotspot. Cuomo could have chosen to register and show New Yorkers that he's willing to practice what he preaches. Instead he flew a charter flight and cited a technicality to avoid his own order -- and even failed at times to wear a mask while near other people at a press event. Technically, the governor doesn't need to register and quarantine, since he went for less than a day, but that's a detail that isn't grounded in the science behind the order and that many of those threatened with fines at our airport will never know.
The truth is that the governor never needed to get on that plane at all. He could have done what millions of New Yorkers (himself included) do every day, and hop on a call or video chat instead. But for the governor who has constantly craved good press in these terrible times, it's just another example of public health taking a back seat to public relations. This is going to be a long, drawn-out crisis, and perhaps the only thing that will remain constant is the need to adopt COVID-19 policies based in science, not politics.
***
Albert Fox Cahn (@FoxCahn) is the founder and executive director of the Surveillance Technology Oversight Project (S.T.O.P.) at the Urban Justice Center and a fellow at the Engelberg Center for Innovation Law & Policy at N.Y.U. School of Law. He writes the monthly "Surveillance and the City" column at Gotham Gazette. Caroline Magee is a rising third-year student at Emory University School of Law and a civil rights intern at the Surveillance Technology Oversight Project.
***
Have an op-ed idea or submission for Gotham Gazette? Email This email address is being protected from spambots. You need JavaScript enabled to view it.