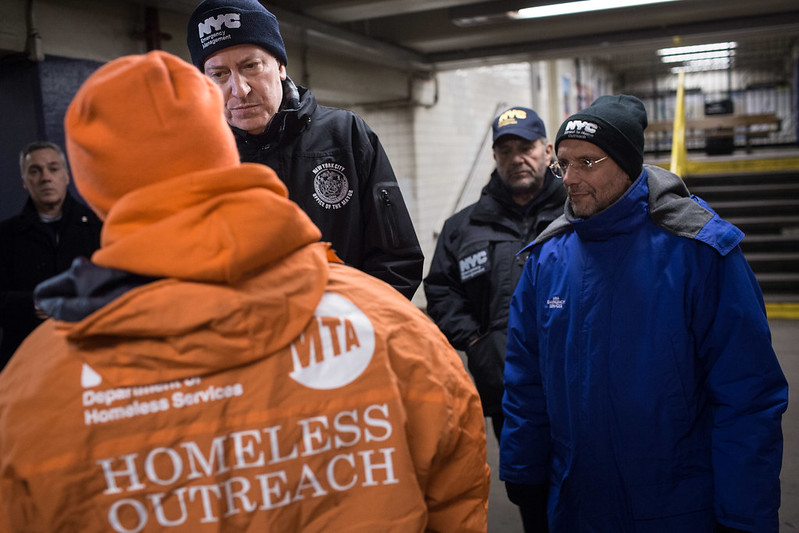 Mayor de Blasio with homeless outreach (photo: Michael Appleton/Mayor's Office)
---
As the city gradually reopens, we've seen many homeless New Yorkers kicked off the subways without being offered a safe, private alternative place to sleep. In some recent cases, we have seen police officers use unacceptable violence to drag homeless New Yorkers off the train. Fortunately, after repeated calls from homeless New Yorkers and advocates, New York City finally announced homeless outreach will be shifted away from the NYPD and be done entirely by the City's social services agency.
Though we are grateful the city made a right decision after months of failed policies, significant damage has been done since the overnight subway shutdowns began in May. Removing police from homeless outreach must be only the first step -- now, we need to gain the trust of our homeless neighbors and actually offer them the safe shelter options and permanent housing they need and deserve.
For months, we have raised concerns about the subway shutdowns, only for Mayor de Blasio to brush off our criticism and spin his own message. After the first three weeks of the nightly subway shutdowns, the mayor boasted that 1,700 people were engaged, 506 unique individuals accepted shelter placement, and 281 of them remained in shelters. He declared success, and has continued to point to the nightly shutdowns as a welcome opportunity to engage homeless New Yorkers.
According to the Department of Homeless Services, between May 5 and July 19, 2,823 individuals accepted referrals to shelters from the subways, 955 individuals accepted placements after they were transported from the subway, and 437 of these individuals remain in shelter placements. Yet, the mayor has failed to acknowledge the reasons why people bed down in the subways in the first place, and has ignored the distrust and anxiety homeless New Yorkers experience due to being kicked off the trains every night.
For example, hours before the first nightly subway shutdown was scheduled to begin, we received a desperate email from a homeless New Yorker who had been sleeping in the subway system for two years: "Please, if you can find a way to get me into one of these hotel rooms, I'd be very grateful. Tonight, I may visit the ER, and fake some chest pains, just to have a place to relax for a bit. But, I can't do that every night. I legitimately have PTSD from the shelter system, from my last time on Wards Island. It is not an option for me. I am begging you, if you can, please help me."
Despite the existence of tens of thousands of vacant hotel rooms, Mayor de Blasio has largely resisted calls to offer direct hotel placements for people being kicked off the subways. He has argued that they could not get services in hotels – contrary to the belief of several outreach workers – and instead offers them transportation to the same crowded, congregate shelters many of them have made a conscious decision to avoid due to the risk of exposure to COVID-19, among other reasons. In recent weeks, the city has opened some low-threshold shelter beds in hotels, but they have not been consistently offered to everyone being removed from the subways.
Even so, Mayor de Blasio has gone on about the number of homeless New Yorkers brought to shelters or hospitals without mentioning the overcrowded chaos often found in shelters.
When these individual human stories of the subway shutdown are reduced to numbers, the reality can be easily distorted, even portrayed as a success. Through the past few months, Coalition for the Homeless monitors have witnessed homeless New Yorkers being kicked off the subway without being given adequate alternatives. Police, rather than outreach workers, are usually the ones who wake people and tell them to leave the train. In fact, at many stations, there are only police officers present, no outreach workers.
Mayor de Blasio's rosy proclamations ignore the fact that shuffling people between crowded congregate shelters and hospitals during a deadly pandemic is no victory. The role of police in the nightly subway shutdown has been one more example of the mayor's reliance on the NYPD to move homeless New Yorkers along, rather than addressing the root causes of homelessness -- and his defense of aggressive police actions against homeless New Yorkers reveals his failure to grasp the negative ramifications of these misguided policies, which understandably make people more distrustful of outreach workers and others seeking to help them.
Now, with outreach finally shifted away from the NYPD and into the hands of social services, we hope to see an end to the criminalization of homelessness. But we must go further and give outreach workers the critical tools needed to help homeless New Yorkers obtain permanent housing, a vital resource that, now more than ever, fundamentally serves as health care. New York City must provide housing assistance to help people relocate out of the transit system, off the streets, and out of crowded shelters, and into homes of their own.
For years, we have called on Governor Cuomo and Mayor de Blasio to invest in housing as a solution to homelessness. We have long argued that to reduce the tragedy of people sleeping on the streets and in the subways, they must be offered somewhere better to go. New Yorkers should not have to endure nightly removal from the subways without being provided with a safe, private place to protect themselves.
Moving away from police reliance is a massive step. We owe it to our homeless neighbors to keep fighting for something better, during and after the pandemic.
***
Jacquelyn Simone is Policy Analyst at Coalition for the Homeless. On Twitter @NYHomeless.
***
Have an op-ed idea or submission for Gotham Gazette? Email This email address is being protected from spambots. You need JavaScript enabled to view it.