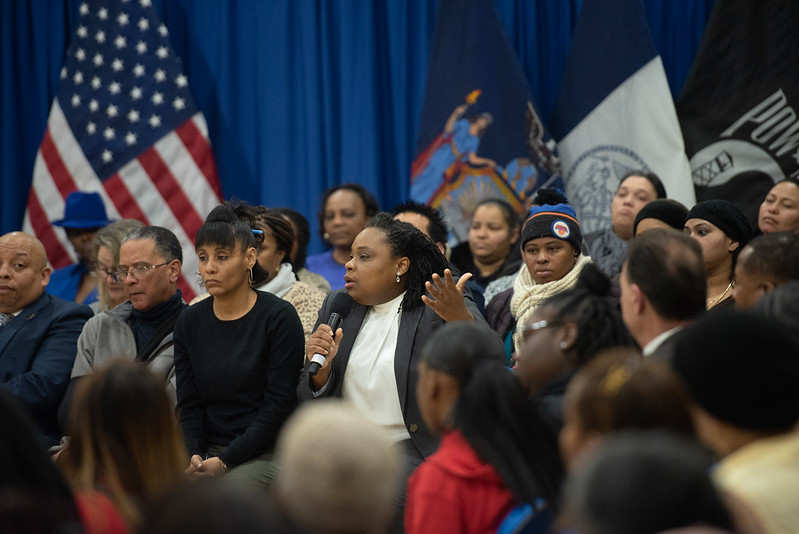 The 2021 elections have begun (photo: Michael Appleton/Mayoral Photography Office)
---
Running for office is an exciting endeavor and the already-underway 2021 New York City election cycle will be filled with new candidates, but the thing no one talks about is the difficulty of deciding to run for office or being a first-time candidate when it comes to quitting your job. Very few people can afford to leave their jobs behind without having to worry about paying for basic living expenses, such as rent, food, transportation, and health insurance. This barrier disproportionately prevents a slew of New Yorkers who are representative of our city from holding elected office, like young people, women, people with disabilities, and candidates of color.
We need to elect leaders who understand the challenges of everyday New Yorkers through lived experience, especially at a time when so many folks are struggling. It is time to support a new generation of leaders to effectuate policy changes at City Hall.
Current New York City leadership should move to further level the playing field and attract under-represented candidates reflecting our diverse communities. And one key way this should be done is by expanding the New York City Campaign Finance Board's qualified campaign expenditures definition to include vital personal living costs.
Under my proposal, candidates who don't hold elected office would be permitted to dedicate up to $20,000 of privately-raised funds toward reasonable living expenses. These funds could be used for rent, utilities, food, health insurance, public transportation, and other reasonable basic life expenses as approved by the Campaign Finance Board, as long as the candidate proves the need for each expense. Any amount spent above $20,000 would be used against the spending limit in the candidate's race, limits that vary based on the elected office sought.
Precedent already exists to alleviate a candidates' living expenses. Namely, the City Council passed Local Law 196 of 2018, sponsored by Council Member Keith Powers, allowing candidates to make campaign expenditures covering child-care services for children under 13 years of age, as long as public funds are not used. This landmark legislation helped pave the way for more primary caregivers, especially women, to run for office. Under this law, candidates could spend up to $20,000 on child care, though any expenditures in excess of this amount are subject to applicable spending limits.
Beside the obvious benefits, expanding permissible campaign spending to cover basic living expenses is sound public policy. It would not cost the city tax dollars, since the enumerated expenditures would be covered by privately raised cash, not the city's public matching funds program.
Additionally, safeguards would adequately prevent abuse of the law by ensuring that candidates who fail to prove their need to use campaign funds for living expenses do not qualify to do so. As with child-care services, candidates would qualify for other living expenditures only if they provide a statement to the CFB and substantiation documents, requiring CFB approval. To prove that you lack the means to cover living expenses, candidates would have to produce documents detailing their assets, if any, as well as any relevant legal documents, such as a lease or a student debt note, among other things.
And, candidates would of course have to be able to raise the money that would be used to cover the basic living expenses, ensuring such funds are coming from private sources who support the candidate's run for office.
In a city as expensive as New York, advanced financial planning and saving in preparation for a run for elected office may be a fanciful idea for far too many potential candidates. Many people are simply unable to save in significant sums given their wages and expenses. We must make it possible for single parents and working-class people to run for elected office. We need more young adults to run for office. You should not have to be able to save - or borrow - $10,000 or more in order to run for the City Council. And candidates should not have to work full-time while running for office in the lead-up to their election day.
As for me, I was fortunate to be able to save enough to cover the five months of rent leading up to the June primary I'm running in, for City Council in Upper Manhattan, but when I leave my job as a tenants' rights attorney early next year, it remains unclear how I will pay for health insurance, food, or utilities for all of 2021. It shouldn't be this way.
It's time to further transform our campaign finance regulations to reduce inequalities that burden under-resourced candidates. Now is the time, just as the 2021 city election cycle is approaching and while the city faces a dire economic picture on top of existing crises, like unaffordable housing and generational poverty.
We must take additional steps to ensure that all potential candidates have an equitable opportunity at running for office, culminating in a diverse legislative body of people who understand what it is like to live under financial constraints and are reflective of the communities they're elected to represent.
***
Shaun Abreu is a tenants' rights attorney and a candidate for City Council in Manhattan's District 7. On Twitter @ShaunAbreu.
***
Have an op-ed idea or submission for Gotham Gazette? Email This email address is being protected from spambots. You need JavaScript enabled to view it.