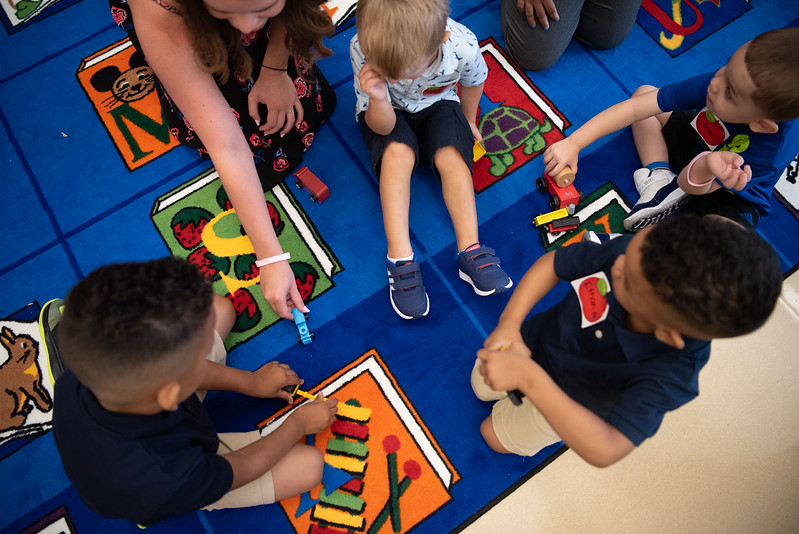 Students at school (photo: Michael Appleton/Mayor's Office)
---
Dog-whistle politics refers to the use of racially-coded language as a strategy to rally perceived allies while providing plausible deniability against charges of racism. Donald Trump and the Republican Party regularly use racist dog whistles in the context of immigration, policing, public benefits, and school integration by rallying around the idea of an external racial threat of people of color to 'white America.' However, there is no one political party or region of the United States with a monopoly on dog-whistle politics. Even in "liberal" New York City, the debate around school integration continues to escalate and bubble over as the racist dog whistle becomes a booming bullhorn.
New York City remains one of the most segregated school districts in the country. For the past few years, educational equity advocates have proposed a number of educational reforms to address this problem. The most controversial reforms involve school integration, which have engendered controversy and backlash from conservatives and self-described liberals alike.
In 2018, Upper West Side parents vehemently opposed integration plans that would set aside a percentage of middle-school seats in their district for students with lower exam scores. As one white parent said at a meeting: "You're telling them that 'You're not going to go to a school that's going to educate them the same way you've been educated.' Life sucks! Is that what the DOE [Department of Education] wants to say?" Many white liberals and moderates deploy dog whistles to defend their position that racial integration will destroy the "good" schools, or take opportunities away from allegedly more deserving, gifted, and hardworking white and Asian-American students.
These school integration debates have raged on, perhaps most fervently, concerning efforts to reform admissions standards at New York City's specialized high schools. Currently, admissions to these elite schools is based on a single, high-stakes, standardized test called the SHSAT. Black and Latino students in New York's eight so-called specialized high schools stand at an abysmal rate of around 11 percent, despite constituting 70 percent of New York City's public school system.
Reporting by Nikole Hannah-Jones, Pulitzer Prize winning New York Times journalist and director of the 1619 Project, brought national attention to the school integration debate in New York City. Her interview with Maud Maron, who currently serves as president of the Community Education Council for District 2 in Manhattan, drew outrage precisely for Maron's use of dog whistles to oppose school integration.
As a follow-up to Maron's remarks opposing the Department of Education's school integration proposals, Hannah-Jones asked: "What desegregation efforts then would you support?" Maron replied that it depends: "you have to have community buy-in," and continued, "when people say I'm nervous that this is going to result in my kid getting a less good education, you have to take that concern as a valid concern—even if you think it's racist, and it may be."
We must heed Martin Luther King Jr.'s criticism of the white moderate, "who constantly says: 'I agree with you in the goal you seek, but I cannot agree with your methods of direct action'; who paternalistically believes he can set the timetable for another man's freedom." Maron is a textbook example of the white moderate of whom King warned, telling Hannah-Jones that Black people must wait for a more convenient time for people like her and the many privileged parent leaders to become comfortable with integration.
Like many opponents to school integration, Maron's comments trivialize and dismiss the benefits of school integration when rivaled with her concern that white children would have to share the same educational space and opportunities with Black and Latino children. In addition to opposing school integration, Maron and her ilk unsurprisingly oppose culturally responsive education and implicit bias training for educators.
These anti-integration advocates hold an outsized influence over education policy, occupying critical seats on their local community education councils. And they seek to grow their influence and power, including through upcoming city elections. Maron is now taking her education platform and running on it, as a Democrat, for New York City Council in the 2021 election.
Despite Maron's attempts to portray herself as a "liberal," time and again she has fought against organizations like Teens Take Charge, a youth-led group that fights for educational equity, and more recently targeted a youth activist of color for raising allegations of racism with her political campaign. In response to her critics, Maron published an op-ed identifying herself as a public defender as a liberal bona fide. She goes on to say that anti-racism is what invites discrimination, and then characterizes education equity advocates as race-obsessed. In response, the Black Attorneys of Legal Aid and The Legal Aid Society, Maron's employer, both issued statements condemning Maron's brand of liberal racism.
Maron is no longer only speaking to Tribeca moms who secretly oppose integration in hushed voices. She is publicly dabbling in the rhetoric popularized by Donald Trump and his right wing supporters who attack and deride antiracism as political correctness and cancel culture. She has even galvanized an online army of vile racism denialists who harass and dox anyone who criticizes Maron or her segregation activism.
One of Maron's most ardent supporters include Thomas Wrocklage, a fellow CEC member, lawyer, and co-founder of the anti-integration nonprofit called PLACE NYC. Wrocklage comfortably engages in a range of aggressive antics to harass Maron's critics, going as far as to dox multiple of Maron's Black and women colleagues and fellow CEC members, and indefensibly harassing teenagers from Teens Take Charge. Maron has not denounced the offensive tactics or racist views espoused by her supporters on her behalf.
Ultimately, the segregationist views of Maud Maron and Thomas Wrocklage are not new or unique. Attacking school integration is as American as apple pie. It is the story of the Little Rock Nine, a group of nine Black students who integrated Little Rock High School in Arkansas in 1957—only two years after Brown v Board of Education held that segregation of public schools was unconstitutional. The Little Rock Nine faced white mobs and riots, and the Arkansas National Guard was sent in to stop these nine Black children from entering their school.
This legacy of anti-Black racism and logic lives on. White mothers fought to uphold Jim Crow—they saw their moral authority derive from protecting their white children from the racial threat of integration. While people like Maud Maron seemingly couch their arguments against school integration in a thin veil of parental concern, they remain on the wrong side of history.
It is our duty to go beyond denouncing brazen, bullhorn racism. For far too long and often, more subtle, covert forms of racism go unchecked. To be clear, this is not simply a matter of political correctness or word choices. The issue before us is that the promise of Brown, 66 years later, has not been realized. We must expose and challenge the systemic racism that underpins dog whistles, and bullhorns alike, if we are to have a chance at real integration.
***
Rigodis Appling, Diana Nevins, Olayemi Olurin, and Jason Wu are public defenders in New York City. On Twitter @rigodis, @artemis_nieves, @msolurin, @criticalrace.
***
Have an op-ed idea or submission for Gotham Gazette? Email This email address is being protected from spambots. You need JavaScript enabled to view it.