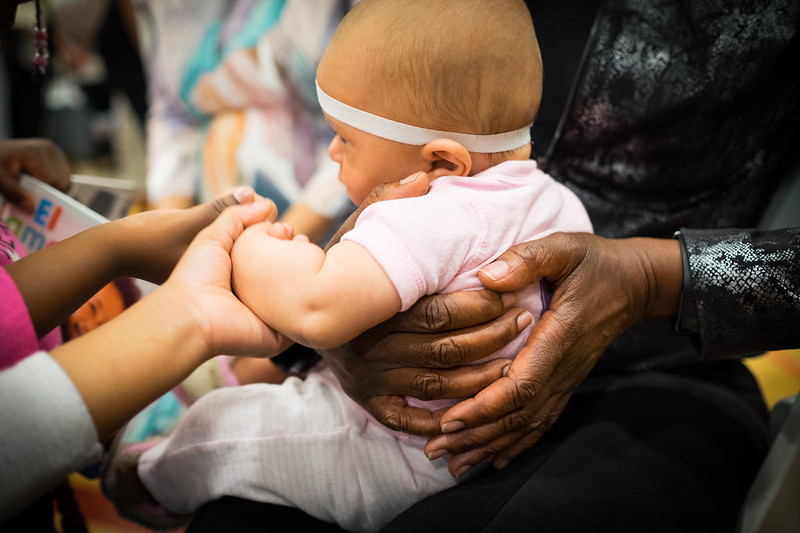 Deep and deadly health care disparities persist (photo: Edwin J. Torres/Mayor's Office)
---
In December of 2019, Sha-Asia Washington joyfully announced her pregnancy to her mother. In December of 2018 I had done the same. Throughout the Spring of 2020, she and her boyfriend counted down the days until her June due date. I had done the same in 2019. As she neared her due date, she went into the hospital with high blood pressure. Diagnosed with preeclampsia, I had done the same.
A year later, I'm sitting with my son on the floor. I playfully comb my fingers through his hair as he leans into my chest. But Sha-Asia can't do the same -- she tragically died in the hospital during an emergency c-section.
Why?
Maternal mortality, the death of a mother from pregnancy-related complications, is a crisis in the United States. While the global maternal mortality rate dropped by 44 percent between 1990 and 2015, the U.S. was one of only 13 countries, including North Korea and Zimbabwe, that saw its rate increase.
In New York it's even worse. In 2016, New York was ranked 30th in the nation for its maternal mortality rate. Maternal deaths increased from 15.4 deaths per 100,000 live births in 2001-2003 to 19.6 deaths per 100,000 live births in 2014-2016.
Maternal mortality is highly racialized; in New York City, from 2006 to 2010, Black women were 12 times more likely than white women to die from pregnancy-related causes.
Yet over 60 percent of these deaths are preventable, according to the CDC Foundation. In recent years, both New York City and State have announced plans to address these disturbing trends; officials have held press conferences and established committees. And yet mothers like Sha-Asia Washington, Amber Rose Isaacs, and Cordielle Street have all died in New York City this year alone.
The COVID-19 pandemic has only magnified the inequities in our health-care system, made worse by inequities in housing and education, revealing just how dangerous it is to be a pregnant Black woman in our city. We can't expect to eliminate or even reduce maternal mortality when we don't guarantee Black and brown mothers the right to clean and safe housing.
Creating a more just and equitable city demands the active dismantling of systemic racism that is ingrained within other social structures that govern our lives, including law enforcement, health care, housing, and education. It also requires the commitment of decision-makers at every level to value the lives of women of color, particularly when they are most vulnerable: pregnancy and childbirth.
Addressing maternal mortality begins with valuing women's health and increasing access to health care and family planning. It involves ensuring that expectant mothers have access to comprehensive reproductive health care, counseling, and housing. We need more community health centers, assistance for working women to keep their prenatal visits, and to ensure expectant mothers have access to health advocates, such as doulas or social workers, throughout every phase of pregnancy.
Finally, this essential work involves holding our hospitals, government agencies, and elected officials accountable, ensuring implicit bias trainings for all hospital staff and demanding transparency in reporting on frequency, cause, location, and racial breakdown of maternal deaths and major complications that arise in our maternity wards or in the following postpartum months.
Ending this crisis involves all of this and more. It's also going to take all of us to come together and say no more mothers lost. Black lives matter. Black mothers matter. It's time we prove it by demanding justice in maternity.
***
Tricia Shimamura is a candidate for New York City Council District 5. On Twitter at @ShimamuraTricia.
***
Have an op-ed idea or submission for Gotham Gazette? Email This email address is being protected from spambots. You need JavaScript enabled to view it.