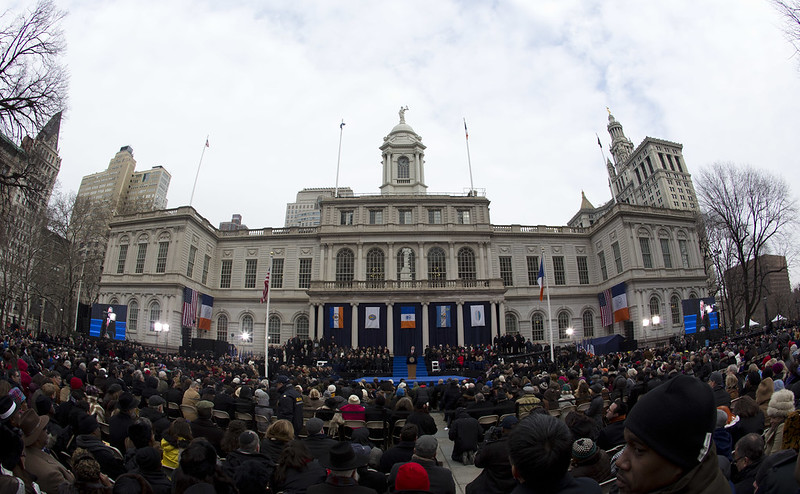 New York City Hall (photo: mayor's office)
---
There is no question that today's young people demand more from those in power and seek to correct broken systems. The recent wave of protests, petitions, and activism following the murders of George Floyd, Breonna Taylor, and other Black Americans at the hands of the police brought front and center a change-making generation that refuses to stay silent against horrific injustices. We are outraged and reacting in the most effective ways we know how.
Our efforts have made many strides: catalyzing policing reforms, toppling Confederate statues, and thrusting accountability onto lawmakers to make our cities better. As our frustrations in this nation have grown, and as I reflect on my own family experiences, I want to encourage more young people to pursue careers in government.
My grandmother would often tell me the story about how her father rebelled against a cruel British overseer in then-colonial British Guiana. She described my great-grandfather's courage and commitment to change that resulted in him being evicted from his home and blacklisted from work in neighboring villages. My grandmother, on the other hand, honored her father's legacy of rebellion in a different way. What she did, and her recommendation for visionary young people who wish to effect change in their society, was to join the civil service.
As I've learned from my family and come to believe for myself, change can truly be made from within. The Guyanese people did not get real justice in the country they built until a wave of young Guyanese citizens, like my grandmother, joined the civil service and ultimately effected policy that dismantled the country's slavery-akin labor laws. The same will be true in the United States. More forward-thinking young people working in and leading the public sector will lead to more effective change -- but we must be determined to make this reality.
That's the work I have set out to do, while encouraging other members of my generation to join me. I'm currently a student at the Sophie Davis School of Biomedical Education/CUNY School of Medicine. Last November, I won the Paul A. Volcker Careers in Government Essay Contest, a competition led by the Volcker Alliance aimed at encouraging students to pursue careers in public service. For the past three years, I've worked part-time at the New York City Department of Health and Mental Hygiene. Witnessing the impact of the work I've done in New York City local government, even as a college student, has reinforced my commitment to public service. Government can be judged based on how it mobilizes for the most vulnerable and how it reacts to crises. Now more than ever, our country deserves effective leadership.
The good news is that we have a generation of young people that can bring a wealth of knowledge and influence to the public sector. We are technologically-savvy. We are curious and inquisitive. We are respectful of cultural differences and tolerant of divergent viewpoints. We are resilient. We are advocates. We are many colors. Change cannot happen until public leadership reflects the people it serves.
I urge you to consider pursuing a career in government. Helpful tips I've learned along the way that can help you get started include:
Find a cause that you are passionate about.
Research your cause, keeping in mind there is likely a public sector job related to this cause that will help you advance change.
Search for government internships and jobs around your college and online, and/or join organizations that support those interests.
Advocate and protest on as many fronts as you can.
In New York City, you can search for positions in city government by area of interest. If you want to look far and wide, check out governmentjobs.com to see opportunities all across the country at once. If you're trying to discern whether government is the right fit for you, another great option is paid fellowship programs like the Presidential Management Fellowship in federal service, Govern for America with states, Lead for America with underserved localities, or Coding it Forward for tech workers. You don't have to be a policy or government major. The expertise that the government needs is wide-ranging.
As my frustrations with those in power have grown, I've reflected on the words of fellow Caribbean-American and personal hero, the late Congressional Rep. Shirley Chisholm, who once said, "You don't make progress by standing on the sidelines…You make progress by implementing ideas." As we all strive to embody the change that we seek, I believe that we can all be inspired by the lessons from my grandmother, from Rep. Chisholm, and from many others to utilize our defiance and take our abilities to the highest levels of impact through work in the public sector.
Join me.
***
Arslan Mohamed is a student at the Sophie Davis School of Biomedical Education/CUNY School of Medicine and winner of the 2019 Paul A. Volcker Careers in Government Essay Contest.
***
Have an op-ed idea or submission for Gotham Gazette? Email This email address is being protected from spambots. You need JavaScript enabled to view it.