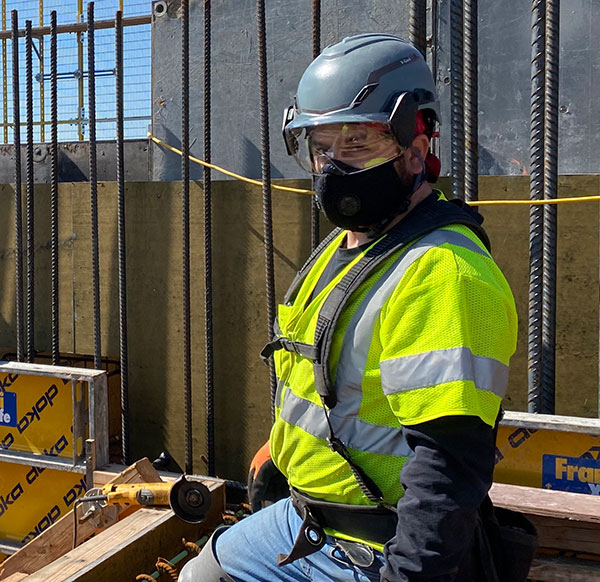 Union worker on the job during the coronavirus pandemic
---
Those who work in the industry have always known it, but COVID-19 made it clear to the public: construction is essential.
Through thick and thin, the unionized construction industry remains the vital sign of America. These workers erect critical infrastructure — from highways and airports to schools, government buildings, and health-care facilities. During times of crisis, these construction workers possess unique skills to quickly transform non-traditional spaces into critical care centers.
In the midst of this public health crisis and economic downturn, New York City Union Carpenters remained 20,000 members strong. While we couldn't evade the pandemic's advance, we met each day united and with a commitment to our members to be union strong. The shield at the base of the emblem in our logo symbolizes that those of us in the union are morally bound to safeguard and protect our members. That is a core value of our union, and during COVID-19 that is what we did.
When New York City was declared a hotspot for the virus, we took a stand and advocated that the government have a strict definition of what was considered essential, ensuring our members and their families remained safe and healthy.
We listened to and communicated with our members. We prioritized worker protections and seized every opportunity to alleviate financial stress. We were there to lend our support, share unemployment resources and protect every member who was out of work with our Benefit Funds.
We strived to ensure our members felt protected during this pandemic, offering supplemental PPE to fill gaps in contractor-provided PPE and providing information on new job site safety protocol and COVID-19 training courses. To guarantee our members' questions were answered, we held Zoom webinars educating our shop stewards and foreman of the new normal safety standards.
These measures may seem like a no-brainer, yet, at the height of the pandemic, we saw many non-union workers on sites without adequate PPE. Time and time again, the kind of necessary support, expertise, and focus on safety we demonstrated has proven to be exclusive to the unionized construction industry.
When our state's economy shut down, our union quickly realized that we were building a plane as we were flying it. Construction projects throughout New York City were still operating, and it was up to us to create a blueprint in keeping essential job sites safe.
As we came together with other Building Trades affiliates, contractors, developers, and real estate leaders, we saw that many other unions distributed face masks and provided free COVID-19 antibody testing. Together, we learned from one another and grew stronger.
We believe our industry is only as strong as its weakest link. The District Council will continue to serve as the voice for all workers across New York City, ensuring job sites are meeting or exceeding CDC and OSHA guidelines. The prevailing wage legislation we led the charge on and won in the middle of the pandemic is a testament to this. We advocate for all construction workers, union and non-union alike.
The unionized construction industry has not only built this great city and state but has also willingly and compassionately responded at its times of greatest need and peril. We are proud to be a guiding force and unwavering support system for our members and communities, now and always.
There is a long road to recovery ahead of us, and the New York City & Vicinity District Council of Carpenters will be there every step of the way.
***
Joseph Geiger, the Executive Secretary-Treasurer of the New York City & Vicinity District Council of Carpenters.
***
Have an op-ed idea or submission for Gotham Gazette? Email This email address is being protected from spambots. You need JavaScript enabled to view it.