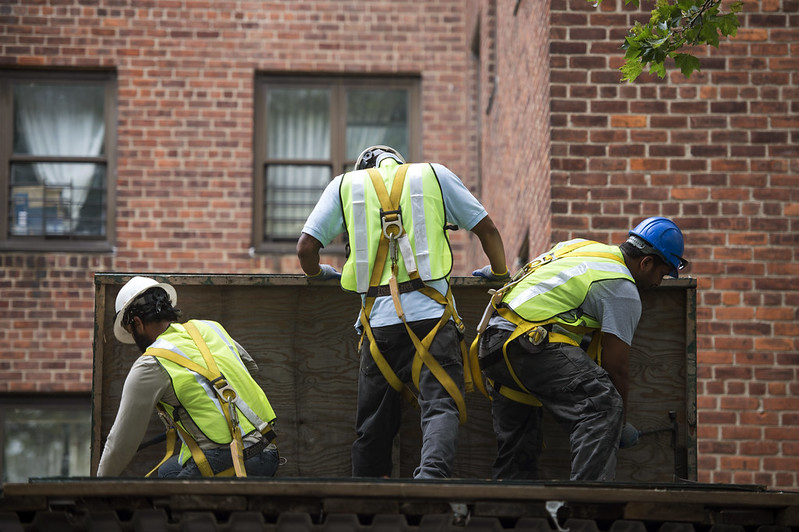 (photo: Demetrius Freeman/Mayoral Photography Office)
---
Residents and businesses across the five boroughs continue to struggle as New York City begins the long process of economic recovery from the impacts of COVID-19. At times like these, it is the responsibility of city officials to not only create new opportunities but also to protect and sustain the jobs we have.
That is why, amid all the much-needed public discussions around workers in hard-hit sectors, the construction industry – which employed approximately 160,000 workers across New York City as of 2018 – must be part of the conversation, particularly as we currently face a major problem that threatens to leave thousands of the city's construction workers unemployed.
New York City Local Law 196, which first required a minimum of 30 hours of training in 2019, now mandates that construction workers receive an additional 10 hours of Site Safety Training (SST) by September 1.
The problem is that with the deadline just one week away, it is increasingly obvious that a significant number of construction workers in our local workforce development network have not been able to receive the SST they need. While this is an unintended consequence of the city's well-intentioned effort to support safety in New York's construction industry, the current September 1 deadline must be adjusted so that every worker can get the additional 10 hours they need to remain employed.
New York City Department of Buildings (DOB) Commissioner Melanie La Rocca stated at a recent City Council hearing that the agency has "no objections to a Council proposal to delay the current September 1 deadline. This position builds on the strong precedent set by DOB when it comes to adjusting Local Law 196 deadlines to protect jobs for construction workers.
When the law was first implemented, DOB officials recognized that thousands of workers at that time did not have the 30 hours of training required in advance of the initial deadline of June 1, 2019. That is why the 30-hour deadline was pushed back and did not take effect until December 1 of that year.
As members of non-profit and workforce development groups from across New York City, we have heard about this issue directly from many of our constituents and workforce partners – and we are calling on DOB to formalize this decision as quickly as possible.
To be clear, this is not the fault of workers or their employers. Like basically everything else in New York City, SST providers were forced to shut down all of their training operations throughout the spring due to the pandemic – and many of these courses are still unavailable. Virtual SST courses do exist, but they have been so few and far between – not to mention deeply underfunded due to city budget challenges – that it is not possible to get every construction worker in the five boroughs trained by September 1.
Simply put, this means that all of the workers who have not been able to receive the additional training will lose their jobs. Their families will lose the income they need to pay for rent, food, healthcare, and any number of other essential components of their lives.
Everyone agrees that safety training for construction workers is important – but in these unprecedented times, we must not let city bureaucracy get in the way of sustaining employment for thousands of local residents in one of our largest and most economically vital industries. We hope DOB will take the next step by ensuring that this deadline is delayed and that jobs are protected.
***
David Meade is executive director of Building Skills New York; Jennifer Mitchell is executive director of The HOPE Program; Lakythia Ferby is executive director of STRIVE New York; Eileen Torres is executive director of BronxWorks; Valerie Payne is executive director of Rebuilding Together NYC; and Bishop Mitchell Taylor is CEO of Urban Upbound.
***
Have an op-ed idea or submission for Gotham Gazette? Email This email address is being protected from spambots. You need JavaScript enabled to view it.