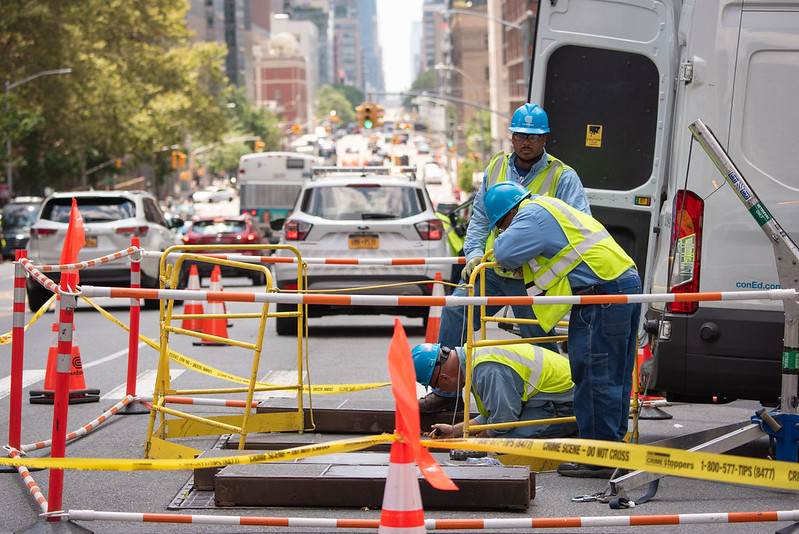 Repairing vital infrastructure (photo: Michael Appleton/Mayor's Office)
---
Despite a $3.5 billion investment to protect New York City from a repeat of the Hurricane Sandy disaster, Hurricane Isaias just revealed we remain deeply vulnerable to infrastructure failure. In terms of power outages, Isaias was the second most destructive storm in New York's history, knocking out power to 267,000 people in New York City and Westchester County. Weeks later, many are still waiting for the lights to come back on.
We're barreling towards another man-made disaster ahead of what is anticipated to be a severe hurricane season and the public health crisis caused by a COVID-19 pandemic. The management and physical state of our utility infrastructure is needlessly exacerbating our situation.
It's essential that we recognize that the problems we face stem primarily from poor workforce management. And it's time to do something about it.
Utility infrastructure is similar to a car, in that preventive maintenance is paramount to a well-functioning system. Unfortunately, the skeletal workforce that's been pared back after years of attrition means that utilities routinely defer system maintenance, leaving the grid more vulnerable to widespread outages from extreme weather events.
Around the time Hurricane Sandy struck in 2012, roughly 8,000 men and women worked at Con Edison in New York City. Today, that number is below 7,000, which means utilities like Con Edison are increasingly turning to systems of 'mutual aid' – often contracting with far-flung utilities for assistance. Typically, crews from neighboring states take on the bulk of ordinary storm cleanup without much trouble. In the aftermath of Hurricane Isaias, however, mutual aid crews were traveling from as far as Tennessee to restore power, which severely delayed the restoration of service to many customers.
It's time we strengthen our energy grid and mitigate the threats of future disasters by investing in our utility workforce. As the widespread damage and suffering from Isaias shows, we simply cannot afford to take a reactive approach. We need to start making the necessary preparations for the next storm now.
Reinvigorating the utilities workforce would also be a much-needed stimulus to New York's battered economy, helping to put people back to work. Given the deep budget holes currently faced by state and city governments, we could explore the possibility of a public-private partnership model to fund the necessary training and hiring. It's a model that would make the investment go twice as far, boosting job-creation and economic growth. The Center for an Urban Future estimates New York City's overall infrastructure requires a $47.3 billion investment over five years.
These investments must be coupled with a strong commitment to equity — especially in light of the broad disparities exposed by the COVID-19 pandemic. We must do more to make sure the utility workforce reflects the rich diversity of our city's population. Utility sector jobs are well-paid positions that offer a path to a better life, and they should be open to all New Yorkers.
Boosting the workforce to properly manage the grid along with a concerted effort to diversify recruitment are the type of forward-thinking steps we need right now. They must be complemented by greater resiliency efforts from Con Edison and other utilities. It's clear the current level of investment has been insufficient. One idea that should be revisited is burying overhead power lines, which are largely concentrated in the outer boroughs and are more likely to suffer storm-related damage.
The coming challenges of the 21st century demand infrastructure that is resilient, modern, and properly maintained. That requires a workforce — and a government — that is ready to roll up its sleeves and get to work strengthening our grid right away. We cannot allow preventable disasters to wreak havoc on our energy system, which fall disproportionately on minority and low-income populations. As New Yorkers, let us rise to the challenge of building our city back, better than ever.
***
Eric Adams is Brooklyn Borough President. James Slevin is President of the Utility Workers Union of America, AFL-CIO, representing 50,000 active members employed in the energy, electric, gas, steam, water, and related professional, technical, and service industries. On Twitter @BKBoroHall & @The_UWUA.
***
Have an op-ed idea or submission for Gotham Gazette? Email This email address is being protected from spambots. You need JavaScript enabled to view it.