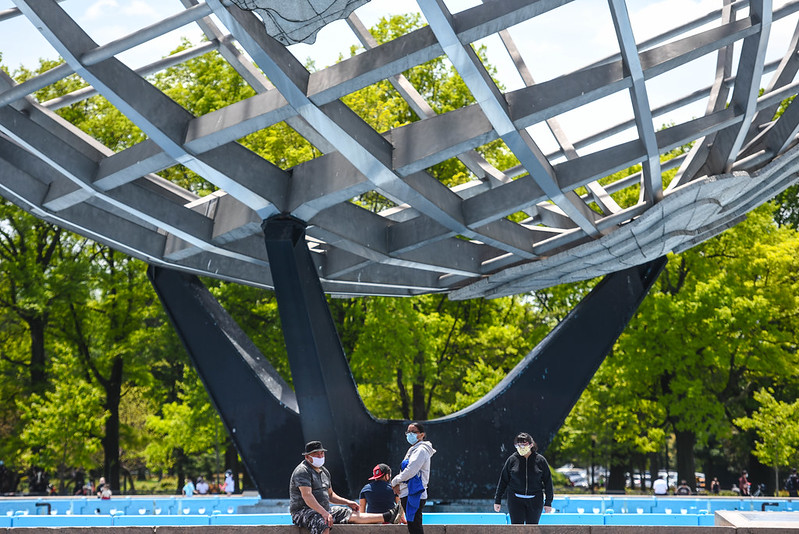 The authors write about opportunity for Queens (photo: Michael Appleton/Mayor's Office)
---
The last several months have taken a tremendous toll on our local economy. Over 20 percent of New York City residents were unemployed in June, a level not seen since the Great Depression. Thanks to our frontline heroes and the leadership of our elected officials, we've flattened the curve and New York is winning its battle against COVID-19. Now it's time to get New Yorkers back to work.
Through a community-centered process, with buy-in from local community boards to the Borough President to the City Council, we can take the restarting of the Uniform Land Use Review Procedure (ULURP) as a moment to reinvigorate our economy, get Queens back to its pre-pandemic booming levels, and help the thousands of New Yorkers looking for a job or an affordable home.
Prior to the pandemic, a number of projects to open up waterfronts, expand industries outside of traditional business zones, and bring jobs and opportunity to Queens were in the works. Project sponsors were in deep dialogue with their communities, hosting workshops, inviting ideas and making adjustments well in advance of the formal approval process. We need to support and speed up these efforts so we can begin creating jobs and revitalizing our local economy right away.
Below are some projects that will benefit the local community and overall economy.
Flushing is one of our most vibrant communities, but it was one of the first Queens neighborhoods to feel the economic impact of the pandemic. The special Flushing Waterfront District is a project that would revitalize 29 acres of waterfront land, kickstarting the neighborhood's economy with $2 billion in local, private investment, creating close to 3,000 jobs and generating $28 million in annual property tax revenue. The project includes an extensive road network that will alleviate traffic congestion, a comprehensive environmental remediation plan, affordable housing, and a publicly accessible waterfront with an extended shoreline and promenade.
Recently, Kaufman Astoria Studios, Silverstein Properties, and BedRock Real Estate Partners unveiled "Innovation QNS," a $2 billion plan to remake an underdeveloped five-block section of Astoria. The plan, more than 25 percent of which is set aside as public open space, calls for 2,700 units of mixed-income housing (including 700 that will be permanently affordable) and space for neighborhood-focused shops and restaurants, community health and wellness facilities, and startups, small businesses, and nonprofits in the creative industries. This substantial private investment in Astoria will create 3,700 construction jobs and 1,700 permanent jobs.
It was recently reported that City Hall would be pulling out of plans to revitalize 28 acres of underutilized waterfront land along Anable Basin and the East River. The YourLIC project would create a resilient, seven-acre waterfront park, commercial space for new and growing industries, up to 5,700 apartments (including up to 1,400 permanently affordable units) and abundant community space like new public schools, a workforce innovation center, and space for arts and culture. The developers for this project, MAG Partners, Plaxall, Simon Baron Development, and TF Cornerstone, were brought together to create a comprehensive plan with community input. They should be applauded for this proposal that will bring significant public and private investment and up to 26,000 permanent new jobs in diverse industries into the neighborhood. We cannot let this opportunity slip through our fingers.
Regional transportation projects are also one of the biggest job creators in New York. In particular, the redevelopment of JFK and LGA airports are expanding economic opportunities for both Queens and the region. The ongoing $8 billion transformation of LGA has already created thousands of local jobs, will unify the airport with new facilities and, most importantly, provide a reliable and convenient public transit alternative with AirTrain LGA. On the horizon, it is critical we also complete the development of JFK, which invests $13 billion in new and expanded terminals and supports over 15,000 jobs.
The longer these projects are delayed, the longer it will be before we can begin creating tens of thousands of jobs and generating millions in tax revenue for the city. These projects will catalyze economic activity that supports existing small businesses at a time when so many of our mom and pop neighborhood establishments are hanging by a thread. As our city and state budgets are being slashed due to declining revenue, we cannot walk away from billions of dollars in private investment.
We have an opportunity to not only rebuild our local economy, but to make it stronger, fairer, and more resilient than it ever was before. And we can do it in a way that creates affordable housing, makes our roads less congested, helps us combat global warming, and contributes to our thriving arts and culture scene. The time to act is now – let's get Queens and all of New York working again.
***
Tom Grech is the President and CEO of the Queens Chamber of Commerce. Carlo A. Scissura is the President and CEO of the New York Building Congress. On Twitter @QueensChamber & @CarloScissura.
***
Have an op-ed idea or submission for Gotham Gazette? Email This email address is being protected from spambots. You need JavaScript enabled to view it.