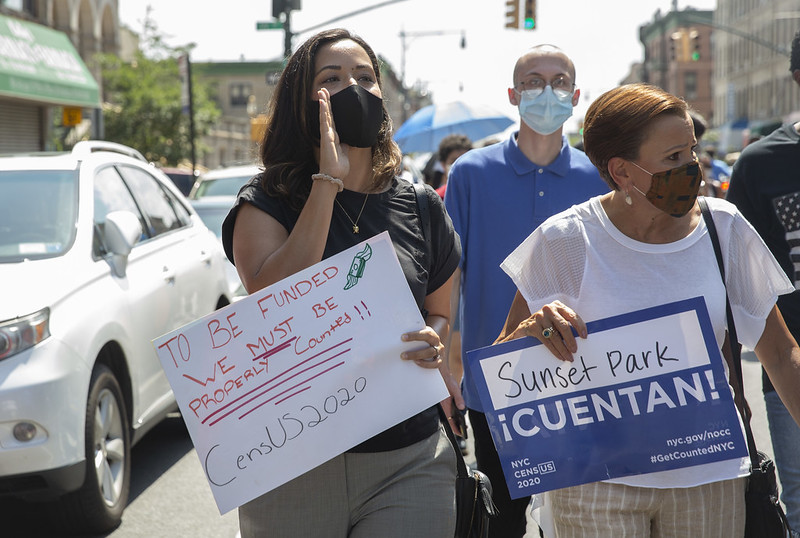 Latino lawmakers & others getting out the 2020 Census count (photo: John McCarten/City Council)
---
In this unsettling and disturbing time of high uncertainty and racially-motivated hate, one of the most important -- and easiest -- ways Americans can ensure their own protection is by completing the census. When brown Americans fill out the census, it is an act of protest. Even in 2020, many still believe filling out the census is as though we are taking what isn't ours, and that is exactly the point. As residents of this country, we have a right to take advantage of the federal resources that our taxes pay for, but we won't get them unless we are counted.
When President Trump says he is concerned with undocumented people filling out the census, he isn't talking about Canadians sneaking into our country, he is talking about those of us who have every right to complete this 10-question, 10-minute form. His language aims to intimidate my fellow Latino neighbors from our constitutional right to being counted. Participation in the census is the most powerful thing we can do to ignore the fear-mongering, xenophobia, and hate.
In the 2010 census, just 50.5 million people responded as Hispanic, hugely misrepresenting the United States' population of 59.9 million Latino citizens. The George Washington Institute for Public Policy found that an incomplete census form denies an individual $4,000 in social services. Latino Americans have missed out on $37.6 billion in federal funding over the past 10 years due to incomplete and inaccurate census data.
While white people are overcounted in the census by 1%, Latinos are historically undercounted, due to a number of barriers including language, education, and immigrant status. These barriers aren't worth remediating to a government that was created for, by, and of white people. Overcoming these intentionally exclusionary systems protects Latino people's constitutional rights. While failure to fill out the census threatens Latino voices in Congress, limits access to Medicaid and food stamps, and prevents Latinos from reaping the benefits of investment in infrastructure, schools, public works projects, and more.
St. Francis College is one of the most diverse private colleges in the nation. Of our 2,292 undergraduates, 28% self-identified as Hispanic. We are committed to serving all of our students with the highest standard of care and respect, regardless of what harmful and hateful rhetoric and systemic oppression marginalizes our non-white students. We instill in our students the importance of being vocal and active in their communities, inside the classroom and beyond, and involvement in the census is a key component.
We are committed to teaching civic duty as well as academics. As part of this work St. Francis College has been encouraging students and community members to take advantage of their right to be counted this year, setting up events that include census and voter registration tables to drive up numbers and encourage students to take what they are rightfully owed, and to demand our country's representation truly represents us.
President Trump announced in July that the census will be ending earlier than previously planned, a move that serves no purpose other than to limit brown people from being counted and accessing our rights. We, students and faculty of St. Francis College and beyond, must protest and reject this exclusionary and hateful move by taking the 10 minutes required to be counted in the census. Do it today at my2020census.gov.
Every person in the United States -- not just every citizen, every resident -- has the right to be counted and considered. This is our country, too. Let's ensure we are part of the count.
***
Miguel Marinez-Saenz is President of St. Francis College. On Twitter @SFCNY.
***
Have an op-ed idea or submission for Gotham Gazette? Email This email address is being protected from spambots. You need JavaScript enabled to view it.