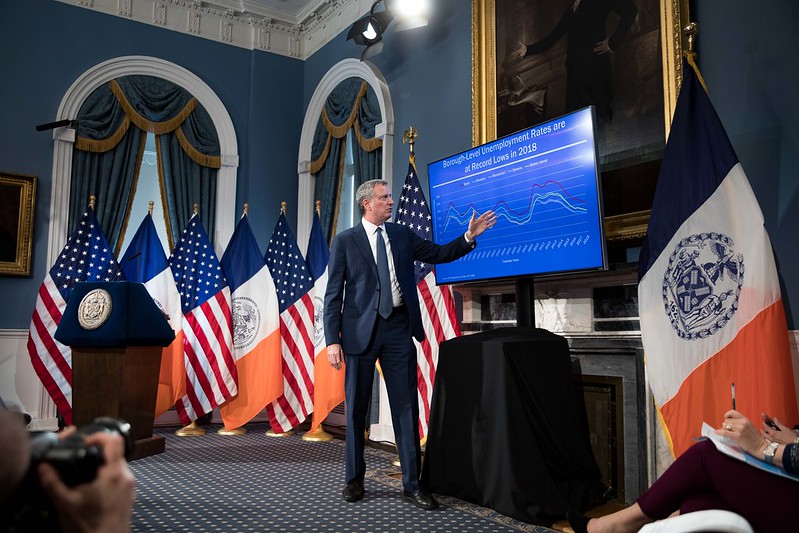 Mayor de Blasio at a budget presentation (photo: Benjamin Kanter/Mayor's Office)
---
New York City Mayor Bill de Blasio and City Council Speaker Corey Johnson are aggressively lobbying the state Legislature to authorize the City of New York to borrow billions of dollars from private financial markets by selling municipal bonds through the Transitional Finance Authority.
Governor Andrew Cuomo also recently announced that if the federal government does not step up with stimulus money for New York, he is also open to borrowing money for our state.
Unfortunately, most people stop paying attention once they hear any financial jargon; the private investors want to keep it that way. In fact, they want the public to think that they are generously swooping in to save thousands of essential government jobs.
This is wholly false, and in bailing out our city and state we must resist borrowing from Wall Street and private investors as much as possible.
Taking private money will make the ultra wealthy even wealthier as, over the next 30 years, they collect hundreds of millions in interest from our city and state revenues. Most of their capital gains won't even be taxed. New York's economy will inevitably bounce back, and the 1% will continue to enrich themselves during a global crisis.
An alternative, more responsible route is to borrow from The Federal Reserve (the Fed). It is openly allowing the city to tap into their vast public resources with a simple "Add to Cart" mouse click.
For the first time in history, the Fed has created the Municipal Liquidity Facility (MLF), a new pot of money designed for unprecedented times such to attract borrowers and spark economic reinvestment in communities. The MTA, for example, just secured $451 million in early August at a 1.92% rate, almost 1 point more competitive (or roughly $12 million) than borrowing from private banks.
Consider this: the Fed is our currency issuer, and it never runs out of money. It is the world's largest public bank, and it is not lending money in order to profit from natural catastrophes.
Borrowing from the MLF is more like borrowing from a family member with a magical money tree in their backyard -- we don't really have to worry too much about paying them back on time. Moreover, "debt" to the Fed is not the same. The Fed will never come down on New York to bankrupt us, privatize public services, or negatively impact our credit ratings because their deficit ultimately adds real value to our communities.
Conversely, if New York City opts for private investors and faces another economic downturn in ten years, they will still come to collect, and possibly force us to privatize more public goods to fulfill our debt.
Opponents of this route, like Wall Street underwriters and investment bankers, will continue telling the city the Fed's terms and rates are not as competitive. But this is thoroughly dispelled by cases like the MTA's, so what's really preventing this obvious path back to economic solvency?
Corporate Democrats are unwilling to draw the line against the rich. Being self-anointed managers of corporate power has narrowed their logic and imaginative capacities. They resist new taxes and public money, two obvious solutions during this economic downturn, because their campaign donors and potential future employers -- maybe Citigroup or Goldman Sachs -- will be cut out of the deal if we turn to the Fed.
Now is precisely the time to take full advantage of the Fed's willingness to open up its lending facility to local governments. Leaving new money behind is reckless and irresponsible. It is money we need to make our teachers and kids safe in school, keep our public transit system solvent, and avoid painful job losses. If the Fed is willing to inject new money into municipal bond markets -- at a time when state and local governments need to employ resources and people for much-needed public services and social programs -- we have a moral obligation to take it.
***
Assemblymember Ron Kim represents parts of Queens. On Twitter @rontkim.
***
Have an op-ed idea or submission for Gotham Gazette? Email This email address is being protected from spambots. You need JavaScript enabled to view it.