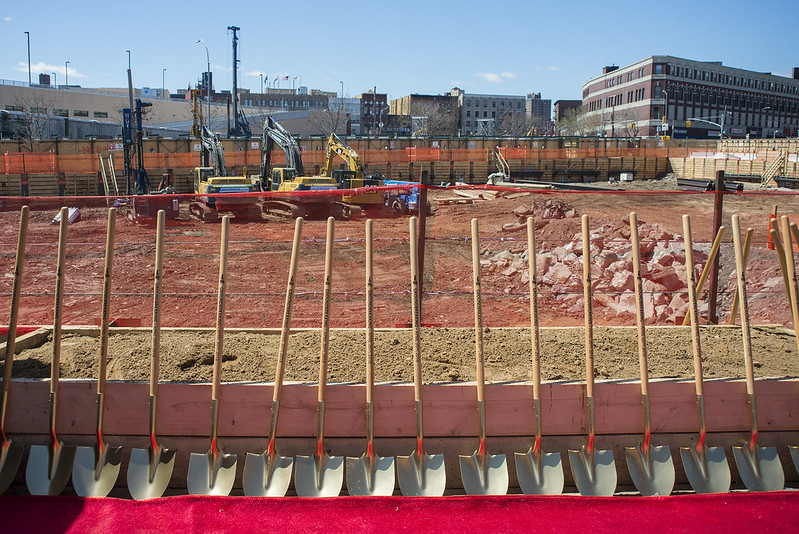 A ground-breaking in the Bronx (photo: Jeff Reed/City Council)
---
Recent events have made it abundantly clear that the Bronx needs new, creative solutions. To rebound and rebuild stronger from the crises we face, we need policies that bring equity to economic opportunity; sustainable, liveable neighborhoods with great local schools; resilient communities; affordable, accessible transportation; and local input from the community about decisions affecting the community.
In that spirit and as part of my candidacy for New York City Council in the Bronx's District 11, I am proposing that the Bronx become a pilot for a job-creation program modeled on, but more equitable than, the Civilian Conservation Corps started by President Franklin Delano Roosevelt during the Great Depression.
The Bronx Pandemic Reconstruction Program would include free training and education so that all Bronxites are equipped with the skills for adapting and thriving in the 21st century. The program would focus on communities of color and the communities most severely impacted by the pandemic-spurred economic collapse.
Employment
The Bronx Pandemic Reconstruction Program would create 10,000 jobs by offering unprecedented training opportunities across five tracks. Free, degree-pathway classes at area CUNY and SUNY schools will prepare program participants to undertake key roles:
Green technology jobs that will help us transition away from fossil fuels and improve local resilience, like building retrofits and renewable-energy projects for local solar and geothermal power.
Infrastructure rebuilding jobs to repair our crumbling schools, roads, and community spaces.
Entrepreneurship and incubation to create nonprofit organizations and socially responsible businesses focused on the arts, environment (composting and community gardens), transit and micro-transit, public safety, independent bookstores, high-tech, urban agriculture, food production and distribution.
Elder Care jobs to eliminate isolation and provide transportation, age-appropriate programming, and health-related supervision.
Child Care jobs to ensure that parents can work and young adults can become mentors (more below).
Child Care
After months of lockdown, remote work, and online education, many parents know that they can manage either their jobs or their kids, but not both at the same time. Meanwhile, teenage and young-adult unemployment in the Bronx has skyrocketed as jobs in retail shops, bars, and restaurants have disappeared. As part of the Bronx Pandemic Reconstruction Program, parents across the Bronx could join with others to form their children into "pods," small groups of 6 to 10 children, who can be cared for by teenagers and young adults employed by the BPRP as tutors, counselors (for hours when children are not in school due to split shifts and staggered days, or after-school hours), and coaches.
With commercial space more widely available as businesses have shut down, these pods can be out of the house but competently supervised by their BPRP minders in neighborhood outdoor and indoor locations, arranged by the BPRP.
Financing the Bronx Pandemic Reconstruction Program
The infrastructure track of the Bronx Reconstruction Program easily can be underwritten by existing New York City capital funds. In the case of grants for social and for-profit entrepreneurs as well as subsidizing green-tech jobs, we can seek public-private partnerships with the city's biggest banks and corporations, which must step up as they did during New York City's financial crisis of the 1970s. For elder and child care, we can mine the large pockets of waste that exist in the New York City budget for job creation.
These ideas may seem daring, but the city is facing an unprecedented crisis requiring innovative solutions. We are confronted by a public health crisis, structural racism, and
poor financial planning locally and nationally. To surmount them, we must face them head-on as a unified community in order to protect our families and our neighborhoods, as well as the greater borough and city we call home.
***
Jessica Haller is a candidate for City Council in the 11th District in the Bronx. On Twitter @JessicaHaller.
***
Have an op-ed idea or submission for Gotham Gazette? Email This email address is being protected from spambots. You need JavaScript enabled to view it.