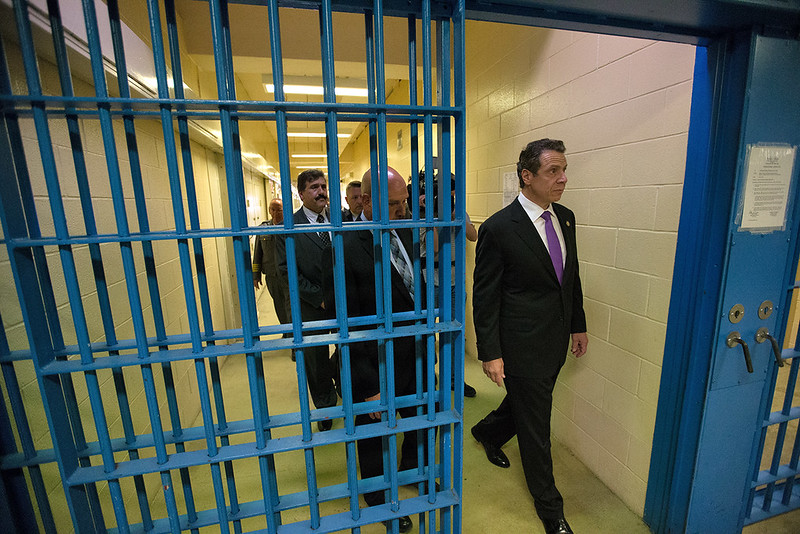 Governor Cuomo at a correctional facility (photo: governor's office)
---
The killings of George Floyd, Breonna Taylor, Daniel Prude, and scores of Black Americans have once again put a spotlight on the brutality of policing in this country. But policing is only one part of a criminal legal system that was founded on dehumanizing and oppressing Black people. There are countless Black lives, including those of Kalief Browder, Layleen Polanco, Benjamin Smalls, and Lulu Benson-Seay, that have been taken away in jails, prisons, and detention centers across New York. Now is the time to address the full spectrum of this racist harm and send people home.

Over 48,000 New Yorkers are incarcerated in jails and prisons across the state, and the COVID-19 crisis we're experiencing on the outside is substantially worse for people in these facilities. The reality is that COVID-19 was bound to ravage jails and prisons, which have always been breeding grounds for poor health outcomes.

Social distancing cannot be practiced in crowded cages. Proper personal protective equipment is not readily available at facilities made for the people most marginalized in our society. And slowing the spread of the virus is not possible when testing is limited or unavailable. All of these factors make prisons, jails, and detention centers hotspots for the virus, yet New York has done far too little to address this issue. Elected leaders, especially Governor Cuomo, instead added fuel to the fire by leading the charge to roll back historic bail reforms and creating a prison nursing home — all during the peak of the pandemic.

This failure to free more people resulted in lost lives, including my fellow Brooklynite Leonard Carter. Leonard was granted parole in January 2020 after serving 25 years behind bars. He was eager to go home and hug his grandson for the first time. Unfortunately, Leonard died six weeks before his release date even after the Parole Board approved his prison departure. Leonard is one of dozens of people effectively sentenced to death by Cuomo's prison system during COVID-19.

After months of calls from advocates to address this crisis head-on, the New York State Senate is finally holding a hearing on the impact of COVID-19 in jails and prisons today — Tuesday, September 22. Legislators will hear testimonials from directly-impacted community members and their families, and from advocates who are on the frontlines of reform. But this hearing will mean nothing without action. COVID-19 is a clear and present danger to the lives of every incarcerated individual, corrections worker, and those they come into contact with after their shifts. The time to act is now.

First, we need to send people home and keep them home. The Governor must utilize his clemency power and significantly reduce the elder and immunocompromised populations in prison, in addition to all the people who are within one year of release. The Legislature must meaningfully reduce the incarcerated population while ensuring that more people are not being introduced to the system, especially during this pandemic. That means passing the Elder Parole and Fair & Timely Parole bills in Albany, stopping the reincarceration of people for technical parole violations, and forcefully protecting bail reform from further rollbacks (which caused an uptick in the state's jail population for the first time in a year).

This also requires improving conditions for people currently inside by offering meaningful and frequent amounts of PPE, including masks, hand sanitizer, soap, and other cleaning and health care products. It means testing everyone for the virus and offering multiple follow-up tests. It means passing the HALT Solitary Confinement Act to put an end to the abusive practice of solitary confinement, which has only increased since the pandemic began several months ago. And it means reconnecting people with their families by offering safe opportunities for visits and regular communication with loved ones on the outside.

We must also remember the more than 300 people in the Buffalo Federal Immigration Detention Facility in Batavia, New York who are similarly experiencing horrid conditions. The federal government must halt its inhumane family separation and detention policies, and instead work towards comprehensive reform that supports our immigrant neighbors and ultimately puts an end to detention centers that are by their nature harmful and deadly.

It is critical that we stand with the tens of thousands of incarcerated New Yorkers and their families and fight for their health and safety like our lives depend on it. Our response to this pandemic is only as strong as the people most harmed in our society, and we can't let them down any longer.
***
Jabari Brisport is the Democratic nominee for State Senate in Brooklyn's 25th District. On Twitter @JabariBrisport.
***
Have an op-ed idea or submission for Gotham Gazette? Email This email address is being protected from spambots. You need JavaScript enabled to view it.