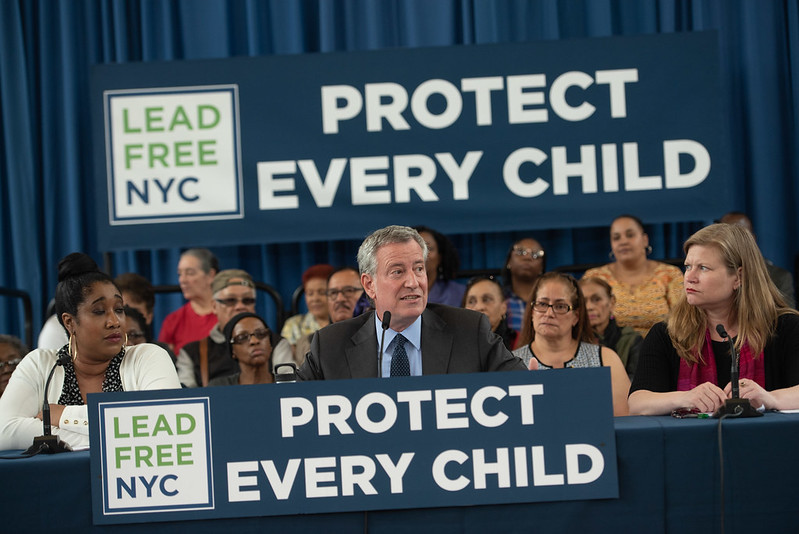 Kathryn Garcia, right, with the mayor (photo: Michael Appleton/Mayor's Office)
---
The next chief executive of the City of New York will have a portfolio of pressing problems, among them: raising the morale and prospects of a city decimated by well over 23,000 coronavirus-related deaths, closing Rikers Island jails, reducing a homelessness crisis, overseeing the development of a housing policy agenda that satisfies tenant advocates and landlords, funding the rescue of public housing, and addressing crowded schools.
These are challenges that only Kathryn Garcia can fix.
Garcia recently resigned as Commissioner of the Sanitation Department and announced that she's exploring a run for mayor. She's starting out with considerable disadvantages: the primary is less than nine months away, she has never held or run for elected office, she hasn't fundraised, and while she enjoys name recognition within government circles, she has no name ID among the larger body of New Yorkers. But for a seasoned political operative, these are preferred qualifications and not prerequisites. An analysis of her performance as a government administrator, who can't say no to a tough gig then does them well, would most likely generate positive and unbiased evaluations.
For New Yorkers, Garcia has been a kind of shadow mayor. Her agility has earned her the label of "go-to crisis manager." A practicing environmentalist, she's held high-level positions at the Department of Environmental Protection (DEP) and spearheaded the sanitation department's ambitious sustainability goals. While she was at DEP, Superstorm Sandy hit New York. Drawing on her emergency planning experience, she was tapped as Incident Commander, where she was charged with bringing 42 pumping stations and a water waste treatment plant online. An arduous task, she accomplished it in three days. Garcia has significant experience orchestrating supply-chain initiatives that reach a million New Yorkers a day, and has been at the helm of NYCHA as interim chair.
To be clear, she is not the only viable candidate for mayor. Maya Wiley, the charismatic former MSNBC legal analyst and also a de Blasio administration alum, is a strong potential candidate. Comptroller Scott Stringer, an effective elected official, is also a competitive candidate. There are other contenders that have shown fundraising prowess and are mulling a mayoral run. Eric Adams, the Brooklyn Borough President, has been a great cheerleader for the city's most populated borough, but how that readies him for City Hall is anyone's guess.
Garcia doesn't enjoy the spotlight or media fawning that other mayoral hopefuls have, but if she were to mount a run, the Democratic nomination could be within her reach, given her experience. Yet, in announcing that she's considering a run for mayor, Garcia has already shown that she doesn't understand her novelty. She's tagging herself with buzzwords used by other potential and declared candidates. A campaign advisor, in an interview with the New York Times, noted that Garcia would cast herself as a "competent executive and non-ideological technocrat." In an interview with City & State, Garcia stated that New Yorkers should judge her on her "accomplishments" and not her association with de Blasio. This kind of messaging is most effective if you were the least experienced person to jump into the race. More recently she made a better case on the Max & Murphy podcast, explaining her strengths as a "crisis manager," and explaining that's what the city badly needs in its next mayor.
If Kathryn Garcia wants to be mayor, she must say out loud what she's so far keeping to herself: that she's the most qualified candidate – and that's exactly why New Yorkers need her.
***
Steven-Emmanuel Martinez previously served as Chief of Staff for the Office of Enforcement of Neighborhood Services at the New York City Department of Housing Preservation and Development, and has previously worked at the New York City Department of Social Services. He is now an independent consultant, tackling social welfare challenges at the intersection of health and housing.
***
Have an op-ed idea or submission for Gotham Gazette? Email This email address is being protected from spambots. You need JavaScript enabled to view it.