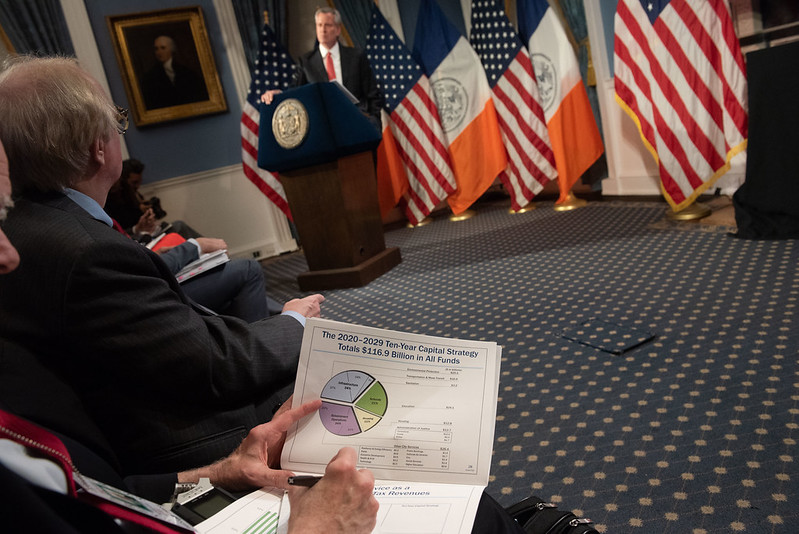 A budget presentation (photo: Michael Appleton/Mayoral Photography)
---
To the Editor:
In an op-ed recently published by Gotham Gazette, Assemblymember Ron Kim advanced an ill-informed and dangerous argument that, instead of issuing the $5 billion in debt the Mayor is seeking through the municipal bond market, the city should instead borrow from the Federal Reserve's Municipal Liquidity Facility (MLF).
The MLF was created as part of the Federal Reserve's response to the pandemic, to provide emergency cash-flow lending to state and local governments.
Assemblymember Kim argued that owing the Fed money is preferable to paying interest to wealthy bankers and investment firms, and suggested that since it is a federal entity, the Fed wouldn't really expect the loan to be paid back:
"Borrowing from the MLF is more like borrowing from a family member with a magical money tree in their backyard -- we don't really have to worry too much about paying them back on time…The Fed will never come down on New York to bankrupt us, privatize public services, or negatively impact our credit ratings because their deficit ultimately adds real value to our communities."
As Federal Reserve Chair Jerome Powell has stated, the MLF is a backstop to the municipal bond market, not a substitute. It is intended to help states and cities tide themselves over cash flow problems caused by situations like the extension of time granted to pay income taxes. Its loans are short-term only, to be paid back within three years. Most jurisdictions -- including New York City, which has a AA+ excellent bond rating -- will get lower interest rates and much longer terms in the municipal market, which is why only two entities with very poor bond ratings have actually borrowed from the MLF so far, the State of Illinois and the Metropolitan Transportation Authority (MTA).
The kind of long-term borrowing Mayor de Blasio seeks is not allowed through the MLF.
The dangerous part of Assemblymember Kim's proposal is the suggestion that we would not have to pay back the MLF when the bill comes due, and that the Federal Reserve would not try to collect.
The repayment terms of MLF bonds are the same as those of other municipal bonds in that they are required to have investment grade ratings and the Fed and U.S. Department of Treasury have the same enforcement rights and remedies as other bondholders. Among other conditions, such loans must be secured in a manner that "protects the taxpayer against loss" and cannot be made to insolvent borrowers and may not be forgiven.
If the loans can't/don't get paid back on time it's a default whether the Fed comes after the city to collect or not. That would be a disaster: our credit would immediately go to junk rating, and we would lose market access for all our municipal bonds, leaving us unable to pay for our capital program, which would have to come to a total stop.
I'm sorry, Assemblymember Kim, there is no magical money tree in a family member's backyard.
Sincerely,
Carol Kellermann, former president of Citizens Budget Commission
***
Carol Kellermann was president of Citizens Budget Commission from 2008 through 2018.
***
Have an op-ed idea or submission for Gotham Gazette? Email This email address is being protected from spambots. You need JavaScript enabled to view it.