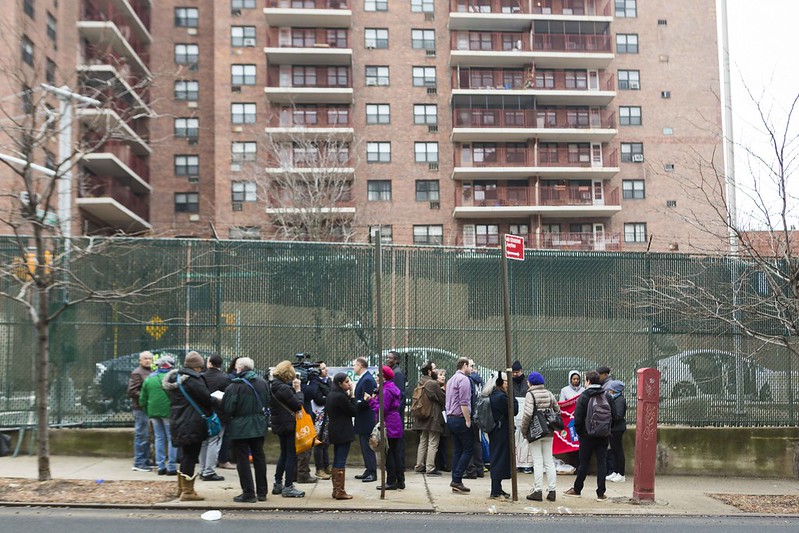 A proposed housing reform (photo: Emil Cohen/City Council)
---
In June 2019, state lawmakers significantly altered a provision of the rent stabilization laws called preferential rents. It was the ability for a housing provider to offer a rent that was lower than the legal limit, where such limits apply. Under the change in law, tens of thousands of tenants with preferential rents are locked in to rent increases that can never be more than what is determined by the Rent Guidelines Board annually.
But there are two sides to a coin.
Rent-stabilized tenants struggling because of the COVID-19 emergency are asking their housing providers for a break on rent. If the building owner grants it, it becomes the new legal rent for as long as the tenant lives there—potentially 20 years after the pandemic is over.
Let me give you an example. A 25-year-old renter pays $1,800-a-month for a stabilized two-bedroom apartment. They would like the rent reduced to $1,000 because their wages were cut in half. Many housing providers would consider cutting them this break for one- or two-year terms. Operating costs, insurance, and property taxes for an average New York City apartment add up to about $1,000 a month, so the building owner would be basically breaking even. Many would be OK with this during a pandemic, but under the current laws you are locked into that lower rent for however long the tenant lives there—which could easily be two decades. That would be $192,000 in potential rent loss.
If the flexibility in preferential rents was reinstated then rent-stabilized tenants would be able to negotiate fairer rents during this crisis. A recent survey of the members of the Community Housing Improvement Program (CHIP) found that more than half of rent-stabilized housing providers would cut their existing tenants a break on rent if flexibility in preferential rents was reinstated. Even more would lower asking prices on vacant rent-stabilized units if they weren't going to be locked into a long-term reduced rent.
This will help housing providers too. Vacancy rates across the city are increasing at all price points. Owners need to keep their renters housed, even if they can only pay a portion of the rent. Many tenants are forced to move out of their homes in fear that they will accumulate debt they will never recover from, even though the building owner wants to cut them a short-term break. It is a lose-lose situation created by the laws passed in Albany and the pandemic.
When members of the state Legislature passed the Housing Stability and Tenant Protection Act of 2019, they never could have imagined a disaster like COVID-19. So, there is no shame in them tweaking the laws again to fit the new reality we face. It's not an admission that they were wrong if they roll back this one provision, it is a demonstration that they can adapt laws as necessary to help people in a time of crisis.
The other great thing about bringing back flexibility in preferential rents is that it doesn't cost the city or state a dime in their budgets. This simple tweak to the laws could help thousands of people without adding to the multi-billion dollar deficits faced by the state and the city. And when times get better, the rents could simply go back to the legal rents that they were before.
We also believe the city and state should put more funding towards voucher programs to support renters in need, with forgiveness tied to property tax off-sets similar to the current SCRIE or DRIE programs. This will also allow property owners to reduce rents and help renters who can't pay because of the COVID-19 emergency. The budget constraints make this hard, but in a time of crisis secure housing has huge benefits to the health and welfare of our city's most vulnerable people.
We can start by reinstating flexibility in preferential rents, which comes with no budget cost. It's a small step, but we have to start somewhere.
***
Zachary Kerr is the president of the Community Housing Improvement Program (CHIP). On Twitter @nyc_chip.
***
Have an op-ed idea or submission for Gotham Gazette? Email This email address is being protected from spambots. You need JavaScript enabled to view it.
Note: this article has been corrected to say that the preferential rent system was "significantly altered" not "eliminated."