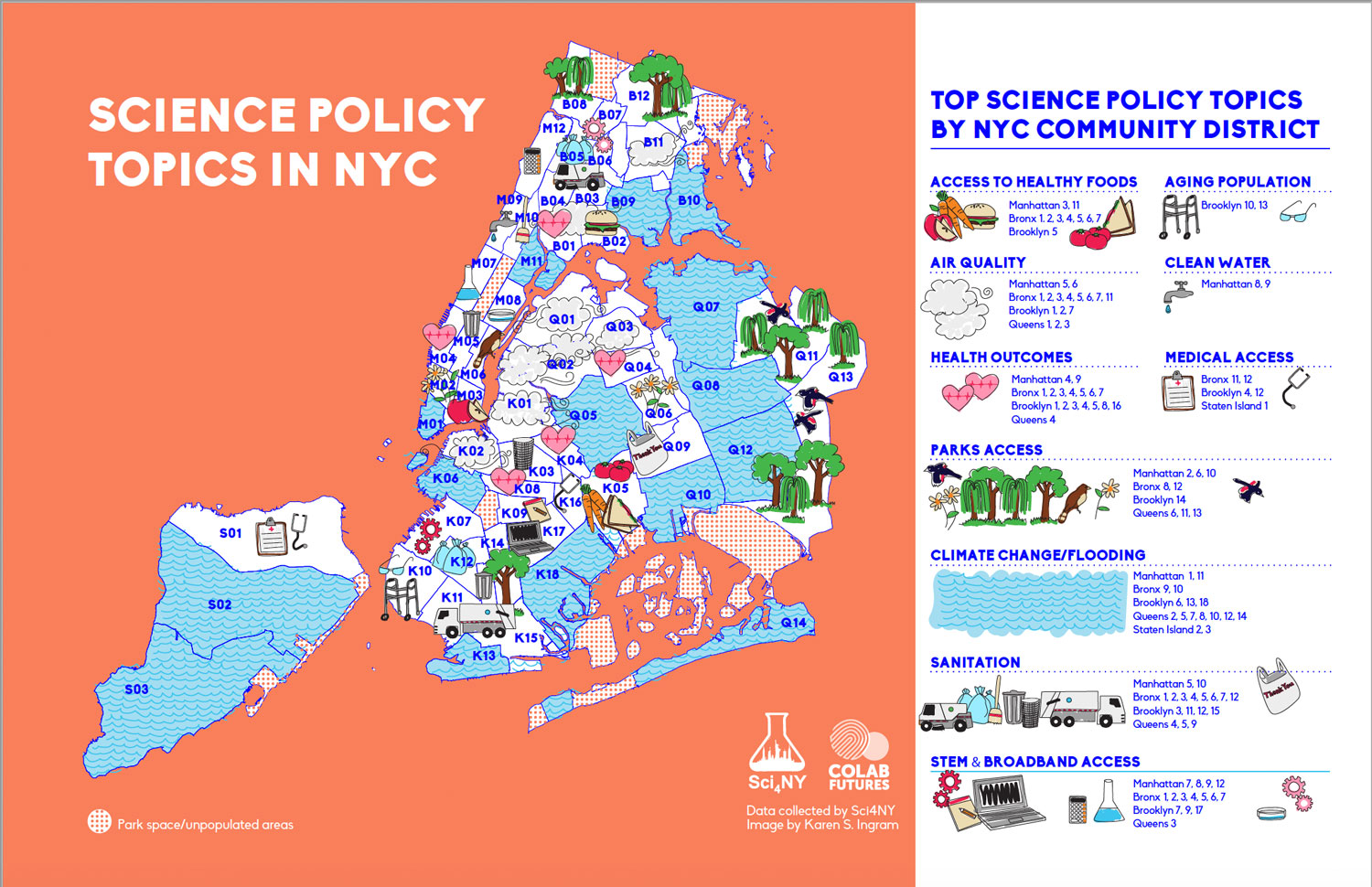 Mapping community concerns that science can help address
---
Any true New Yorker knows the question is not if New York City will rebuild from COVID-19, but how and when. In order to genuinely build back a better, more sustainable, equitable, and resilient city there has never been more need for effective partnerships between communities, government, and experts.
Science for New York aims to overcome these challenges on a local scale in New York City. We are scientists who volunteer our skills to translate technical and analytical information into meaningful, policy-focused recommendations aimed at increasing the well-being of the city and its residents. While COVID-19 took an enormous toll on our city, including shutting down academic research laboratories, it provided the opportunity for us to redirect this important human capital toward civic engagement work.
One project mapped publicly available data and public input from New York City's 59 community boards to highlight science-related inequities across the neighborhoods. Your community might be most concerned about sunny day flooding, broadband availability for remote learning, or access to more medical care. Neighborhoods with lower numbers in key socioeconomic metrics had multiple issues that could benefit from scientific support. Our goal was to use the map as science policy outreach to City Council candidates and community organizers.
We reached these key stakeholders through 21 in '21, an organization striving to achieve gender parity in the New York City Council through the 2021 city elections. Science for New York (Sci4NY) hosted a summer workshop series for its members on how science-based issues including COVID-19, climate change, health, and STEM education impact New York City. The most important lesson we learned from this engagement activity is that our ability as scientists to meaningfully and rapidly identify and synthesize data is very valuable to candidates working to address these issues in their local communities. Currently we are providing support to candidates and community organizers in areas such as maternal and newborn health disparities, green roofs, urban farming, foster care, and climate equity.
Beyond the projects related to the science policy map, Sci4NY has piloted a number of other collaborative projects in the city. These include: lending technical input on pesticide legislation; better ways to improve composting to reduce greenhouse gas emissions; and ways to identify climate change knowledge gaps in order to improve community resiliency. We also worked to bring local policymakers and scientists together at events to learn from each other and simply interact more.
A recent, successful example of having local communities and scientists work together to solve complex issues facing local communicates comes from another equity-challenged city: San Francisco. In April, a coalition called Unidos en Salud recruited hundreds of volunteers to run one of the largest "test to care" coronavirus studies to reduce COVID-19 transmission in the city's disproportionately affected low-income Latino communities. Since many community members could not work from home, local volunteers worked in tandem with medical professionals and scientists to greatly improve testing. Government officials helped with mobilization, including relaxing requirements for staffing diagnostic labs. In four days, over 4,000 people were tested. Those who tested positive were given care.
In the research community, we have an approach called team science, where groups of academics with different expertise and backgrounds come together to produce solutions, balance contrasting viewpoints with evidence, and develop new ideas. We see particular reason to use this effective approach to tackle some of New York City's largest challenges. At the same time, we fully acknowledge that many smart and highly-capable people already work on these issues in New York City. Therefore, we strive to not replicate, but rather, amplify existing efforts by integrating our scientific skills to address community knowledge gaps and enhance the overall policy process.
We are confident that many world-class scientists will continue to flock to the city's academic institutions, eager to explore New York City's diversity, inspiration, and innovation. As they express their desires, like those scientists before them, to help build a better society, we'll be here to show them a path forward. Three years in the making and counting, Sci4NY remains committed to developing the collaborations that will rebuild a stronger, healthier New York City for all.
***
Kristin R. Anderson is a postdoctoral research fellow and holds a PhD in Neuroscience, and a member of Sci4NY. Arthee Jahangir is a co-founder of Sci4NY and holds a PhD in Biomedical Sciences. Nancy Holt is a co-founder of Sci4NY and holds a PhD in Physical Chemistry.
Sci4NY can be reached at This email address is being protected from spambots. You need JavaScript enabled to view it. and on Twitter @Sci4NY.
Above map was created by Karen Ingram, an indie Creative Director who focuses on science communications and a cofounder of CoLab Futures.
***
Have an op-ed idea or submission for Gotham Gazette? Email This email address is being protected from spambots. You need JavaScript enabled to view it.