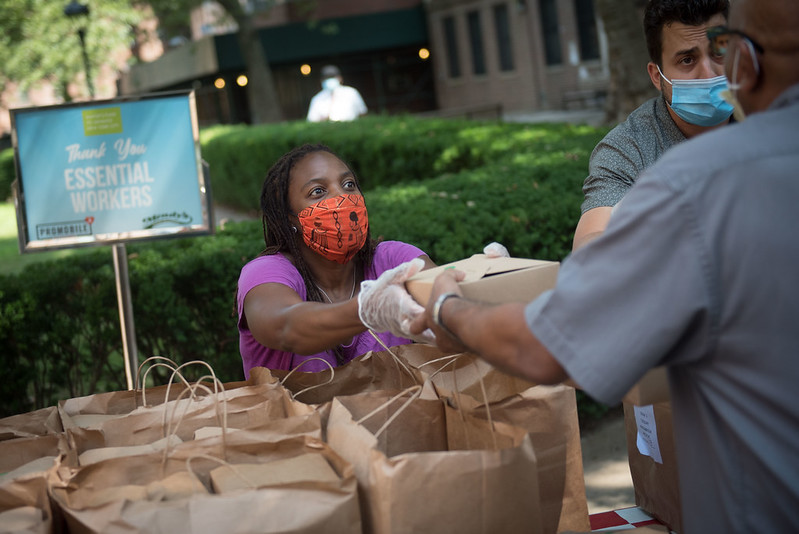 Essential workers need help (photo: Michael Appleton/Mayoral Photography Office)
---
The COVID-19 pandemic is not just a medical problem—it's a social one. As everyone knows, it is caused by the new coronavirus, SARS-CoV-2. But it is fueled by inequity. Black and Latino New Yorkers have been twice as likely to die from COVID-19 as their white neighbors because of a raft of social factors: People of color are more likely to live in overcrowded housing that makes social distancing impossible, have jobs as "essential workers" that makes working from home impossible and increases their chances of exposure to the virus, and lack access to health insurance and health care that could help them if they fall ill.
So-called social determinants of health also play a role in the underlying medical conditions known to raise the danger posed by COVID-19. Inadequate access to nutritious food may lead to diabetes and hypertension, poor housing conditions are linked to asthma, and chronic stress (like that caused by food insecurity, discrimination, and housing instability), weakens the immune system. Social disparities are a major cause of avoidable medical conditions, and those conditions made poor communities and people of color more susceptible to the first wave of COVID-19.
The social dimension of COVID-19 means that medical providers cannot fight the pandemic alone—they need the help of the nonprofit human services sector if they are going to save as many lives as possible. Human services organizations run the food pantries, deliver assistance to seniors, operate shelters for people experiencing homelessness, support survivors of domestic violence, and provide mental health services for those in crisis. But tragically, in New York, many of these nonprofits face an existential threat because of recent policy decisions at the local and state level.
These organizations derive the majority of their funding from contracts with the New York City and State governments. But this July, Governor Cuomo issued an executive order that allows the state to delay payments to nonprofits that are delivering services like food assistance and homeless shelter. Further exacerbating the problem, this summer Mayor de Blasio and the New York City Council approved a budget that cut funding from the city budget designated to retroactively reimburse nonprofits for their indirect costs.
Even before these moves, many human services organizations were already approaching a breaking point, thanks to city and state contracts that have long been chronically underfunded. This includes payment rates that don't cover the full cost of programs and delays in payments for services provided. In April, a survey of New York nonprofits by the New York City Employment and Training Coalition and the Human Services Council found 64 percent of organizations believe they will have to reduce service offerings in the future, and 70 percent believe they will need to lay off staff due to budget shortfalls. A July analysis by the nonpartisan organization Candid concluded that 1,800 of New York's nonprofits could ultimately go out of business due to COVID-19, ranking New York among the ten states in the country that could see the most nonprofits close on a per capita basis.
New York's finances are indeed in a precarious position, but it is foolhardy to balance our state and local budgets by destroying the very organizations we need most for recovery.
To rein in this pandemic and prevent future ones, New York's policymakers need to fund the organizations with the knowledge and ability to address the social disparities that grind down the resilience of New York's citizens. Mayor de Blasio and Governor Cuomo need to honor their financial commitments to nonprofits. The state must pay for the services it has contracted for, and the city must follow through on promised reimbursements for services that were delivered last year.
New York's human services organizations are calling 911. If we want a healthy city and state, it's time to answer.
***
Udai Tambar is vice president for community health at Northwell Health. Michelle Jackson is the executive director of the Human Services Council of New York (HSC), an organization representing nonprofit human service organizations across New York.
***
Have an op-ed idea or submission for Gotham Gazette? Email This email address is being protected from spambots. You need JavaScript enabled to view it.