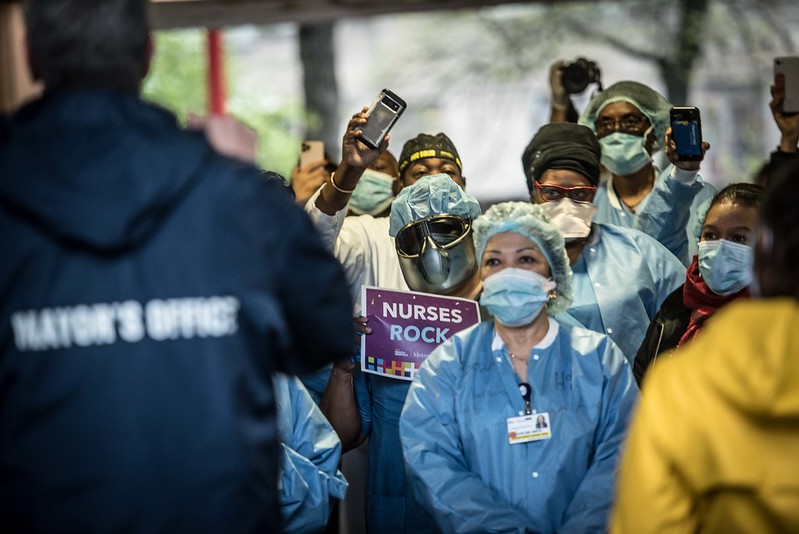 Honoring health care heroes (photo: Michael Appleton/Mayor's Office)
---
Roars of applause, cheers, and clanging of pots and pans – the familiar 7 p.m. signal in New York for many bleak early spring days of 2020 quickly became a daily ritual in fervent support of health-care workers on the front lines of the COVID-19 pandemic. While most watched the wave of infections unfold through the media from the safe havens of their homes, health-care workers went to work hoping, praying, and questioning the chance of infection and survival for themselves, their families, and their patients.
Jarring stories from intensive care units and reports of suicide among clinicians demonstrated that our claps and recognition were not enough to sustain their well-being. In a new normal where the present and future of this pandemic remain uncertain, we must prioritize mental health services for our front-line health-care workers.
The unknown aspects of the COVID-19 virus presented unprecedented challenges for health-care staff, especially in the outbreak's epicenter, New York. Lingering uncertainty and a heightened sense of anxiety were fostered by extensive media coverage and a declared state of emergency. The rapid call to response for clinicians set forth a range of obstacles including unmanageable patient loads, providing care outside their skill sets, and witnessing firsthand the growing illness and morbidity rates among coworkers and patients. Health-care workers were living in a constant state of fear and psychological stress, rooted in the risk of transmission of the virus to others and inability to save patients despite their efforts.
While the added sources of stress may have subsided after the city's immense wave of infections, for many health-care workers, mental health issues stemming from these experiences can and, for many, will persist long after the peak of the pandemic.
The negative mental toll on health-care workers from COVID-19 and previous pandemics is well documented. An analysis published by British Medical Journal of SARS, H1N1, MERS, Ebola, COVID-19, and other pandemics found that staff working directly with infected patients reported higher levels of distress, burnout, and post-traumatic stress. In a systematic review of COVID-19-related studies, insomnia, depression, and anxiety were also reported among health-care workers. Factors such as inadequate personal protective equipment (PPE), risk of infection among medical staff, long hours, and lack of organizational support were noted to contribute to adverse psychological outcomes. These results enforce the growing evidence of mental health challenges among health-care workers treating patients with COVID-19.
Health organizations must promote a culture of caring and psychological wellness to protect the long-term wellbeing of their staff. Experts recommend that leadership can help normalize a focus on mental health needs by providing models for self-care and help-seeking behaviors, and establishing opportunities for staff to share concerns for themselves, colleagues, and patients in a safe and anonymous way.
NYC Health + Hospitals, the city's public hospitals system, has led the way by establishing partnerships to provide mental health support to health-care workers and first responders on the frontlines of the pandemic. This is an opportunity for other health-care organizations to follow suit by ramping up mental health and wellness programs for employees and sustaining comprehensive support services post-crisis.
In the United States, providing mental health services for clinicians is not a standardized practice. With the COVID-19 pandemic disrupting so many facets of the health-care landscape, health organizations have largely prioritized immediate needs, such as patient care coordination and acquisition of necessary equipment, over mental health. In the aftermath of the most devastating period, the provision of mental health support services will be especially crucial for health-care workers to combat both the short- and long-term effects of stress endured during the worst of the pandemic and into the months of its persistent presence. As the potential for a second wave looms, it is imperative for health organizations to implement effective measures to preserve the mental well-being of their staff.
Now more than ever, proactive and longstanding changes to health-care infrastructures are necessary in order to normalize and integrate mental health services for staff on a routine basis. Recognition alone will not suffice as the future recurrences of the COVID-19 pandemic remain ominous. We owe it to the heroes in this fight to support their recovery and ensure they can continue providing quality care for whatever may come our way. Our lives depend on it.
***
Sandra Carlino Oliveri is a Quality Improvement Specialist at Memorial Sloan Kettering Cancer Center and an MPA Candidate at the NYU Robert F. Wagner Graduate School of Public Service.
***
Have an op-ed idea or submission for Gotham Gazette? Email This email address is being protected from spambots. You need JavaScript enabled to view it.