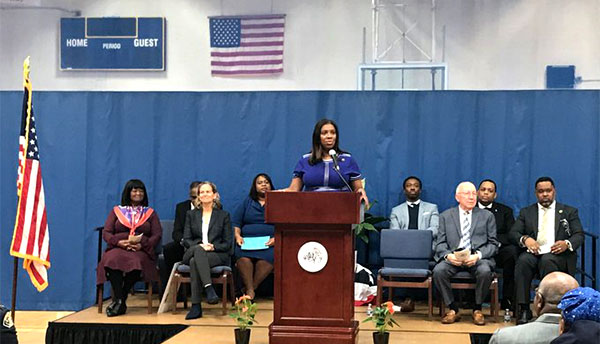 Attorney General Letitia James (photo: @NewYorkStateAG)
---
In blocking the Trump administration's attempt to sabotage the 2020 Census, a California court last week handed yet another key victory to the Office of the New York Attorney General. And this is just the latest in a string of triumphs coming from the office of the Empire State's top lawyer as the president pushes his election-year agenda.
While the president's rhetoric often translates to the introduction of potentially devastating policies, many of the administration's most egregious moves have faced successful opposition on the legal battlefield. In large part, that is due to the tireless efforts by Democratic state attorneys general. And New York's Letitia James has long been in the lead, fighting back the Trump administration's agenda.
On immigration issues, she has been particularly successful. She led the successful charge to block immigration agents from making arrests at courthouses and filed a lawsuit that pressured the Department of Homeland Security to abandon plans to deport international students during the pandemic.
In another victory for asylum seekers and asylum recipients around the country, a lawsuit filed by Attorney General James blocked an order that would have limited employment authorization for asylum recipients. Her efforts also stopped the increase of fees for immigration related applications. Earlier this month, AG James secured another hard-fought win when a judge ruled in her favor to invalidate regulations that would have stripped workers of labor protections.
While James has used her role as the state's top legal officer to protect vulnerable communities, that position has been weaponized by conservative attorneys general putting political interests above the public good.
The Trump administration's frequent political stunts have further underscored the motivational differences between Democrats and Republicans holding the office. Democratic state attorneys general dedicated to preserving this nation's bedrock principles have built coalitions and banded together to challenge the administration's efforts to erode the rule of law. The same cannot be said of many Republican AGs, who have joined United States Attorney General Bill Barr in converting their offices into Trump campaign subsidiaries.
James has proven she can take Trump to task and her victories are adding up. In addition to her latest triumph in support of an accurate Census, in June, her office thwarted the administration's craven bid to exclude undocumented immigrants from the 2020 count.
More than just lawsuits, James' office carries institutional heft that she has put to use to call out flagrant abuses of power and advocate for increased transparency in law enforcement. This year, that role has been more important than ever. Last week, she joined the chorus of voices calling on Kentucky Governor Andy Beshear to release grand jury evidence in the Breonna Taylor police shooting case.
In addition to fighting for the voice of the people, AG James has rightfully blasted self-serving attorneys general such as Texas' Ken Paxton, who has used the COVID-19 pandemic to attack reproductive rights. James, on the other hand, has continually backed an agenda to protect women's rights and expand access to reproductive health care, which has included sparring with Trump and his attempts to reduce options for women everywhere.
Importantly, James hasn't shied away from investigating the Trump Organization's financial dealings. A Manhattan judge recently ordered the president's son, Eric Trump, to comply with a subpoena and sit for an interview with James' office.
In the coming months, it's likely her leadership will be needed to combat a new slate of obvious overreach by an administration looking to exploit government powers to exact political retribution and gain. One of the latest attempts to undermine the rule of law: weaponizing the Department of Justice and taking aim at liability protections in order to bludgeon the administration's perceived political enemies in Silicon Valley.
As the election approaches, New Yorkers will continue to look to AG James to protect democracy's most foundational institutions. Her office ― time and time again ― has served as a last line of defense against a dangerously partisan president and his team of sycophantic enablers.
I look forward to continuing to support her on her journey to give voice to our most vulnerable citizens and bring justice for all New Yorkers. The future depends on it.
***
Jeremy Sherber is the founding president of Grand Street Democrats in New York City. On Twitter @jsherber.
***
Have an op-ed idea or submission for Gotham Gazette? Email This email address is being protected from spambots. You need JavaScript enabled to view it.