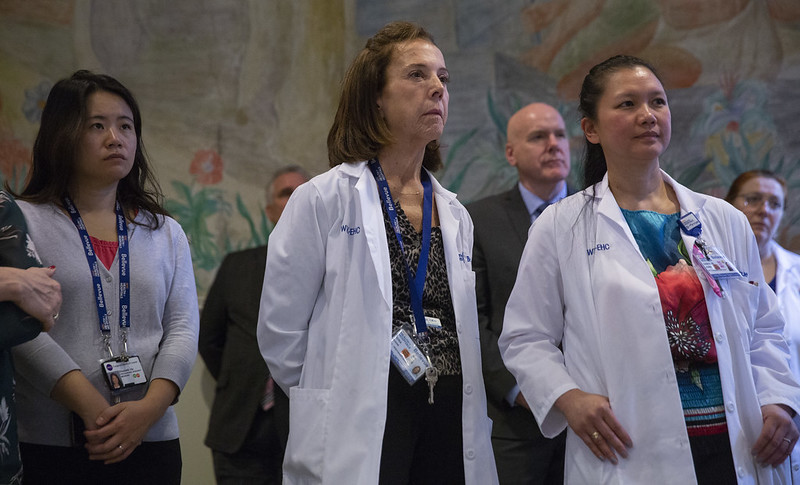 Health care professionals (photo: John McCarten/NY City Council)
---
Finalizing a budget can be chaotic in the best of times. This year, we hammered out the last details of the state's $177 billion spending plan as the COVID-19 crisis was approaching its peak in New York State.
It was in this context that the Legislature agreed to a little-noticed recommendation from the Governor's Medicaid Redesign Team II (MRT II) that strips a critical federal benefit from health-care providers and patients in New York. Luckily, we have until April 1, 2021 to undo this mistake. I will be working non-stop over the next seven months to do just that, along with a coalition of advocates and Medicaid patients as part of the Protect the Safety Net campaign.
The MRT II pushed through a provision in the budget that would "carve out" a pharmacy benefit from the state's Medicaid managed-care program and shift payment to a fee-for-service reimbursement. The commission claimed its goal was to lower costs and increase transparency, but in reality this provision would devastate Ryan White Clinics, federally-qualified health centers, safety net hospitals, and other safety net providers in the 340B drug discount program. In Monroe County, for example, Trillium Health, Jordan Health, and the University of Rochester Medical Center all rely on 340B to provide essential services to families in our community.
The federal 340B Drug Discount Program protects safety net providers from drug price increases and gives them access to pharmaceuticals at discount prices. This includes HIV/AIDS clinics that receive support under the Ryan White CARE Act as well as community health centers that have been on the frontlines of fighting COVID-19. 340B providers rely on this funding to operate food pantries, provide transportation assistance, STI screenings, mental health and wellness programs, and run harm reduction programs – services that are often grossly underfunded by the state.
If the carveout is not reversed, many patients across New York State will simply have nowhere to turn. These are not savings that should be made on the backs of those who can ill afford these cuts.
The 340B Program is under constant threat from Big Pharma, which has tried to distort and undermine the program since it was established with broad, bipartisan support back in 1992. For the pharmaceutical industry, a discount program for Medicaid patients just means less profit. For short-sighted bureaucrats in Albany, it's a chance for accounting gimmicks that allow them to claim "savings" that would actually harm the vulnerable New Yorkers they are supposed to be serving.
The Medicaid commission chose the worst possible time to experiment with changes to New York State's safety net. 340B providers care for patients in communities that have been hardest hit by the COVID-19 pandemic. If these providers are forced to eliminate services, more patients will be forced to go to hospital emergency rooms for care – swamping our hospital system and driving up costs while leading to poor health outcomes.
This would also threaten the progress we've made in fighting the HIV/AIDS epidemic. Ryan White Clinics have built comprehensive models of health care and social services to address the diverse needs of their patients. This comprehensive model of care is only possible because of the clinics' participation in the 340B program.
In the weeks and months ahead, New Yorkers will be hearing a lot more about this issue. The New York chapter of Ryan White Clinics for 340B Access recently launched a campaign to Protect the Safety Net, led by advocates and Medicaid patients. We're going to keep fighting until the state reverses course and restores this critical benefit for the most vulnerable New Yorkers.
***
Assemblymember Harry Bronson represents Rochester and surrounding areas. On Twitter @HarryBBronson.
***
Have an op-ed idea or submission for Gotham Gazette? Email This email address is being protected from spambots. You need JavaScript enabled to view it.