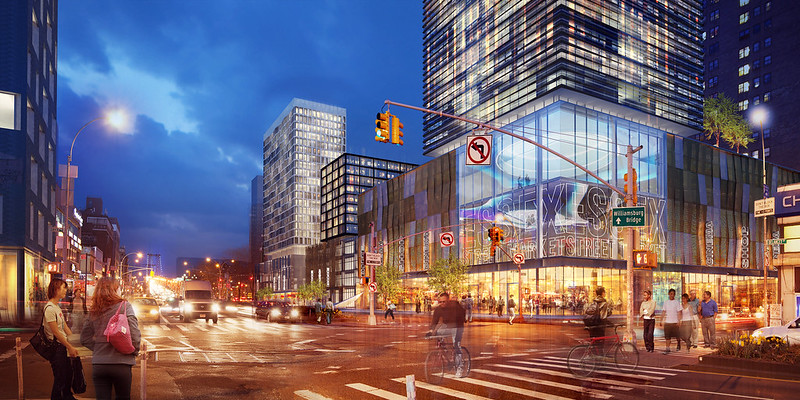 Redesign rendering (photo: mayor's office)
---
My family has a uniquely American story that offers inspiration -- and cause for local changes to ensure opportunity for all.
My immigrant parents of four kids were determined to achieve the American Dream but did not have access to resources or the opportunity to give their children the material needs that are often associated with being in this country.
What we did have was resolve and an unyielding faith that anyone could make it in America, if they worked hard enough.
My parents' foremost concern was their children's need to receive a high-quality education to avoid relegating them to a cycle of generational poverty. They would often tell us, "Education is the number one anti-poverty program America has ever created, and to make it here, you have to learn."
But where we lived offered little hope. The town we resided in had one of the worst-performing school systems and was often known for violence, gangs, and children getting into drug-dealing.
My parents were unwilling to limit their children's future, taking an extraordinary, and illegal, step to provide us with opportunity.
The neighboring town was wealthier and had high-quality public schools. When my siblings and I reached school age, my parents enrolled us in these schools by lying about their address, in violation of the law. As immigrants, my parents risked severe penalties to ensure their children would receive a good education. To them, their actions were justified because of service to their kids.
What was the outcome of their actions? We ended up excelling in school and our personal lives. My older sister became a William Fulbright Scholar and attained a Ph.D. in Psychology. My older brother became a long-haul truck driver, while teaching himself three languages and coding. My younger sister earned a master's degree in economics and has continued pursuing her studies to earn a doctorate in the field.
Our story of hope illustrates the extraordinary decisions some families have made – and will continue to make – to ensure their children are not forsaken. It is also a story that gets at the heart of structural inequities that exist in New York City today.
Our city is segregated by exclusionary zoning policies -- the drawn school and housing lines -- that ensure the wealthiest have access to valuable real estate and high-quality public education while the working class is fastened to cycles of poverty, crime, and inferior schools. These policies can be eliminated by rezoning and building more housing in areas that have historically fought against it.
Near where I live, no neighborhood better provides an opportunity for change than rezoning Soho and Noho.
By changing zoning rules in these areas we can create a minimum of 700 affordable homes in an excellent neighborhood with access to great schools. Since the COVID-19 pandemic began, over 4,200 New York City schoolchildren lost a parent due to the coronavirus. These children are not only missing an idol, but now have to deal with mental stress, loss of income, and dire consequences of what their future might look like without guidance.
With rezoning, we can prioritize housing single parents with school-age children and help rebuild their lives by providing homes in a high-opportunity area with access to high-quality schools so current and future generations of New Yorkers can unlock their full potential and lead exemplary lives.
In a recent study by Citigroup, they calculated that structural racism has cost the United States economy $16 trillion over the last 20 years, and removing these barriers that have held back generations of Americans, could increase our nation's GDP by $5 trillion over the next five years.
But what are the true motivations behind keeping these policies in place?
Let's be blunt: These policies exist due to greed and prejudice. Individuals who benefit from taxpayer investments, whose tax burden disproportionately falls on the lowest socioeconomic citizens of our city, have weaponized their privilege for their own prosperity.
The cornerstone of their motivation, never publicly admitted, is to ensure that property values increase to maintain their wealth. They believe that increased development would dilute the value of their property and apply the same reasoning if more people of color were to occupy "their" space.
That is the purpose of supporting exclusionary policies. It is borne out of greed and racism.
The murder of George Floyd has awoken an entire movement toward ending racist practices in policing and beyond. It is our moral prerogative to fight those – especially ones that call themselves Democrats and progressives – who are opposed to ending the racist policies that have led to generational inequities.
Our resolve and unyielding faith must be firmer than those forces that stand in opposition to creating a fairer and more just New York City. Let us rise to this call for change and offer families like mine hope.
***
Denny Salas is a candidate for City Council in Manhattan's District 1. On Twitter @realdennysalas.
***
Have an op-ed idea or submission for Gotham Gazette? Email This email address is being protected from spambots. You need JavaScript enabled to view it.