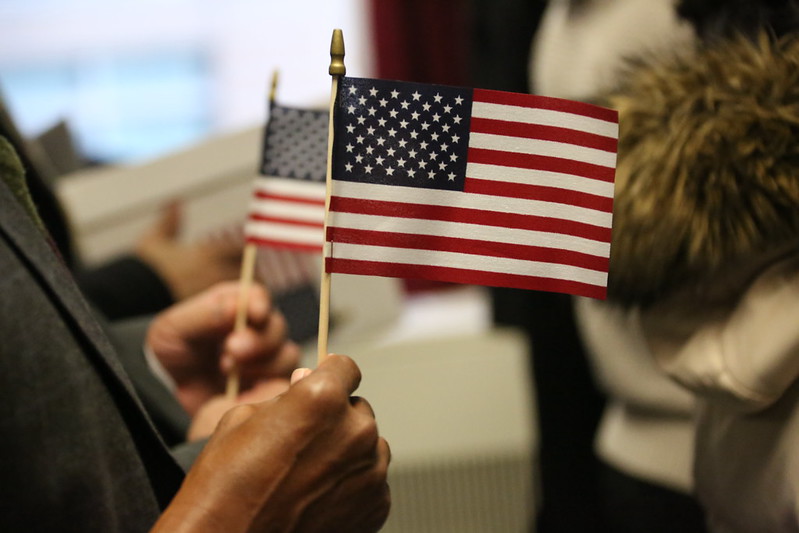 A message to spur immigrant Americans to vote (photo: Spencer T Tucker/Mayor's Office)
---
As a proud Guyanese-American immigrant and a leader of New York's immigrant community, I'm getting ready to cast my vote on Tuesday, November 3. The stakes could not be higher — for myself, and New York's 4 million immigrants.
As a Co-Executive Director of NYIC Action, the political arm of the New York Immigration Coalition, I know what's at stake for this election. Donald Trump won in 2016 on a hateful, racist platform of walls, bans, and raids — and he's done everything he can to transform this platform into policy. Tearing families apart, cancelling the DACA program for Dreamers, ramping up raids to terrorize New Yorkers, slashing America's historic refugee system to pieces. This is the devastation that Donald Trump has wrought on our essential workers and immigrant communities. The choice could not be clearer: we need to vote Donald Trump out immediately.
But this election allows us to do more than that. We can make a stand for immigrant New Yorkers by getting out the vote for candidates who value the contributions of immigrants to our diverse city and against politicians who cravenly echoed Trump's racist agenda. The time is right now to get every eligible voter you know to the polls. We need New Yorkers to vote for the kind of future that allows every single one of us to thrive.
I came to this country as an undocumented ten-year old girl from Guyana. Growing up in Brooklyn, trying to fit in, voting was one of the furthest things from my mind. But when I started to think about college, I realized, as millions of other New Yorkers have, that undocumented people face real barriers to achieving our dreams. I couldn't apply for financial aid, couldn't work legally, and I couldn't vote. Being disenfranchised felt like I didn't have a voice, that I was less than a full member of the community I loved, and that I couldn't do anything to change this broken immigration system.
But I became a citizen at 20 years of age, and I can still remember that day — November 2, 2004 — when I cast my first-ever vote for President of the United States. And every time since then that I've cast my ballot, I'm overcome with emotion, remembering just how I felt being able to vote for a presidential nominee who presented a vision of the America I wanted to see come to fruition. So I'm determined to exercise that right every single time that I can, and now more than ever.
And when I vote on Tuesday, I know my vote is going to feel that much more important, because of what's at stake. As a proud resident of Sunset Park, I vote for my immigrant friends and neighbors — people who yearn for a different America that welcomes them, but are undocumented or green card holders and thus can't vote.
In 2018, NYIC Action tapped into the growing power of the immigrant vote in New York to send candidates like Andrew Gounardes, who embraced immigrant New Yorkers, to Albany. That year saw the Democrats take over the state Senate for the first time in a decade and we saw real, meaningful changes as a result, including the New York Dream Act and Driver's Licenses for All. In 2020, we must vote to build on this victory by sending Senator Gounardes and his fellow incumbent Democrats back to the Legislature, and by powering leaders like Samra Brouk, a daughter of immigrants, into the state Senate for the first time. But our community's voices won't only be heard in Albany.
We will ensure that Washington hears us as well by voting for the millions of New Yorkers who are "represented" by Trump acolytes in Congress such as Lee Zeldin and Elise Stefanik, who have sadly embraced his anti-immigrant attacks and can even be defeated themselves if everyone who believes all who live in New York and the United States deserve respect from their government and are eligible show up to vote.
I vote for my loved ones, including my relatives, some of whom are still undocumented. And I vote for myself, for that ten-year-old girl who once felt voiceless, but is now ready to use my voice for my community.
But neither I nor anyone else can do this alone. We New Yorkers need to make sure that all in our community, all eligible immigrant New Yorkers, are able to vote and can cast their ballot fairly. But we also need our allies, the descendants of immigrants from across the globe and those who believe that immigrants have helped build America over centuries, to stand shoulder-to-shoulder with us. We need all who haven't voted yet to cast our ballots together on Tuesday, November 3 — to rebuke not only Donald Trump, but the Lee Zeldins and Elise Stefaniks of the world who would attack and demean immigrant New Yorkers like me once again. We must strip them of the power to use our government against us.
On Election Day, we can do more than cast out Donald Trump, we can truly make a statement for how important immigrants are to our great state and country.
***
Rovika Rajkishun is the Interim Co-Executive Director of the New York Immigration Coalition. On Twitter @RovikaRajkishun.
***
Have an op-ed idea or submission for Gotham Gazette? Email This email address is being protected from spambots. You need JavaScript enabled to view it.