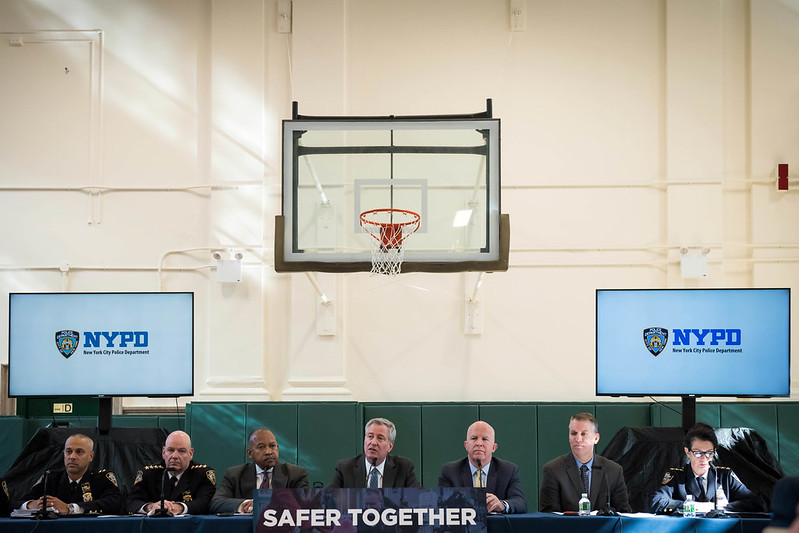 The mayor and top NYPD officials at a community center (photo: Ed Reed/Mayor's Office)
---
Over the last several weeks, the New York City Police Department convened and broadcasted eight "police reform and reinvention listening sessions" in response to Governor Cuomo's June Executive Order 203 requiring local police agencies to develop a plan that "reinvents and modernizes police strategies." These sessions were a sham.
Arriving on the heels of the Defund NYPD movement, the City is choosing what, when, and how to listen. The call to "Defund the NYPD," for example, grew in the wake of an economic crisis as a way for community members to defend city agencies that exist to provide essential services to the people of New York, including wraparound health services, youth services, public education, and support for people experiencing homelessness. Facing mass public pressure of this sort, the NYPD in turn weaponized the budget justice messaging to paint the police as uniquely victimized. The false talking point that the NYPD was defunded by $1 billion was promulgated by Mayor de Blasio himself and circulated quickly, despite the facts, even those published by the Independent Budget Office, showing a modest $400 million reduction. Meanwhile, the New York City Department of Education's budget we fought to protect was ultimately defunded by $700 million. Now, this week, the multimillion-dollar police academy welcomes 900 new officers as educators report remote class sizes above 50 students and we brace for a teacher shortage.
By nature of being led by the NYPD, the series of NYPD "listening sessions," hastily announced and quickly concluded, focused on centering police needs rather than community needs – as demonstrated to us through platitudes made by department chiefs like, "Our ultimate goal is to police New York City the way New York City wants to be policed." The sessions functioned to amplify police propaganda with little resistance, and to discredit the Defund the NYPD movement.
We believe this process is for the police, not for the people. To be for the people would mean ultimately divesting, demilitarizing, and shrinking the hold police have over young people and their communities. We remain committed to our demand of divesting resources from youth policing, and reallocating resources to the kind of work that helps redefine safety: healthcare, housing, education, youth jobs and noncoercive services.
After observing each of these sessions, we recognize these spaces as a mechanism to further grow the reach of policing into the lives of young people. By design, these meetings solicited support for more police-youth partnerships while ignoring the harmful role of policing in the lives of youth of color. With each meeting came more unchecked, cherry-picked testimony designed to grow the NYPD's budget specifically to run youth programs – existing projects uplifted and praised included football leagues, days spent hiking, mentorship programs, and the like. Meanwhile, the fate of the Public Schools Athletic League (PSAL) and a barebones Department of Youth and Community Development (DYCD) budget are not afforded the same attention or platform. New York City cannot continue to outsource youth programs to the NYPD while the agencies established for this very purpose – and that do not carry the threat of police violence – are abandoned in the name of austerity.
There is a long history of inciting fear of Black and Latino children as a reason to expand police budgets. Commissioner Shea's focus on "youth policing" harkens back to the racist, sinister, "super-predator" narrative of the 1980s and '90s. We see that legacy continue in the way that the Commissioner has made it his mission to encroach into the lives of New York City's youth of color, including taking DNA of children without consent, launching a youth policing strategy that includes targeting young people who have been victims of harm, and entering their personal information into NYPD databases as through the gang database.
We condemn this "reinvention" process and this narrative that seeks to use fear to justify an increase in youth-police contact. Ultimately, this process avoids responding to the true demands of this current political moment, which include calls for meaningful investment in the community's ability to support young people, particularly in a time when the public is crying out about the Black lives that have been stolen, interrupted, and criminalized through policing. But we know that youth-police partnerships have historically (and presently) been used as part of a public relations arm of a violent institution. It is not a new phenomenon for the NYPD or any police agency to leverage young people in an attempt to counterbalance public outcry and negative press attention in the wake of widespread police delegitimization.
This process has been built around the goal of "reinventing" policing. Our goal has been and is to remove police from schools as a way to chip away at the institution of youth policing. The $451 million that New York City allocates for school policing each year is money not going toward school nurses, teachers, or counselors. As it stands, the Department of Education doesn't adequately fund staffed school nurses so school cops take temperatures at the school doors. Educators, restorative justice practitioners, culturally competent mental health counselors, and student coordinators and peacekeepers have the tools to support young people and keep young people safe. Police, the vehicle for the criminalization of young people, are not to be "reinvented."
***
Ashley C. Sawyer is Senior Director of Campaigns and Charlotte Pope is Director of Policy at Girls for Gender Equity. On Twitter @GGENYC.
***
Have an op-ed idea or submission for Gotham Gazette? Email This email address is being protected from spambots. You need JavaScript enabled to view it.