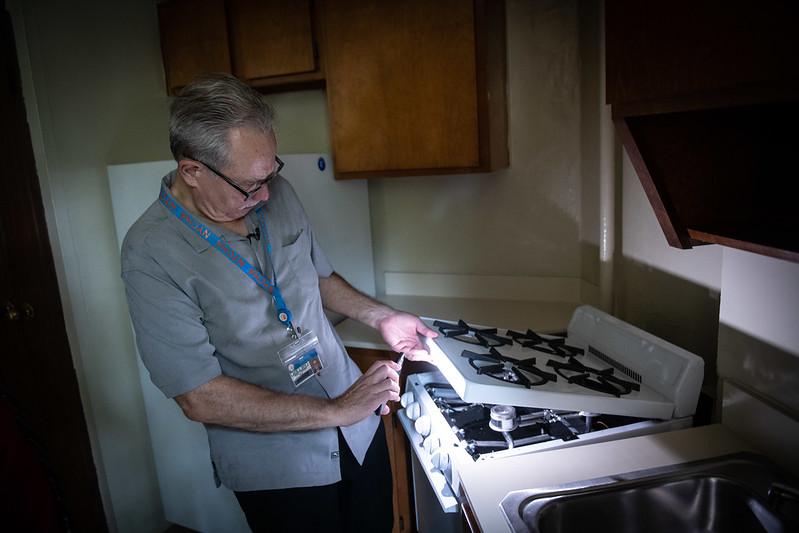 NYCHA CEO Greg Russ inspects a stove at Queensbridge Houses (Michael Appleton/Mayor's Office)
---
NYCHA has a gas problem.
Any public housing resident currently impacted by one of more than 50 New York City Housing Authority gas outages would surely agree. In Cypress Hills, they've been without gas for close to a year. That bodes poorly for the Astoria Houses, where residents will likely have to cook Thanksgiving meals on a single hot plate.
We've seen across the city, including at a beleaguered co-op here in Astoria, how a natural gas leak can steal one's ability to cook for weeks — if not months. This only makes sense when you consider the East Harlem and Lower East Side explosions in recent years. Natural gas is as dangerous as it is unhealthy. At NYCHA, however, an abundance of caution often transforms into extreme apathy.
Public housing residents deserve a healthier environment, access to better nutrition, and reliable appliances. Clearly natural gas is the common denominator here, which is why addressing it should be the cornerstone of a Green New Deal for Public Housing. Electric stoves, which have improved substantially over recent years, might be a small solution that goes a long way to improving residents' quality of life.
Because right now the status quo in which NYCHA residents rely on natural gas cannot continue. Here at the Astoria Houses, a concentrated leak was detected at a 48-unit building on September 22 — at which point gas was shut down and continues to be out. NYCHA, in a quietly released report last month on how it can shrink its carbon footprint, admitted many of its natural gas pipes are original to their buildings and will take up to $143 million to replace leak-prone ones over the next three years.
There are real-life ramifications for these outages. Residents have made it resoundingly clear that a NYCHA-issued hot plate is no replacement for four burners. Rampant outages last fall left tenants in as many as 40 properties without their stoves on Thanksgiving. Kimberly Elliot, an Astoria Houses resident impacted by the current outage, recently raised the good point that, if this keeps happening, why not switch to electric?
As someone who's dedicated their career to fighting asthma, I couldn't agree more with that assessment. For more than a decade, doctors have cautioned parents of asthmatic children to ditch the gas stove. That's because those little blue flames emit so many toxins like carbon monoxide and nitrogen dioxide that boiling a pot of pasta does a number on your respiratory system. Consider what that does to NYCHA residents, given asthma rates are traditionally higher in public housing. That's at least certainly true in western Queens, where rates are driven up by public housing's proximity to some of the state's dirtiest fossil fuel power plants.
Electric stoves have technologically improved in recent years to the point where they're a viable alternative to natural gas ones. Induction cooktops use magnets to heat food arguably as quick as gas and don't stay hot as long once you're done cooking. Public health and climate experts agree that these are a big cure for our dependence on natural gas — more of which is now burned in the U.S. than coal. NYCHA admitted in its report last month that electric stoves have the potential to shrink carbon emissions from its 325-development portfolio.
Of course, there is a valid concern that suddenly putting electric stoves in a bulk of NYCHA's more than 170,000 units will only burden an already exhausted power grid. This is why a Green New Deal for NYCHA must also leverage the authority's rooftops for solar power generation. New York City has already successfully put panels atop everything from schools to the Brooklyn Army Terminal. As we invest in NYCHA's dangerously crumbling, mold-prone rooftops, there should be a City, State, and Federal partnerships to use them to generate renewable energy.
A new federal partnership is incredibly necessary here, both in terms of investment and legislation. Rep. Carolyn Maloney, who I've had the pleasure to represent the Astoria Houses with over the last seven years, has a fantastic bill before Congress right now that addresses this. If passed, it would guarantee solar generated on a NYCHA rooftop can power the building below. This is a common-sense measure that ensures a public benefit for residents, spurring our ability to electrify NYCHA.
As Thanksgiving quickly approaches, many residents who already struggle to get by face an uncertain meal plan. Let's end this inhumane practice by freeing ourselves from the many dangers of natural gas.
***
Costa Constantinides represents Astoria in the New York City Council, where he chairs the Committee on Environmental Protection. On Twitter @Costa4NY.
***
Have an op-ed idea or submission for Gotham Gazette? Email This email address is being protected from spambots. You need JavaScript enabled to view it.